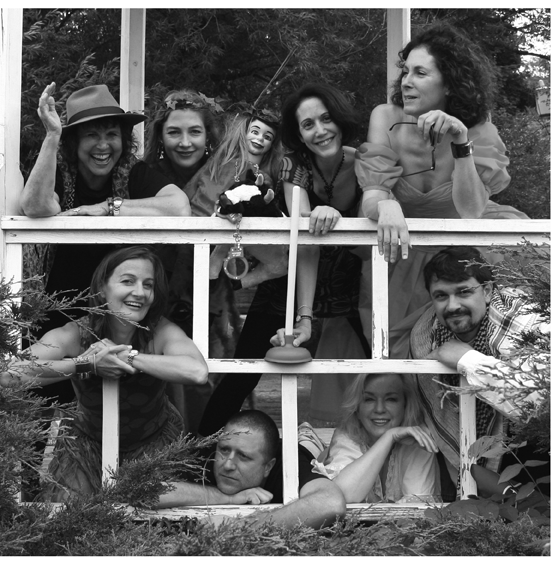 Eight members of the Word of Mouth troupe, clockwise from top left: Golda Solomon, Sarah W. Young, Marcy B. Freedman, Lissa Weinstein, Frank Ortega, Pamela Pearce, Michael Fitzell, and Jeannie Zusy. Word of Mouth will perform "Fifty States" on September 29.
Spoken-word performance, the artform so identified with Manhattan's East Village of poverty, drug addiction, and AIDS, has once again inched its way up the Hudson. A loose-fitting troupe of writers and actors, calling itself Word of Mouth, will perform an original spoken-word piece titled "Fifty States" on September 29 at Garrison's Depot Theater.
Some may consider this genre long dead, but Word of Mouth arrives with unimpeachable street cred: The group was nurtured by none other than Karen Finley. A pioneering performance artist in the mid '80s, Finley railed against misogyny, racism, and homophobia with raw poetry, the bastard cousin to rap, and often spattered with similar curses for effect. Her unique appearances were legendary, as Finley would drive home the abuse and exploitation of women by covering herself in chocolate sauce or inserting sweet potatoes in personal orifices—the notorious "yam jam" no doubt instrumental in denying her NEA funding in a landmark 1990 case.
In 2003, Pamela Pearce of Word of Mouth enrolled in a workshop conducted by Finley at The Hudson Valley Writers' Center (HVWC) in Sleepy Hollow. Formerly a publicist for International PEN, the worldwide writer's advocacy group, Pearce took several courses with Finley, honing her skills and, presumably, shedding inhibitions along the way. "She's so brilliant and she's so different," says Pearce. At the end of each course, the students would mount their own shows.
Two years ago, after Hurricane Katrina devastated New Orleans, Finley urged her students to apply their spoken-word skills to a HVWC benefit. "[Finley] helped us to each come up with one aspect of Katrina that was right for us," Pearce said. "She is very good at determining a feeling for what every person is as an individual."
The resulting pieces ranged from prayers to rants. (Pearce's piece focused on the food of the Big Easy.) Both a sobering event and an empowering one, Pearce said, it encouraged the octet of Finley students to perform in public again that year, at the Cornelia Street Cafe in Manhattan and the Katonah Museum of Art.
Last October, Pearce invited the Finley alumni to her home to gauge interest in another staging. Discussion resulted in "Fifty States," a group riff on the red and blue states that compose our increasingly fractured union. Each performer would choose five states. The only limitation was an eight-minute cap.
Drawing again on her interest in food as social commentary, Pearce will examine the pandemic obesity of junk-food America and pandemic hunger in other countries. Playing a breezy Food Network-type TV personality, she will offer popular recipes from famine-plagued Africa. A fellow actor plans a travelogue while tallying the romances forged in each of her five states.
Marcy B. Freedman, director of "Fifty States" as well as a performer, said the resulting monologues will be as diverse as the Word of Mouth players, whose nine-to-five gigs range from singer to poet to psychoanalyst.
"I want to make people laugh," Freedman says. "Other people will make the audience think."
"Fifty States" will be performed by Word of Mouth on September 29 at 8pm at the Depot Theater in Garrison. A reception will follow at the Garrison Art Center. (845) 424-3900; www.philipstowndepottheatre.org.