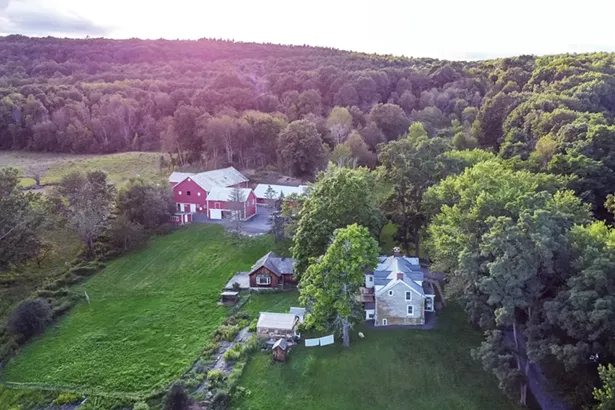 Winona Barton-Ballentine
Founded in 1790, Lime Kiln Farm sits on over 400 acres of pasture and wooded hillside. The property includes two classic post-and-beam barn complexes, the original fieldstone farmhouse, and multiple outbuildings. There's also a pond, the family cemetery where first settler Thomas Houghtaling and his son are buried, and the original lime kiln. The farm is listed on the National Register for Historical Places in New York.
When Alessandro Voglino was studying business at NYU, he wrote an unorthodox business plan. "I was taking a class in small business management, and for the final project I decided to write a plan for a sheep farm," he says. It was 1990 and Voglino, a native of Rome, had just met his future partner in both business and life, Brent Zimmerman.

Zimmerman hailed from a Michigan dairy farming family, and while he was working in the restaurant industry at the time, he knew his heart lay in the tending of animals. Voglino had a head for banking, but the pastoral tradition runs deep in his family—his grandparents had a farm outside Rome while he was growing up. From those early days, Voglino and Zimmerman shared a passion for good food and traditional farming methods. They'd already begun dreaming about starting a farm together.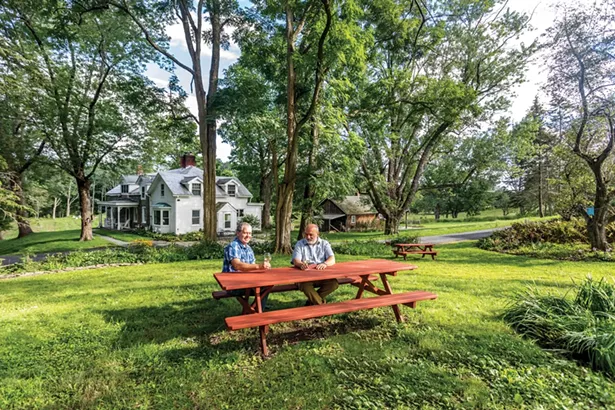 Winona Barton-Ballentine
Brent Zimmerman and Alessandro Voglino bought Lime Kiln Farm in 2014 after rescuing and restoring two Tuscan farms. In the process, the two have found their skills complement one another nicely. "There's so many things I have no clue what to do about," says Zimmerman. "But Alessandro knows. Then there's so many things he thinks there's no way he could do, but it's something I love to do." Along with the old growth trees, the yard includes almost 170 peony plants. This past June the two hosted their first pop-up peony party.
The grad school sheep farming plan was actually entered into a school contest, where it received second prize. "They told me it would have won first place," says Voglino, "but it seemed too unrealistic." Thirty years later—sitting under mature catalpa trees heavy with late summer foliage, surrounded by over 400 acres of grazing land and woods, with the scent of hay in the air and the sounds of a thriving herd of 316 Dorper sheep in the distance—Voglino and Zimmerman seem to have gotten, if not the last laugh, then at least the final roast.
Their home, Lime Kiln Farm, was conceived for exactly such an endeavor. Built in 1790, the stone farmhouse with a Federalist-style addition includes two classic red and white, post-and-beam style barns and multiple wood-sided outbuildings. Named for the 19th-century lime kiln that still sits at one edge of the property, it was originally built by Thomas Houghtaling and his son Peter, and the property is on the National Register of Historic Places.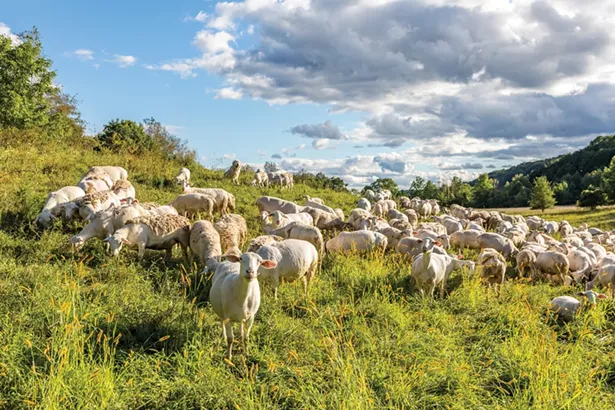 Winona Barton-Ballentine
The flock of white Dorper sheep enjoying a pasture at Lime Kiln Farm. "I'm a nurturer by nature," explains Brent Zimmerman, who comes from a family of dairy farmers. "If you don't like animals, I don't think farming is for you. They don't speak English; you have to figure out what they want, when they want it and how they want it. It can be very frustrating. But I think I would die without my animals. My goal is always to give them a very good life."
Voglino and Zimmerman bought the West Coxsackie property in 2014 and carefully restored both the home and barns, staying true to the original construction and spirit of the place. They also resuscitated the overgrown, forgotten fields and transformed them back into working farmlands that have supported cows, goats, and now chickens and sheep. It's actually the third of four historic farms (yes, four) the two have rescued and nurtured back into a thriving enterprise. "We always, kind of jokingly, say we like saving farms," says Zimmerman. "But we are saving something important and putting it back into production. We all need those things that are raised in love and goodness."
Italian for Detour
Farm number one was born of youthful exuberance and lots of hard work. While they were both still living in New York City, Zimmerman and Voglino took a trip back to Italy. Touring the countryside, they got the idea that through some combination of short-term rentals and husbandry, they might actually be able to give their farming dreams a real chance. However, Zimmerman would need a legal way to work in Italy. "The easiest way for me to get a work permit, at the time, was to take a flock of sheep up in the mountains," says Zimmerman. He needed 60 sheep to get a full-time permit. Back in New York, Zimmerman borrowed Voglino's library card and found a book on sheep rearing at the NYU library. "The last person to check it out was in 1964," says Zimmerman. He devoured the book from cover to dusty cover.
Winona Barton-Ballentine
The interior of the home is lined with the original wide plank wooden floors and ceiling beams. "When we first arrive at a place, we consider how it originally was built," says Voglino, who was born in Sardinia but grew up in Rome. "We don't intend to knock things down. We want to make things functional and beautiful but we also want to save the original spirit of a place. That's been our mission in life."
After Voglino finished his degree, the two took the plunge, taking a few months to search central Italy for the right place. They eventually found an abandoned farm on a hillside in Tuscany. Built in the 1600s, the property sat empty for 20 years and there was no electricity or running water. They loved it and bought the place in 1991. They also got Zimmerman a herd of sheep, and he spent the next years walking the herd up the mountainside during the day, renovating the crumbling house as they grazed, and then carrying the milk back to an apartment the two shared in the evenings. (Voglino was working in the banking industry.)
Slowly, the two not only began to restore the luster of the stone farmhouse—adding lights and replacing the ceiling—they honed their cheesemaking skills as well. Their eventual, hard-won success led to more opportunities. One night, while enjoying an ice cream in the local piazza, a friend who dabbled in local real estate asked, "Are you interested in another dairy farm?" They answered, "Sure, why not?" "That was another farm that needed some love," explains Zimmerman. They bought their second Tuscan farm in 2004, fully restoring it, and expanded into the goat herding and artisanal cheese making business. Eventually, they founded the goat cheese distribution company, ABCheese. (Zimmerman even wrote a book of animal husbandry, Get Your Goat, which was published in 2011 by Quarry Books.)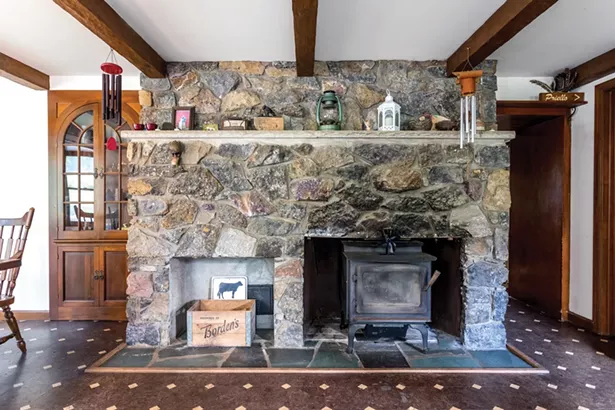 Winona Barton-Ballentine
The dining room features the original bluestone fireplace with a woodstove. The home has two other woodstoves which can heat the house throughout the winter. "I cut a lot of wood during the summers," says Zimmerman. "In winter, the home has a nice homey feeling inside."
New World, Old Table
Over the years, Voglino and Zimmerman regularly returned stateside to visit Zimmerman's family in Michigan as well as friends in the Northeast. "Goats are dry in the fall," explains Voglino, "so every October we had time to come back and explore the region." During their yearly autumnal trips, they began to appreciate the Hudson Valley for its beauty and thriving farm-to-table movement.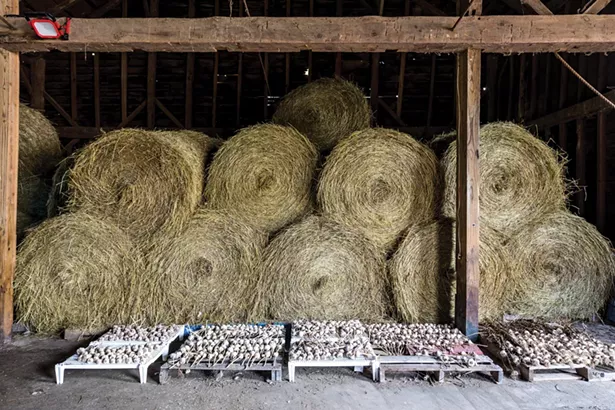 Winona Barton-Ballentine
Originally the two had cows and goats on the farm but they recently let both herds go. Now they're focused on raising the lambs and sheep as well as chickens and harvests from the farm gardens. This year they harvested over 3,000 heads of garlic and dried them in the barn.
They were especially drawn to Columbia and Greene Counties, where the family farming tradition matched their own sensibilities. "We weren't really looking to buy another place," says Zimmerman. But a local friend and agent told them about Lime Kiln, which was coming on the market when they were planning to visit. They were the first ones to see it, and right away loved it. Soon it was theirs and they made plans to relocate back in New York, leaving their two Italian farms in the hands of trusted managers.
At Lime Kiln, the two began with a new herd of 85 goats. "We wanted to get our local cheese operation running immediately," explains Zimmerman. The goats also helped to clear the almost 120 acres of fields. Soon cows and chickens were added to the mix and they planted a garden for local produce.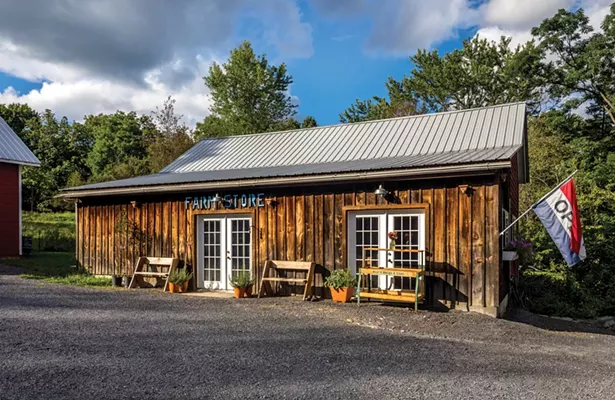 Winona Barton-Ballentine
Voglino and Zimmerman converted a wooden outbuilding into a farm store and cheese room. "We have lamb, we have eggs, we have cheese, we have tomato sauce from our garden, and we have a baker who makes pies," says Zimmerman. "Also, Alessandro makes a very good cheesecake."
As the cornerstone of the farm, and a home for the animals, the restoration of the two barns were the first priority. "We restored them with both their beauty and functionality in mind," says Voglino. The post-and-beam construction was built with mortise and tenon joints and braces held together with the original wood pins. With the help of local builders, they restored the flooring and foundation of both structures, made many repairs, and always kept as much of the original intact as possible. They also transformed another wooden outbuilding into a cheesemaking shop and farm store.
The 2,250-square-foot stone farmhouse was built of local fieldstone and lime milled from the property. Throughout the first floor, wide-plank wood floorboards and roughhewn ceiling beams retain the original farmhouse feel. A giant bluestone fireplace dominates the open dining area. In the living room and den, additional woodstoves provide abundant heat in winter. Upstairs, the primary suite includes a full bath with custom handmade tile. Three additional bedrooms with vaulted ceilings and dormers provide plenty of cozy extra space for guests.
Winona Barton-Ballentine
Lime Kiln Farm has over 800 chickens. They sell the eggs and meat in their farm store, along with their goat cheese, lamb, and Tuscan olive oil. An animal lover by nature, Zimmerman's priority has always been their care. "We treat them well," he explains. "Because what goes in, comes out. We want people to feel good about buying some fantastically raised meat, dairy, and eggs."
Winona Barton-Ballentine
The original red barn complexes were built in the early 19th century. The farm was passed down in the Houghtaling family for generations before it was bought by American painter Lee Adler. Voglino and Zimmerman purchased the property from Adler's family.
While there have been a few necessary updates in the past almost 250 years, the original farmhouse kitchen remains relatively intact. It seems fitting for the two men whose vocation has been preserving traditional methods of food production and the wholesome, timeless ingredients of a memorable meal.

In 2019, Voglino and Zimmerman bought their fourth historic property—this time partnering with a long-time fellow farming family to preserve the Frantoio Ravangni olive mill in Tuscany. Founded in 1421, the cold press olive mill has been family run for six centuries. That significant history, or the task at hand, doesn't daunt either Zimmerman or Voglino. "It's not a whim," explains Zimmerman. "It's years of investing and then sweating that investment out, it's a lot of work and a lot of passion, knowing that one day it will flourish."
Winona Barton-Ballentine
The downstairs stairwell is central to the kitchen and den as well as the upstairs wing of bedrooms. Zimmerman and Voglino had been living in Italy for two decades but have come to love their new Hudson Valley home. "It's a beautiful little gem of a place," says Zimmerman. "We are building a community here of like-minded food lovers. There's a great energy here."