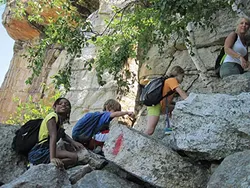 Alexia hikes the "Lemon Squeeze" at the Mohonk Mountain House with the Johnson family.
One day, when her family was hosting 12-year-old Toshiki, Jenny Fowler paused to marvel. Toshiki had one month for summer break, and he left his densely populated neighborhood in Osaka to spend it on the Fowler-Bickings' homestead in Port Ewen, amidst the chickens, trampoline, and tree house. Toshiki seemed so young, but students often study abroad earlier in Japan before their schoolwork ramps up. In the same independent and committed spirit that Toshiki got to school (riding first his bike, then the train, a bus, and then walking), he traveled to the other side of the globe to live with strangers in another country. It was powerful to Fowler.
Toshiki's introduction to American culture was through the Labo program, which partners with States 4H International to bring 12 students from Japan each summer for a cultural immersion experience. Toshiki had a bed in Lyle Bicking's room. Both 12 and the older brothers of sisters, the boys found even more common ground in their love of comics and a curiosity about the other's culture. The idea of Labo is to help students develop English-language skills, build friendships and bridge cultures, and connect 4H communities around the world. Toshiki's suitcase was packed with udon noodles and gifts, and a checklist of activities Labo encouraged him to try, like cooking a traditional meal for his hosts. Of that meeting, Lyle says, "The best part was just having another sibling for a month, in a way."
The Fowler-Bickings took Toshiki camping, swimming, and to realize Toshiki's dream to see Niagara Falls. But mostly, Fowler noticed that folding Toshiki into their family life was more about dialing things back. Reading and speaking in another language takes effort, so even a simple meal out, reading a menu, was tiring. Fowler would schedule extra time to get out of the house in case there were communication gaps about what to bring, and tried not to be too ambitious with plans. Often, Toshiki would prefer to spend the afternoon reading in his own language. "The thing sometimes people forget is that those ordinary things of just getting around in another country can be exciting," says Fowler. Toshiki rode buses all the time at home, but he'd never been on the subway until he went to New York with the Fowler-Bickings, and he found it to be a real adventure.
Fowler understands all this, especially because she studied in Germany as a high school senior and has tutored Russian refugees in English. "I think it's good for us, as a culture, to open ourselves up to each other and to people who are from other countries," she says. "I just love being at that intersection of coming from different places and trying to find common ground."
Promoting Peace
Fowler could be quoting from AFS-USA's press material. Their goal is to work for peace and justice by providing international and intercultural learning experiences through a global volunteer partnership. "We're one of the most long-standing non-profit student exchange programs and are accredited through CSIET," says Jessica Greenstein, a Community Outreach Specialist. AFS-USA (formerly American Field Service) grew from a World War I ambulance corps into the exchange program just after World War II. It now sends students to over 40 countries, and this year, locally hosted 31 students from 17 countries. Those involved with the exchanges are ambassadors for their culture and for the program, gaining personal experience while, in a larger sense, promoting peace.
Greenstein gives presentations in schools to demystify the study-abroad experience for students and their families, and finds that vetting a program is key. Families can get a lot from meeting the volunteers and understanding a program's accreditation, which adds a level of accountability. Some programs pay the host and some are nonprofit, which Greenstein says is an important distinction. In AFS, the students come on a J-1 visa, which means they can only do incidental work, like babysitting and lawn care. "You're treating the students like family members, introducing them to American culture," Greenstein explains. "If you're going out for an activity together, you would pay for them to go with you. But you're not expected to take them on expensive trips, and they also bring their own spending money." Fowler recommends asking a lot of questions about expectations and logistics so families can understand their role.
Programs on the AFS roster are enticing. Summers abroad can range from four to eight weeks, as either an immersive homestay with a family or as an intensive language program in a dormitory, with classes in the morning and cultural experiences in the afternoons. There are also specialized summer programs. In Costa Rica, students work in the rain forest. In Ghana, they volunteer in an orphanage. In Paraguay, they study soccer and Spanish. In Ireland, they focus on Irish culture and adventure, like surfing. AFS offers a wide variety of scholarships to make it all possible. One scholarship is funded through the National Security Language Initiative, to provide opportunity for students to study less commonly taught languages, like Hindi, Chinese, Russian, Arabic, and Persian. Part of a US government initiative, it prepares Americans with the linguistic skills and cultural knowledge to promote international dialogue and support American engagement abroad. Plus, it sparks a love of learning languages.
During Fowler's semester in Germany, she began to think and dream in German, becoming somewhat fluent in a short period of time. She credits having studied German for several years prior to her trip, and Lyle says that's what he'd do if he were to study abroad. Toshiki studied English for four years with Labo, and it wasn't too hard to communicate with him, but there are still funny stories about misunderstandings. "It's a wild card," Fowler laughs. "I think you have to go into it in that spirit of, 'This is going to be awkward, and we're all going to be fine.'"
Pay It Forward
Years ago, when Kate Johnson was 17, she spent a year in Coronado, Costa Rica, and became completely enamored of the concept of paying it forward. She lived up in the mountains with a family, and experienced firsthand her own culture through others' eyes. "We don't think we even have a culture until we're not inside it," she muses. Johnson's hosts hadn't planned to have her; an aunt had suggested they take Johnson in. "They weren't compensated, and they agreed to feed an extra kid for a year," Johnson says, staggered. "It was just straight-up kindness. That made an impact on me." When she thought later about returning the favor, her son and daughter were only eight and five, so she knew she couldn't host on that scale. Instead, she began to explore what she could manage and settled on the Fresh Air Fund.
With the Fresh Air Fund, urban kids come to the country to stay with host families for a week to 10 days in July and August. As with States 4H and AFS, all types of host families are encouraged. "They're very thorough about who can host," Johnson says. "There's a house visit. Any adult who lives in the house has a background check. But it doesn't feel invasive. They want to place kids."
Three years ago, the Johnsons hosted seven-year-old Alexia from Queens. She played Legos and swam, went hiking, and added a new dynamic to the Johnson kids' games. The next year, she came back and went to Camp Peregrine at Mohonk on a scholarship. "Some families host the same children year after year, and then the child can stay in the program until age 18," says Debbi Ratchford, a fund representative for Dutchess and Ulster Counties. "Some families want to give the opportunity to a different child each year. We build a program for what's comfortable for their family unit."
Barefoot on the Lawn
One fall, the Johnsons invited Alexia's family up for apple picking, outside the Fresh Air program. Alexia's mom was herself a Fresh Air kid, and made it a point to involve her children because of her own positive experience. Alexia's brother visits a family in Rhinebeck, and he and Alexia might see each other at Fresh Air events during their stays. Knowing it's a leap of faith to send your child off somewhere, Johnson wanted Alexia's mom to meet them and see where Alexia stayed. "With the Fresh Air Fund, there isn't a language component, but there are cultural things," Johnson reflects. "Alexia likes to walk barefoot on the lawn. It's not something she gets to do a lot." The thing Alexia anticipates most is roasting marshmallows in the campfire ring. Johnson takes a lot of photos during Alexia's visits and makes a Snapfish book each year for Alexia's birthday in September.
This year, Alexia's coming for two weeks. Johnson says it's not a huge commitment, so it doesn't get overwhelming. And actually, her stays with the family have become effortless. Alexia isn't a stranger anymore. "For our family," Johnson says, "it's the time we stop doing projects and get a break. Alexia is here for a short time, and we want to make it fun for our guest." But Johnson is quick to say that every day doesn't have to be Christmas. "It's very easy to want to fill your time with magical moments, but it doesn't have to be that. Hanging out in the backyard blowing bubbles, that's perfect too." The idea is more about sharing a family culture and being open to other types of experience.