The Full Irish, courtesy of The Quiet Man Public House
The full Irish breakfast, or fry-up, is a staple in Ireland, originally conceived to satiate farm workers and give them the energy they would need to work long, strenuous days in the field. Today it is served in restaurants and home kitchens as a hearty mid-day meal.
This is a BIG meal, complete with bacon, baked beans, eggs, grilled tomato, mushrooms, toast and bubble and squeak (potato hash), all cooked together in a pan with Irish butter and served with soda bread or farl (potato flatbread). Drisheen (black or white pudding—sausage made from meat, oatmeal and potato, the black version also including blood) and boxty (Irish potato pancake) may not be on your regular breakfast joint's menu, but they are chief ingredients in a proper fry-up.
If you are packing your bags for the Emerald Isle with a chin full of drool, read on for some prime spots in the Hudson Valley to scratch your Eire itch.
Garvan's
215 Huguenot Street, New Paltz, NY 12561
Garvan's is a lovingly restored 1759 built Huguenot house that was acquired by Garvan and Leonie McCloskey in 2016. Garvan hails from Donegal and Leonie is from Galway but they met in the Bronx in the '80s.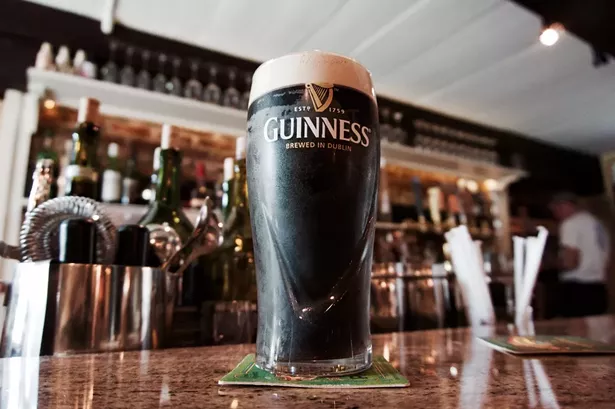 A pint of Guinness at Garvan's
"We love being ambassadors and hosts in the finest Irish tradition." says Garvan. "In difference to a lot of 'Irish' establishments, we are actually Irish all the time, we feature only Irish music and we do not front on shamrocks, crocks of gold, or other such nonsense."
You can find their full Irish each Sunday for lunch. All the products are sourced from an artisan Irish butcher from Woodlawn and the meal comes with a Guinness Brown Bread that Leonie makes using flour from Ireland and Kerrygold butter.
Raccoon Saloon
1330 Route 9W, Marlboro, NY 12542
Like so many people in Ireland, Angela and Zack came to the US in the mid '80s for work. They left Meath and settled in the Hudson Valley. Located in a sprawling three-story Victorian-era hotel, the Racoon Saloon has historic elegance with proletariat appeal. This St. Patrick's Day will be the 17th year they have served a full fry-up at the Racoon Saloon in Marlboro. Overlooking a scenic waterfall flowing into the Hudson, this is an idyllic spot to enjoy some rashers and "bold pudding" on the 17th.
Muddy Brook Café
14 S Main Street, Pearl River, NY 10965
Dubliners Colette and Dave Curry moved to Pearl River in Rockland County for the vibrant Irish community. Colette began work at the Muddy Brook Cafe (known for their full Irish) and three years later became the owner. Aside from salads, burgers, and sandwiches, the menu offers a selection of Celtic breakfasts and "Hearty Traditional Fare" (think Shepherd's Pie and Bangers, Chips, and Beans). The café has a diner feel but with a more focused intent. Known for friendly service and a family atmosphere, it is a perfect place to pop in for an authentic Irish bite. Just remember, no Irish breakfast is complete without a cuppa Barry's tea. Cash only.


The Irish Coffee Shop
946 McLean Avenue, Yonkers NY
Geraldine from Galway and John of County Mayo have been serving a fry-up on the famously Irish McLean Avenue in Yonkers since 1993. The avenue earned itself the
unofficial title, "Ireland's 33rd county". The Irish Coffee Shop is great spot for families, boasting affordable prices and a cozy atmosphere. the dining room is decorated with family crests—Irish descendants may just glimpse their own family name on the walls of the coffee shop. In addition to traditional meals, The Irish Coffee Shop bakes fresh breads and pastries to take out (the brown bread is a customer favorite. Geraldine says, "You don't have to be Irish to grab a seat and dig in!"
The Quiet Man Public House
15 N. Division St. Peekskill, NY 10566
Cathal "Chuck" McGreal, of Hibernian Wood Design, opened The Quiet Man in 2011. The pub is named for his father (from County Mayo) and gorgeously renovated by Cathal himself. It is a sight to behold, mimicking the inside of an old Irish place of worship, with arched glass mirrors and medieval-style chandeliers. There is an outdoor courtyard and proper dining room, but the best part is the taproom, where patrons are invited to pour their own perfect pint of Guinness and enjoy it from the cozy confines of a "snug" (confession box-like space for someone to drink a pint without being seen—utilized by the women of Ireland prior to the '60s). Irish breakfast is served all day every day.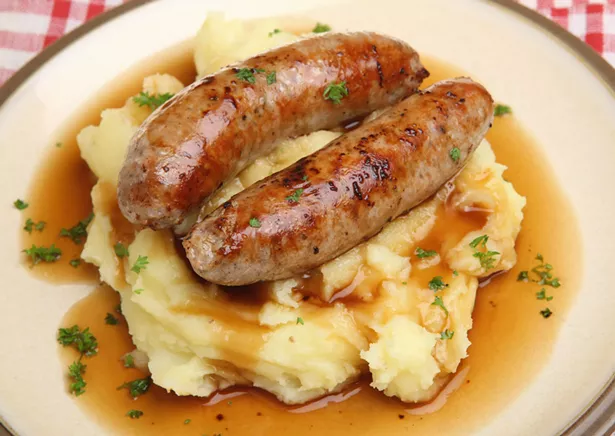 Bangers and Mash at The Quiet Man