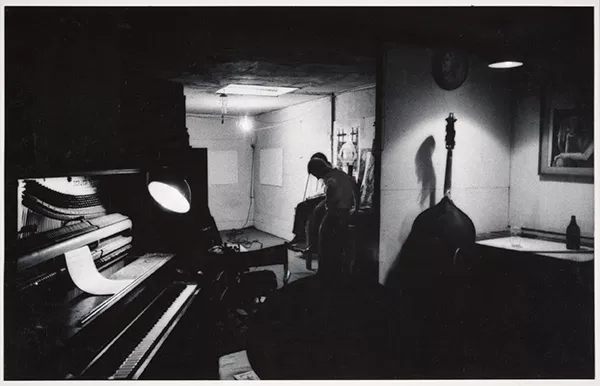 Photos by W. Eugene Smith
Photos featured in the film The Jazz Loft According to W. Eugene Smith, Loft interior
Between 1957 and 1965, a loft apartment at 821 Sixth Avenue in Manhattan was electrified by a collective creative genius. The dingy lofts of the Chelsea neighborhood fostered the jazz scene and housed the eccentricities and insanity of iconic photojournalist W. Eugene Smith. Over the course of the "Jazz Loft" years, 300 different jazz musicians, including Thelonious Monk and Zoot Sims, were identified playing there through Smith's photographs, and Salvador Dali was captured taking in the scene as well.
W. Eugene Smith is best known for his work with Life magazine, but once Smith occupied the loft, his focus remained there. Smith was a music aficionado and he opened the doors to the New York City jazz scene. At a time when there was nowhere for groups of jazz musicians to congregate outside of gigs, and no schools teaching the genre, the loft was as much an educational institution as it was a performance and rehearsal space. The music never stopped and Smith never stopped working, taking over 40,000 photographs and recording 4,000 hours of reel-to-reel audio via the legion of microphones he had strategically placed around the building. The Jazz Loft According to W. Eugene Smith makes sense of the chaos.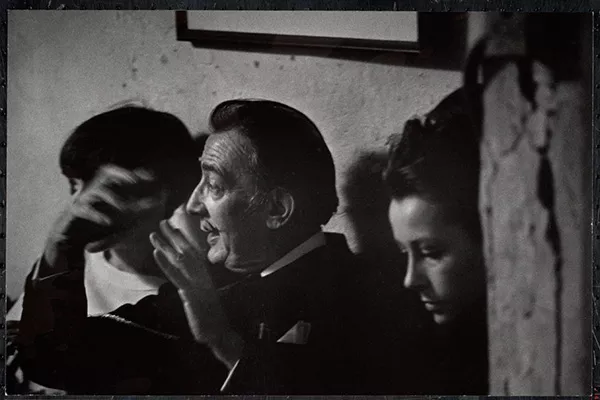 Salvador Dali and Ultra Violet at a loft party, 1960s.
Director Sara Fishko spent nearly 10 years with the project and it was the madness of the material that initially pulled her in. "For me, one of the many allures of the project was the mystery," says Fishko. "What did he think he was doing? What was he really doing? What was the connection with what was in his mind and reality?"
There was no end goal for Smith's project. He had the intent of making it into a book, but the material quickly buried that idea (An outcome similar to Smith's massive and abortive Pittsburgh project.) "In a sense, we were finishing his project," says Fishko. The doors of the loft were always open, Smith was always working, and the tape was always recording. Smith's documentation not only captures the jazz scene but is also a time capsule. Smith hung out of his window photographing daily life in the flower district of Chelsea. He recorded radio broadcasts he listened to and phone calls he made. He recorded conversations in the hallway. He recorded three weeks of rehearsals Monk was holding for his famous At Town Hall album; and those rehearsals were led by Juilliard professor and jazz genius Hal Overton, Smith's upstairs neighbor. Smith simply documented everything.
Thelonious Monk and Hall Overton, 1959
Fueled by amphetamines and passion, the Jazz Loft became Smith's obsession, and it became a road to darkness for many that stepped through its doors. Drugs and madness stood alongside genius in the loft, but music and art took center stage. "I think a lot of people are going to think this film is a romp about the wonders of jazz in the `50s," Fishko says. "The film just didn't come out that way. We are telling a very mixed-up story with darks and lights and ups and downs. W. Eugene Smith is an extraordinary, operatic, and hyperdramatic character, and he is at the center of this story." The Jazz Loft According to W. Eugene Smith is a captivating film that documents a scene and a set of characters that is hard to find a comparison to. Smith and his camera made no one uncomfortable, allowing for a telling and provocative photo essay that is maddeningly prolific. Although Smith died without making sense of this historical era, this film pays homage to the dedication and desire Smith had during his time at the Jazz Loft.
The Jazz Loft According to W. Eugene Smith screens at the Rosendale Theatre on Tuesday January 10 at 7:15pm and Wednesday, January 11 at 7:15pm. (845) 658-8989; Rosendaletheatre.org. The film can also be rented or purchased on iTunes, Vimeo On Demand, Amazon, Google Play, and Vudu.