Images courtesy of Calcutta Kitchens
The Calcutta Kitchens store in Midtown Kingston
We all have that foodie friend on our holiday shopping list. You know the one. The most adventurous eater in your crew; hoarder of specialty condiments, vinegars, and spices; the guy or gal most likely to whip up an impromptu fancy dinner party that Julia Child could be proud of.
For advice about what to get all your gourmands in need of holiday goodies, we turned to Aditi Goswami, founder of Calcutta Kitchens. At her shop in Midtown Kingston, which opened earlier this year, Goswami serves up a rotating lineup of light, homestyle Indian dishes known as tiffins, as well as her popular line of jarred chutneys, simmer sauces, and spice mixes, fresh meals packaged to-go, and a curated selection of pantry and home goods items from other makers.
Images courtesy of Calcutta Kitchens
Aditi Goswami, founder of Calcutta Kitchens
This holiday season, she's even putting together bespoke gift boxes filled with all the must-have goodies she sells in her store. "We have a little table area that's full of gift boxes and ideas, from small things for stocking stuffers to bigger items for food lovers as well as housewares," she says. "And we're happy to gift box anything people want from our store for free."
Here are a few of Goswami's favorite items to gift.
A Fresh New Cookbook to Explore
Looking for something to gift your bookish foodie friend who is always growing their cookbook library?
At Calcutta Kitchens, you'll find gorgeous, coffee-table-worthy copies of several of Goswami's go-to cookbooks, including Asma Khan's Asma's Indian Kitchen, Meera Sodha's Fresh India: 130 Quick, Easy, and Delicious Vegetarian Recipes for Every Day, and Lara Lee's Coconut & Sambal: Recipes from My Indonesian Kitchen, which was selected by the New York Times as one of the best books of 2020.


A Gorgeous Set of Spice Tins
This one's for the home cooks you'll find behind the stove all winter long, simmering away stews and braises in their beloved Le Creuset dutch oven.
Masala dabba, the hand-painted, stainless steel Indian spice tins Goswami carries at her store, represent compact kitchen functionality at its best—and they look darn good on exposed kitchen shelves. They come in a variety of vibrant colors and floral designs and with seven individual compartments there's room for all of your friend's must-have spices.


A Set of Fragrant Spice Mixes to Add to their Collection
In need of something to go in those beautiful tins? Throw in a starter pack of Calcutta Kitchens spice blends. From the familiar cinnamon and cardamom-rich tandoor masala to the fragrant Bengali five-spice mix, this four-pack is sure to bring a fresh kick to your friend or family member's pantry.

Images courtesy of Calcutta Kitchens
A Nifty New Tiffin to Store Home-Cooked Lunches
Have a friend or loved one who always brings their impressive home-cooked lunches to work?

Gift them a new hand-painted stainless steel tiffin (yes, tiffin is the word for both the meal and its container!) and they'll soon be known for the coolest office lunch game on the block.


A Quartet of Sauces to Punch Up Weeknight Dinners
Even the best home cook needs some help in the kitchen sometimes. Grab one of Calcutta Kitchens' Four Sauce Combo Packs and you can give the gift of fabulous flavor, fast cleanup, and an easy, stress-free dinner at home. From a take on the classic tomato Makhani Tikka to the bright, herbal Coconut and Fresh Coriander Simmer Sauce, there's an option for everyone to enjoy.

Want to earn some extra credit? Add a Calcutta Kitchens chutney or two for adding on top of their finished dish, or just to enjoy as a quick and easy dip.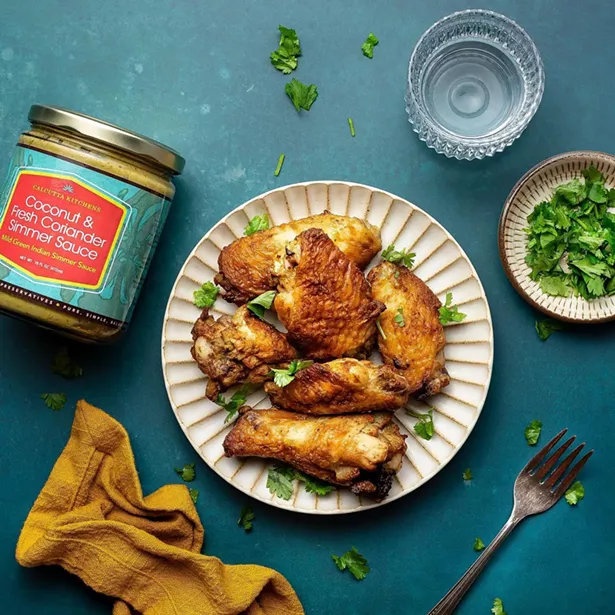 Images courtesy of Calcutta Kitchens
A Gift Card to Enjoy Calcutta Kitchens on the Regular
If you're looking for the perfect gift for someone who loves to eat rather than cook or just want to add a little something extra to your gift box, you can't go wrong with a Calcutta Kitchens gift card.

The freshly made lunches and dinners straight from Goswami's kitchen are a gift unto themselves—because a belly full of warm, delicious, and healthily prepared Indian food is definitely the best way to start the new year off right.
Calcutta Kitchens

48 Broadway, Kingston
Monday through Friday 11am to 6:30pm
Saturday 11am through 5pm
(845) 873-3893