Veteran New York actors Michael and Andrea Rhodes and Keith Teller left the Off-Off-Broadway scene 18 months ago, their love of small, independent theater battered by soaring Manhattan theater rentals. Back in the Valley, the prodigal trio—all hailing from Poughkeepsie—worked to reboot Tangent Arts, the company they established in New York City in 2000. They began a series of free monthly theatrical readings at The Black Swan, the hip Tivoli pub that brings together working-class heroes and local artists.
The gambit worked.
The appreciative crowds, says Michael Rhodes, Tangent Art's artistic director, assured the three that "there is an audience that is hungry for the kind of theater we are interested in"—namely gritty, character-driven plays. Emboldened, Tangent Arts now mounts its first Mid-Hudson stage production: John Patrick Shanley's "Doubt: A Parable," slated for Tivoli's Watts de Peyster Hall from October 7 through 17.
Tangent's core philosophy is that "truth is the motive." If so, the Tony- and Pulitzer-winning 2005 drama—first staged at Vassar's Powerhouse Theatre—is a curious choice: While seemingly a story of an alleged molestation of a young boy by a priest, the play is really a meditation on the many shades of truth that we all forge to get through life. Small wonder that "Doubt" is subtitled "A Parable." "But we don't know what the truth is," Michael Rhodes says, "and that's the great thing about this play. That's why we wanted to launch with 'Doubt.' As Shanley put it, act one is the play and act two is the discussion afterward.
"Both Father Flynn and Sister Aloysius hold firm to what they hold true—the events as they see them," says Rhodes. "They are just steadfast in their resolve."
Michael Rhodes plays Father Flynn, the priest whose kindness toward a mistreated young boy suddenly becomes whispery accusations of carnal transgression. Jill Van Note plays Sister Aloysius, the steel-spined nun who makes this mysterious matter her fiery crusade, wielding a Bible and a moral certainty that threatens to capsize the entire parochial school. Anna Nugent plays Sister James, whose initial admiration for her mentor turns to fear and then disdain over the growing obsession. Jody Satriani plays Mrs. Muller, the mother of the boy at the center of this maelstrom, who must decide whether Father Flynn has been a godsend or predator. (Satriani recently played the role in a production staged at Performing Arts of Woodstock.) Keith Teller directs the production.
The show will be staged in the Watts De Peyster Hall, a former firehouse constructed in 1898 and listed on the National Register of Historic Places. The distinctive space will enhance the troubling tone of the production, says Andrea Rhodes, the producer of the show. "It just has a feel, architecturally, when you walk in, that reminds me of the church that I went to growing up, which is Holy Trinity of Poughkeepsie. "It just has this older, almost Gothic feel to it," as well as last-century details, she adds, that meld nicely with the 1960s setting of the play.
Director Teller has staged the production as environmental theater: actors will enter and exit through actual doors in the room, and fulminate in close proximity to the audience. The message? In a moral crisis, there can be no innocent bystanders.
Tangent Arts presents Doubt: A Parable. October 7-17. Eight performances: Thursday through Saturday, 8pm; Sunday at 3pm. Watts de Peyster Hall, Tivoli. $15.
(845) 230-7020; www.tangent-arts.org.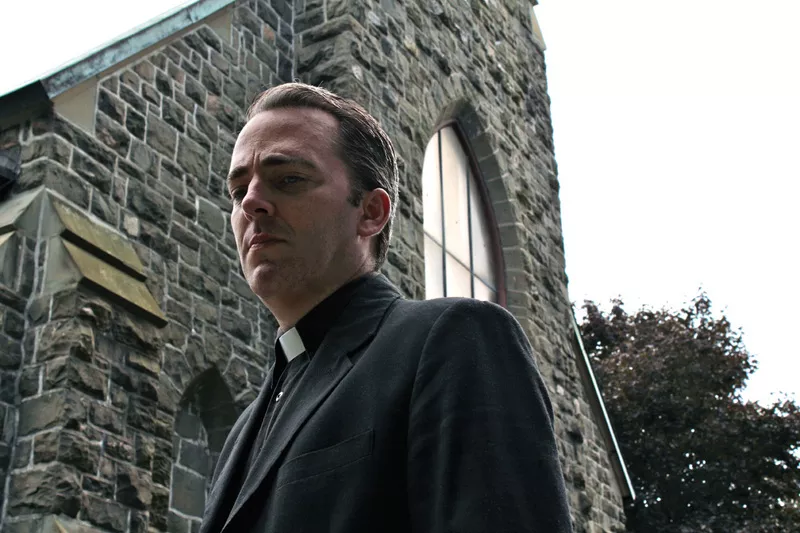 Michael Rhodes as Father Flynn in the Tangent Arts production of John Patrick Shanley's play "Doubt: A Parable," in Tivoli this month.