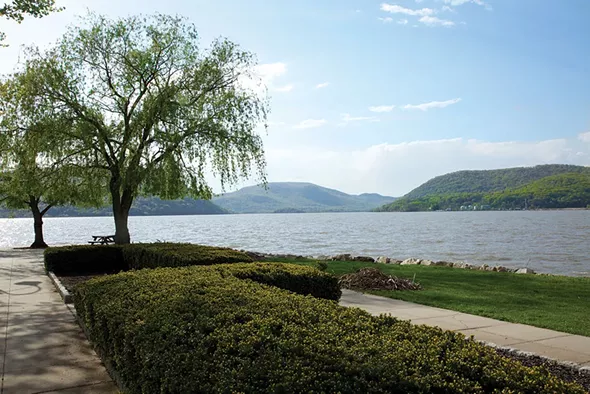 Pamela Pasco
Peekskill's Hudson River frontage is one of the city's greatest assets.
Just past quiet single-family homes on John Street in Peekskill, the brick, Gothic Revival buildings of the Community of St. Mary magically rise from the earth. Some of the structures date back to the 1870s, when the Episcopal community of sisters acquired the land on a hilltop overlooking the Hudson River. For nearly 130 years the Community of St. Mary served there, operating a girls' school out of what is now known as Chateau Rive.
These sacred buildings (by the way, the girls' school is thought by some to be the inspiration for the Eastland School of `80s sitcom "The Facts of Life") are about to change.
Fourteen years after acquiring the 47 acres from the Community of St. Mary's—who've since relocated to Washington County—Ginsburg Development Companies is constructing market-rate townhouses near the chapel and convent, then renovating those buildings into a luxury inn with a spa and swimming pool. The $500-million project is the latest in a recent round of punches by Peekskill's investors, politicians, and residents to earn the unofficial title of "the place to be."
"Peekskill is happening, here, right now," says Deb Milone, the executive director of the Hudson Gateway Chamber of Commerce, which serves Peekskill. See for yourself: Spend a couple hours walking the city's cozy streets and burgeoning waterfront, then return a month later: Chances are you'll see a bunch of new things.
One of those new things is Spins Hudson, a 40,000-square-foot entertainment venue at Charles Point Marina that opened in June. Spins has a bowling alley, four-level aerial ropes course, and two-story laser tag arena. Plus there's a 4,000-square-foot redemption arcade, and bocce and shuffleboard.
There's more to the venue, but first let's introduce the major players: Louie Lanza, owner of Hudson Hospitality Group; Bill Diamond of Diamond Properties; Scott Vaccaro, owner of Captain Lawrence Brewing Co.; and John Sharp, co-owner of Birdsall House and Gleason's. Diamond's Spins Bowl is the alley, Vaccaro is opening a Captain Lawrence satellite brewery, Sharp is running the indoor and outdoor dining operations, and Lanza is the lead developer, adding to a portfolio that includes practically every new restaurant in Peekskill.
Pamela Pasco
Peekskill Brewery
Those restaurants include two new riverfront neighbors for the stalwart Peekskill Brewery: Taco Dive Bar, whose margaritas are a great companion for happy hour, and Buns-N-Bourbon, whose burger-and-whiskey theme is basically the best way to spend a Saturday evening. Plus there's the Hudson Room, the sleek sushi-and-cocktails joint two doors from the Paramount Hudson Valley, perfect for a nightcap.
Lanza will later in 2017 be opening the Eagle Saloon, whose Low Country menu would pair well with the Buddy Guy show at the Paramount (October 8).
Dating back to 1930, the red-brick Paramount remains an anchor for the city's arts scene. Upcoming concerts include new wavers the Fixx (August. 10) and rockers-for-kids the Dirty Sock Funtime Band (August 20). Don McLean and Howard Jones are among those scheduled for the fall.
With all the development happening in Peekskill, the Paramount is among the assurances that the city's history remains intact and vital. That can also be said for Sharp's two downtown restaurants, Gleason's and Birdsall House.
The former, named after Peekskill's Jackie Gleason, maintains a Prohibition aura with cool walls, dim lighting, and a cocktail menu that offers a Manhattan and an Old Fashioned. Also, order the clam pizza, the best this side of the Housatonic.
Birdsall—at least the name—dates back to 1776, when George Washington set down headquarters for the Continental Army at a site across the street called Birdsall House. The property's role as a neighborhood watering hole dates to the 1940s, when it was John Connolly's no-nonsense taproom, where patrons watched Friday night fights on the first TV in the city, and their grandkids peered through the windows from outside.
Pamela Pasco
Peekskill Coffee House
Back in 2010 when Sharp and restaurateur Tim Reinke bought the building, they spoke about keeping the past alive. They've followed through: photos of Peekskill's past crowd a brick wall in Birdsall, where solo drinkers, couples, and families eat Carolina BBQ burgers and drink pints of Peekskill Eastern Standard at the outdoor picnic tables or at the friendly bar.
"During the day my bocce ball court becomes a sandbox, and that's totally cool," says Sharp. "That's what we want, straddling the lines between being a restaurant, a bar, and place to hang."
That's a defining characteristic of Peekskill: It's impossible to find pretense. That's probably due to the city's fighting spirit—since being a Revolutionary outpost for Washington, Peekskill has battled to stay an integral hub first for the national defense, then for large manufacturing, and now for the arts and tourism.
A major arts player is the Hudson Valley Center for Contemporary Art, established in 2004 by Livia and Marc Straus. At the foot of a residential neighborhood, the warehouse structure proclaims, "It's what outside that counts." You can't discount the inside, which crams insightful paintings, photographs and installations into a 12,000-square-foot space, but the sign makes a good point. After opening the building, the Strauses launched the Peekskill Project, an exhibit of site-specific installations designed to move art outdoors. Since the first Peekskill Project in 2004, HVCCA has produced five more, inviting visitors to engage with artwork in parks, in parking lots (Peter Bynum's exhilarating "Life" paintings by the Peekskill Metro-North Station), and sometimes even in residents' homes.
Beyond Peekskill Project, HVCCA operates programs that give Peekskill public school students the power to create and engage. Student works have been showcased at the museum, while the center's artists in residence typically visit schools to give talks and host workshops. Here, everyone seems to be working toward improvement while retaining the diversity found in much of the city.
Pamela Pasco
Bruised Apple Books
"This is a community that works together," says Straus. "The goal of the community was not to gentrify, but to build a community to support the arts and to get people who were struggling to get jobs back to work." Walk the streets and you may agree. The public art, new restaurants and eclectic coffee shops sit comfortably next to delis flashing neon Corona signs and small businesses like the Fern Tree, which sells African gifts and clothing.
You're bound to find the community working together August 5 at the Hudson Valley Expedition, a daylong festival celebrating the region's bounty of artists, wellness providers, and businesses. Running 1 to 10pm at Peekskill Riverfront Green Park, the event includes live music, artisans, children's activities, food, and fireworks. Then, on October 15, vintage wheels aged at least 50 years will be cruising the downtown at the first-ever Peekskill Vintage Grand Prix.
More festivals. More tourism destinations. That means visitors from New York City are spending more time in Peekskill. (Sharp typically finds plenty of dollar coins when counting Birdsall's and Gleason's receipts on Monday morning, a sign the MTA ticketing machines were busy.) Maybe they're slurping down some Dan Dan Ramen at the homey RameNesque, or leisurely munching on a classic egg sandwich at BeanRunner Cafe, or perusing the vinyl bins and fingering the vast book collection at Bruised Apple, the city's bookstore.
And maybe they'll also stop into Division Street Guitars to tune up their Fenders, then visit Jeans Town for new kicks (and a cell phone) before sitting back on one of those mid-century-modern diner chairs at the Peekskill Coffee House, which perfectly balances kitsch and comfort.
It's easy to go on, but see for yourself. Go now. Or wait, and before you know it, there'll be a bevy of new things to explore in Peekskill.
Pamela Pasco
Birdsall House