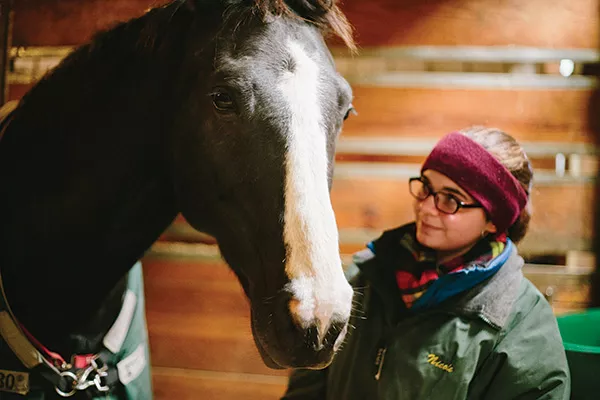 Thomas Smith
Oklahoma and Nicole Wiley at Southlands in Rhinebeck.
The secret is out.
Rodney Johnson, owner of Grand Cru Beer and Cheese Market, says that after Chelsea Clinton got married at Astor Courts estate in 2010, a whole new batch of people discovered what many already knew—Rhinebeck is a special place.
In this picturesque Hudson Valley community, agriculture, style, the arts, and culinary expertise all combine to create a feeling of country chic. It's a small country town with lots of open spaces and areas to enjoy nature but it's also home to one of the region's most bustling restaurant scenes.
With its rich mix of history and haute modernism, there's plenty to attract newcomers to Rhinebeck; and with several new shops, restaurants, and development projects either recently opened or in development, there's plenty of reasons for those who know Rhinebeck to take another look.
History & Horses
European settlers first came to Rhinebeck in 1686 and the community has a long tradition of tourism. It is home to the Beekman Arms, said to be America's oldest continuously run hotel, and a place that has played host to heroes of American history like George Washington, Alexander Hamilton, and Franklin Delano Roosevelt.
Another longtime Rhinebeck attraction is the Dutchess County Fairgrounds, which has hosted the Dutchess County Fair since 1845. This summer, from August 19 to 24, the fair will celebrate its 169th anniversary.
"The fair is about family, and having that destination each year for your family. It becomes part of the fabric of a family's existence," says Andy Imperati, general manager of Dutchess County Agricultural Society, which runs the fair. Imperati adds, "People start coming here as kids—they come with their grandparents or their parents. Then the kids end up bringing their kids and their grandchildren. It perpetuates through families."
Imperati took over as general manager last year but has been working at the fairgrounds in other capacities for 19 years. He says that at its heart the fair reflects the community's connection with the land and its food source.
"It's an event where people can go learn about where their food comes from and how it's grown. That is the basis for what we do and always will be," he says. "When county fairs first started way back, it was about farmers coming together at the end of the season, showing off what they had grown or bred over the year. The fairs were friendly competitions and the fair morphed into what it is today. There's entertainment, there's the carnival, food, the whole bit, but a true county fair is still based on the agriculture element that brought it here."
In addition to the fair itself, the fairgrounds hosts a variety of events, including two new festivals. The Country Living Fair is an expo ran by Country Living magazine that made its Rhinebeck debut at the fairgrounds last year. It will return this summer from June 6 through June 8. The Hudson Valley Arts Festival also debuted last year, and will return the last weekend in September with a new name, the Rhinebeck Arts Festival.
Another longtime Rhinebeck attraction is the Southlands Foundation, which has helped spur Rhinebeck's equestrian culture since the late 1930s. The nonprofit is located on Route 9 on close to 200 acres overlooking the Hudson. Its mission is to provide an understanding of the environment and its creatures through outdoor activities, particularly through the instruction of horsemanship and other horse-related pursuits. The facility offers riding instructions for riders of all skill levels—from complete novice to seasoned pro. Allison King, executive director of the Southlands Foundation, says horses can teach us a lot about ourselves. "People can develop a lifelong affinity toward the horse and it really connects with their soul," she says. "Horses are very large animals but, by nature, very gentle animals. We can talk to them all day long, but they understand how we feel on the inside, and they respond to our intent. A lot of people can get in touch with themselves better through riding ,and they learn different communication skills."
Horse lovers may also want to visit Old Stone Farm before they leave Rhinebeck. Billed as a "field of dreams for mind, body, and spirit," Old Stone Farm is a bed-and-breakfast located on a 236-acre horse farm. The farm, opened last year, is the brainchild of Sherry Kahn and her late husband Stu Kahn. The facility includes 10 guest rooms, a library, yoga barn, pavilion, horse barn, and indoor and outdoor riding rings, as well as a full-service spa that includes massage, wet rooms, and steam cabinets.
Thomas Smith
Dawn Shapiro stretches as Kate Fleck intructs at Rhienbeck Pilates.
Sleeping Arrangements
Because of Rhinebeck's increasing tourist draw there is more demand for facilities like Old Stone Farm. To meet this demand there are several new hotel projects currently under way in Rhinebeck. Jonathan Mensch hopes to develop his family's historic Grasmere Farm property on Mill Road just outside the village as a boutique hotel, spa, restaurant, and catering event space. The property encompasses about 500 acres and includes a 1600-square-foot 1700s estate house and two historic stone barns. Mensch plans to convert the estate house into a hotel and the barns into a restaurant, and build additional standalone cabins. Ultimately, the facility will be able to accommodate 110 guests. The hotel complex will take up about 40 acres, and much of the remainder of the property will be restored as farmland.
Mensch's father, Steven Mensch, first moved to Rhinebeck over 20 years ago and assembled the property piece by piece. Mensch says his father began purchasing the land to ensure the area was not subdivided into housing units. Mensch believes the current plans, which call for construction to begin next year, will honor the spirit of the land and bring more people to Rhinebeck.
"There's a lack of places to stay, not just in Rhinebeck, but in Dutchess County," he says. "Hopefully we'll be able to create something that is reflective of what is attracting people to the area now, in terms of the adaptive reuse component, the historic preservation of old property, and the open space preservation. And it will be beneficial in terms of bringing more people to the area and letting people experience Rhinebeck."
Once built, the facility will join longtime Rhinebeck attractions like the Omega Institute for Holistic Studies. Founded in 1977, the Omega Institute is a nonprofit educational retreat center located in Rhinebeck that offers a variety of educational workshops on its 190-acre campus.
Country Chic Living
Many of Rhinebeck's boutique shops cater to a high-end clientele and the options for consumers are expanding. Hundred Mile Home, a lifestyle showroom, opened its doors last July. Owned by husband and wife Kristina Albaugh and Josh Ingmire, the showroom offers a curated selection of furniture, fashion, lighting, design objects, fragrance, jewelry, and art. In addition to furniture from design manufactures like Fritz Hansen, Anna Torfs, and many other celebrated designers, the showroom features art from New York City artist Roberto Dutesco as well as the French sculptor Emmanuelle Piquart. Ingmire and Albaugh opened Hundred Mile Home in part to spend more time in Rhinebeck.
"Years ago, we bought an old farmhouse in Rhinebeck as a respite from Manhattan," explains Ingmire. "Originally intended for weekends, it quickly became much more. We completely fell in love with the charms of Rhinebeck and the Hudson Valley. Before long, we were seeking a way to become full-time residents. After 19 years together, it has been our longtime dream to be able to work side-by-side in design. So we decided to take a leap of faith and open Hundred Mile."
The town also supports a thriving arts scene. It is home to Upstate Films, a nonprofit, member-supported movie theater. The theater (which also has a location in Woodstock), shows first-run art house films, has a classic film series, and hosts independent film screenings and guest speakers.
Live-performance fans can stop by the Center for Performing Arts at Rhinebeck. The intimate theater, which is housed inside a red barn, has a busy performance schedule. February's offerings include productions of "Next to Normal" and "A Streetcar Named Desire." Cocoon Theater, right downtown, hosts theatrical and dance performances, as well as classes and workshops for all ages.
Rhinebeck is also home to a variety of talented artists and performance groups, including Solas An Lae, a professional Irish Dance Company. Formed in 2006, Solas An Lae Dance Company is directed by Deirdre Lowry and Patrick Brown. The dance company has performed at many notable dance competitions and theaters throughout the northeast.
Thomas Smith
Sean B. Nutley, Brigita, and Jennifer Francis at Blue Cashew.
Culinary Destination
"We have a disproportionate number of really good restaurants for a one-stoplight town," says Rodney Johnson, owner of Grand Cru Beer and Cheese Market. Johnson's bar and cheese shop has six rotating beers on tap and more than 300 different beers available in bottles. The place also sells beer bottles and growlers to go. In addition, it offers dozens of different types of cheeses and the staff provides expert suggestions on beer-and-cheese pairings. The business was opened in 2010 but Johnson purchased it in 2012.
Most of the cheese featured at the bar is produced in the Hudson Valley or elsewhere in New York State. "About 80 percent of my cheese comes from within an hour and a half of my store," Johnson says. "I've visited most of the farms personally at this point. Being an ex-farm boy, it's important to me that the animals are being treated right."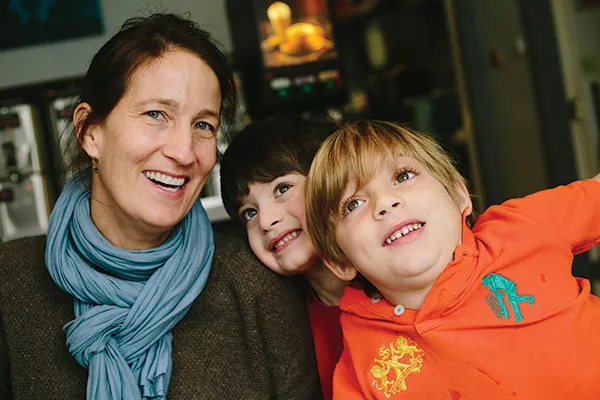 Thomas Smith
Cricket Lengyel, Griffin Stewart, andWolf Kibel DeCola at Rhinebeck Bagels.
The new kid on the restaurant block in Rhinebeck is the Shelter Wine Bar, which opened just after Christmas. However, its owners, husband and wife Wesley Dier and Bryn Bahnatka are culinary veterans of Rhinebeck. In addition to the Shelter Wine Bar the couple owns The Local, which is a favorite Rhinebeck dining spot that features an eclectic new American menu, which emphasizes local products and regional recipes. The Shelter Wine Bar features a tapas menu, an extensive wine list, and a variety of throwback craft cocktails, including The Last Word and an absinthe Sazerac.
"We like to call it a bar for adults," Dier says of his new place. He adds that he hopes to continue helping to power the restaurant revolution in Rhinebeck. "I've watched the culinary landscape of Rhinebeck expand and explode, if you will. There are so many notable restaurants now, and we really feel that we're a big part of that."
Dier grew up in Rhinebeck and says it is a special community that he's proud to live in. "It's a place where you can leave your doors unlocked and enjoy how beautiful the trees are and the Catskill Mountains and the Hudson River. As you grow older, you realize more and more that this is really a great place to be and live and settle down."