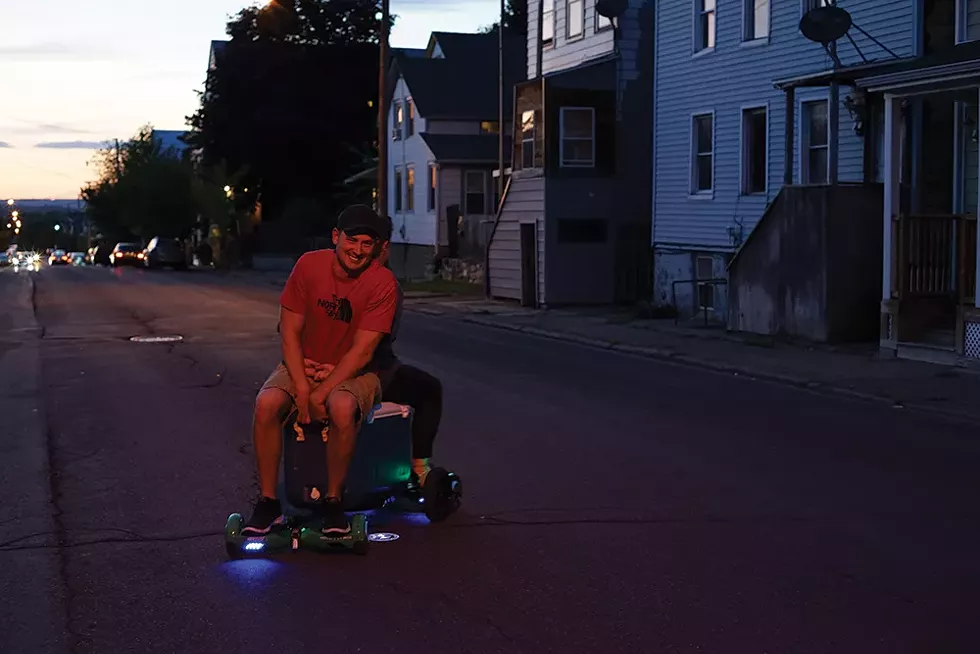 Photo: John Garay
Justin and Brittany Quinones take a night ride on their mobile cooler.
There's a story that Carole Osterink likes to tell to illustrate how much the city of Hudson has changed in the 26 years and counting that she's been living there. One day in the mid-90s, before she served as an elected member of the city's common council, before she started the indispensable blog The Gossips of Rivertown to chronicle everything going on in Hudson, she was tending to the ivy in front of her house when she struck up a conversation with a 10-year-old girl who lived in the neighborhood. The little girl asked her what she was going to do with all of her beautiful plants when she moved. Osterink explained she had no intention of moving.
"But don't you want to leave here when your life gets better?" asked the girl.
When your life gets better! Osterink was part of a generation that was moving to Hudson in order to make their lives better. She had first visited the city a few years prior, after moving to Red Hook, because she needed a dining room table and had heard that "there were some antique shops in Hudson," a statement similar to hearing that there were some hippies in Woodstock. What she found instead astonished and confused her, as it continues to do for anyone who visits the city for the first time: Who did this? Who put these throngs of Italianate villas, these Federal houses, these Queen Annes and Greek Revivals and Nantucket salt boxes here and smashed them all together on the banks of the Hudson River? And the answer is, of course: whales.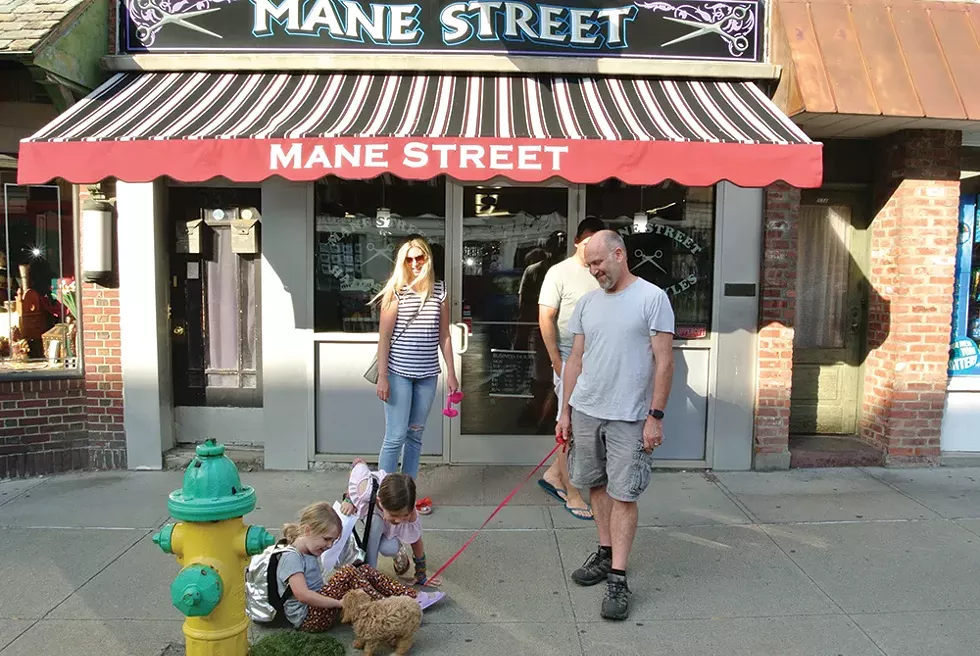 Photo: John Garay
Johnny, Caitlyn, Hazel, Violet, Oliver, and Peanut in front of Mane Street on Warren Street in Hudson.
Okay, not literally. But the architectural wonderland that is Hudson was built on the backs of leviathans, and the city owes much of its glory to the briny deep. Hudson was founded in 1783 when a group of merchants known as the Proprietors chose a small landing on the Hudson River, the farthest upstream they could get before the river got too shallow to support ocean-going vessels, to become a new nautical powerhouse. It became the first planned city in America—the Proprietors laid down a grid of streets, which pretty much still stands today— and with the launch of its whaling ships soon after, a city of riches. Hudson's fortunes came in and out like the tides over the next 115 years: There were wars, fires, global economic slowdowns, what have you. But when the money came in, it was whale money: enormous and unbelievable. And the merchants turned their whale-begotten riches into whatever the hot architectural style of the day was.
Even before whaling fell out of fashion, the city wisely transitioned to a more general merchant-based economy, powered by its ships and the new railroad system running through it. That kept the good times rolling for several more decades, during which even more architectural styles became popular and folded into the vernacular of the city. But once the Great Depression rolled over town, Hudson's forward progress stopped. A few local cement plants and the hospital kept the city from completely collapsing, but Hudson's gilded age was over.
Photo: John Garay
Linden Scheff mimicks Nick Simpson's The Perambulator at Carrie Haddad Gallery.
Some of Hudson's architecture was lost to the familiar scourge of "Urban Renewal" projects, but much of it remained. It may have been repurposed into multifamily houses or the local Elks Lodge or fallen into disrepair, but it was there. It was this architecture that caught the eye of antiques dealers in the 1980s, who took advantage of the large spaces and cheap rent to slowly populate Warren Street. It was the architecture that caught the eye of transplants like Osterink in the 1990s who began buying and restoring buildings, of galleries like Carrie Haddad, which opened in 1991 as the city's first fine art gallery. It would soon have company.
This is the Hudson that Nancy Horowitz-Felcetto and her sister came to in the early 2000s from New York City to open up a Hudson Valley office of Halstead Reality. As lifelong New Yorkers and realtors, they remembered what it felt like right before the East Village, the Lower East Side, and Tribeca each got hot. Hudson felt very similar. "There was something happening here," she recalls. "We felt the vibes." The newly opened Red Dot restaurant, still going strong today, emerged as the vital neighborhood hangout that every scene needs for people to make connections, forge alliances, or stumble upon during a weekend visit and soon decide that they'd never leave. "It was an intense scene, man," someone recently explained to me at Hudson's Spotty Dog Books & Ale, describing the creative energy flowing through the Red Dot in the dawn of the new millennium. "Think about it. All the crazy 60-year-olds in town were only 40 back then. It was wild."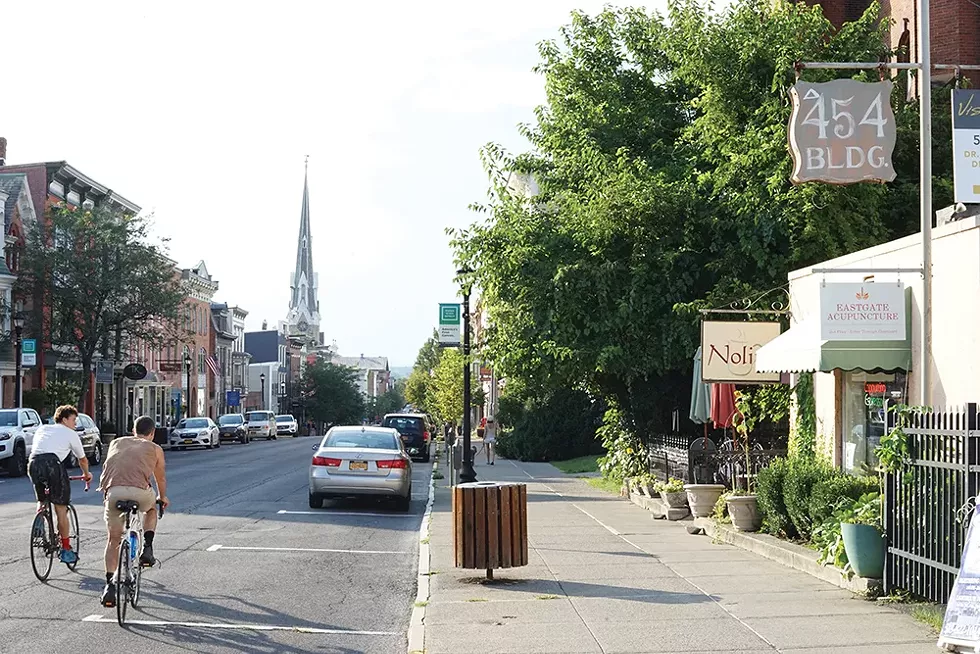 Photo: John Garay
Biking on Warren Street.
This was the Hudson that soon caught the attention of people far and wide: the urban country hotspot of antique stores and art galleries. If you haven't been to the city in years, you may still think that's what Hudson is about. But the city continued to slowly change in subtle ways.
The younger, creative class, who thanks to the new remote work and freelance economy found themselves no longer having to live and work in major metropolitan areas, began to flee New York City in order to found tight-knit communities of makers and like-minded types who were finding the city to be increasingly too expensive and overwhelming. "Here you'd see the same people getting coffee in the morning as you would later at happy hour at the bar," says Stella Yoon. "Especially coming from New York City, not being able to hide behind anonymity was a big adjustment. But you do get to know people." Falling in with a group of other female makers and creatives, Yoon founded Hudson River Exchange, which started as an annual showcase of local craftspeople and artisans and is now a full-time retail space on Warren Street. Through the Hudson River Exchange, local makers met each other and Hudson store owners found that they could stock their stores with locally made goods. "I don't think Etsy even had the location-filter feature then!" says Yoon. Not coincidentally, the online marketplace soon opened up a Hudson headquarters in a former cannonball factory.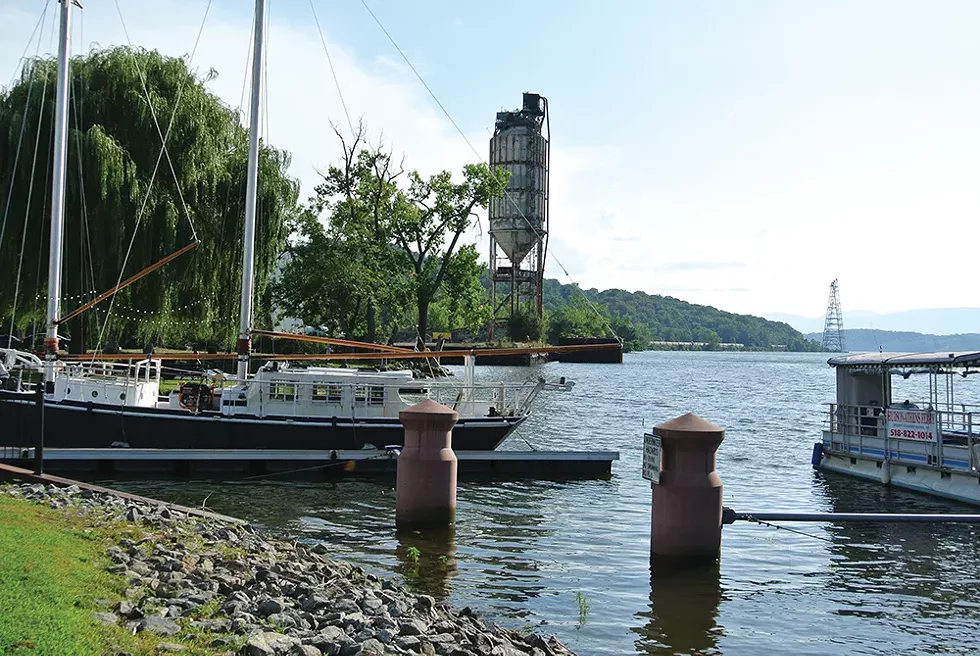 Photo: John Garay
Hudson waterfront.
Etsy was not the only heavy-hitter to come up from the city. Zakary Pelaccio closed his New York City-based mini-empire of critically adored Fatty Crab restaurants to come to Hudson and open the obsessively hyper-local Fish & Game, where almost everything served comes from a 40-mile radius. Then, in a nod to Fatty Crab, he opened up Backbar in an old garage, which brings mouth-watering noodles, powerful frozen cocktails, and a bit of Southeast Asian heat to Warren Street. Melissa Auf der Maur, former bass player for Hole, founded Basilica Hudson in an expansive warehouse by the train tracks for year-round, mind-expanding performances, art exhibitions, and festivals. The "I pulled this out of a dead farmer's hands" aesthetics of the antique stores began to be replaced with Mid-Century Moderns and 21st-century minimalism. Hotels, bed-and-breakfasts, and Air BnBs opened by the dozens.
Photo: John Garay
Backbar.
You would need a hotel or a friend's couch as a home base to take in Hudson's dining scene today, as eating from one end of mile-long Warren Street to the other would now take weeks, with the explosion of restaurants, coffee shops, and bakeries that have opened in just the last few years. And by the time you got to the end, you would have to turn around and work your way back to hit the ones that have opened since you've started. And if you venture off Warren, to the alleyways and side streets surprises await, like Ör, a restaurant/cafe/bar/leather goods stores that also has a fire pit. Thankfully, even as Hudson continues to get expensive and chic, with high-fashion designers beginning to open up stores, it also retains a scrappy weirdness with room for motorcycle cafes (MOTO Coffee/Machine), satirical multimedia candy shops (the Hudson Underground), and a 24/7 local meat vending machine shop (Applestone Meat Company).
Photo: John Garay
Ca'Mea.
The antique stores are still here, although many of them have relocated to the outskirts of town or moved in together to share space, selling most of their goods online. Hudson today is transitioning from a weekender city to one filling up again with full-time residents who need places to go and shop year round.
The transition has not been smooth. There's still no grocery store. Much of Warren Street is closed from Tuesday through Thursday, making things difficult for the people here who work in the restaurants and bars that keep the city humming on the weekends. And not all of the economic success has trickled down. Step off Warren Street, and you'll also find neighborhoods that are still waiting for the renaissance to reach them and far too many 10-year-olds who still view Hudson as someplace they need to leave in order for their life to get better.
The Battle Ahead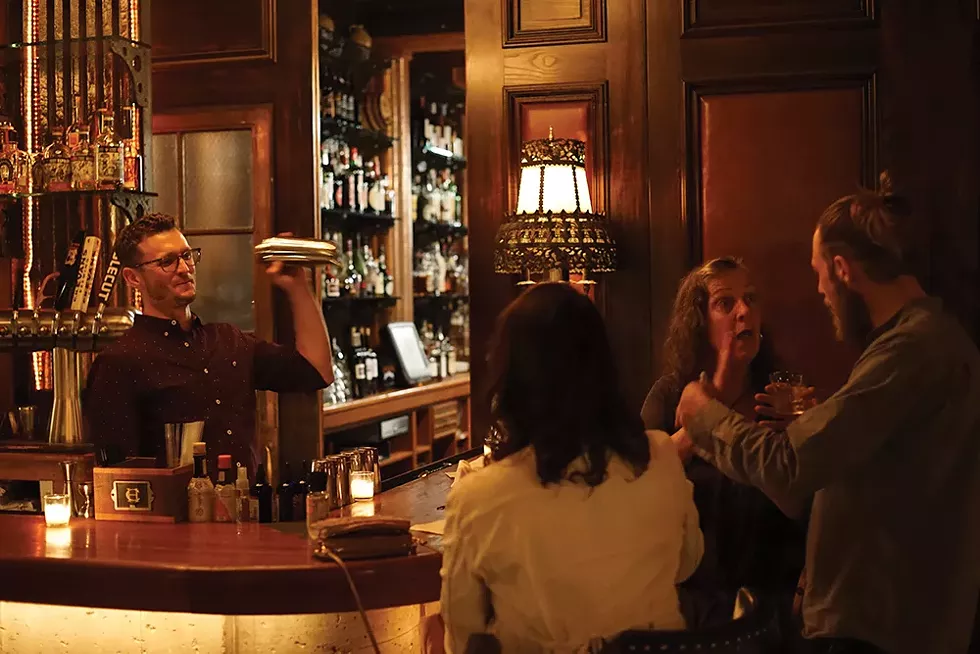 Photo: John Garay
Lively conversation and cocktails at Club Helsinki.
This is Hudson today, as the city struggles with similar problems to other Hudson Valley cities, such as Kingston and Beacon: At what point does community improvement become gentrification? How do you enrich a city without pricing people out? Between 2016 and 2017, the city's median income shot up 14 percent (from $31,042 to $35,439,) but that's still far below the state average, and one-fifth of the city still lives in poverty. How can Hudson work for everyone? A good place to start may be those 10-year-olds.
"Kite's Nest is part of a movement that is putting young people and families at the center of city planning," says Michael Chameides, who serves as operations director for the Hudson-based nonprofit that teaches children about social justice issues and explores solutions to problems of oppression. "If you create a city that works for young people, everybody benefits." If you work on creating an environment where it's possible—and safe—for kids to walk or bike to school, then you're also inherently taking on issues of public safety, traffic, and zoning, and building a community in which people look out for the well-being of children they see around town, even if they don't know them. It's also much more likely that a kid who enjoyed their childhood will stick around as adults. As part of a Kite's Nest project that called for young people in Hudson to suggest ways that public transportation could better serve them, a new bus route was added: designed by young people to serve young people.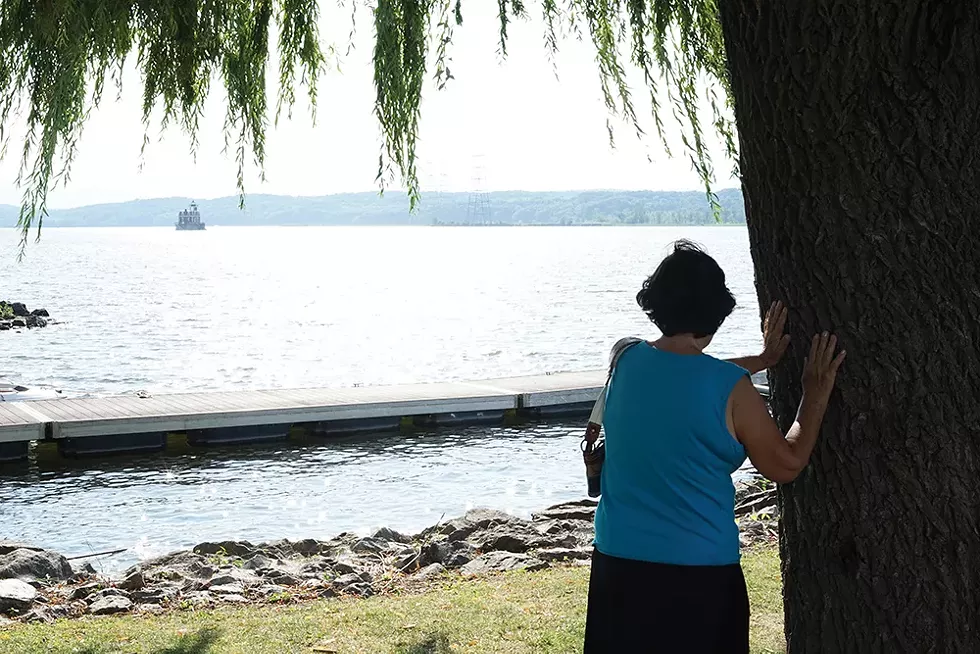 Photo: John Garay
Tree worship on the Hudson waterfront.
It will take more than a bus route to solve Hudson's problems of economic disparity, but Chameides is also a member of the Columbia County legislature, which is wrestling with the question of how to zone for affordability in the city. It was problems with inclusion in Hudson that first got Chameides involved in politics when he moved to the city almost 15 years ago. The city had been trying to stop kids, mostly immigrants, from playing soccer at the riverfront. Chameides helped organize the kids to fight City Hall for their right to enjoy the waterfront, a battle the kids won. "What I took from that was that a small group of people can affect local government and make a change in people's lives," he said. "But if people aren't engaged with their government, there's a real risk that it will go off the rails and not be responsive to people."
That brings us to the last two common themes that come up time and time again when discussing Hudson with anyone who lives here. First, it is shockingly easy to get involved and make your voice heard here. Which is great because the second common theme is that, in an odd Legend Of Zelda-esque wrinkle of fate, the city seems condemned to confront a great evil once every generation, one in which calls for unlikely heroes to arise and band together to stop it: the proposed nuclear power plant in the 1970s, the proposed waterfront refinery in the '80s, the proposed toxic waste processing facility in what is now Basilica Hudson back in the '90s, and the proposed cement plant in the early 2000s.
Photo: John Garay
While Hudson grapples with gentrification and environmental threats, a spirit of hope still reigns in the city.
The people of Hudson, despite long odds and heavy opposition, thwarted all of these plans. Now the riverfront is under peril again, as Colarusso, a local paving firm, seeks to build a haul road that would end at the riverfront. The company charges that this would help keep heavy trucks off of city roads, which were not built to withstand industrial trucking and are being slowly destroyed by the weight. Opponents say the road would pollute and destroy Hudson's glorious waterfront, with its open, green space, and resplendent views of the Hudson-Athens Lighthouse and the Catskills towering in the distance.
As always, the chips seem stacked against the little guys. Then again, building a whaling city 150 miles away from the ocean once seemed like a bad bet as well. But if the younger generation remaking Hudson can join together with the ones who helped save the city before, they may snatch victory from the gargantuan, watery jaws of defeat once more.