Page 2 of 3
Since it opened in 2017, The Amsterdam has quickly become a new standout and kind of feels like the culmination of a culinary conversation the region has been having for two decades. Every ingredient that should be sourced locally is—not as a gimmick but because it's the best. Preparations of dishes are thoughtful, considered and warmly modern. The feel of the menu and the well-appointed atmosphere takes stock in the past and present.
"We wanted to deliver a menu that's built on local, super fresh ingredients from small producers," says Howard Jacobs, who owns The Amsterdam with wife Chris. "Lately, we've begun to bring a more international influence to our dishes as well, but always with a local feel."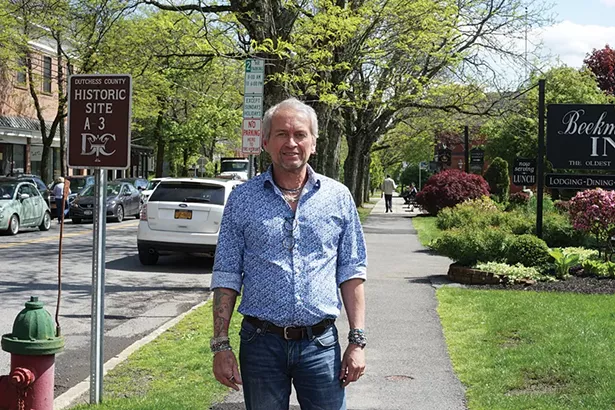 Photo: John Garay
Frey Johnsson at the intersection of Mill and Market streets in Rhinebeck.
The couple, along with the skill and zeal of Executive Chef Alex Burger, also recently launched Lucky Dragon. The upscale Chinese restaurant has received a lot of buzz since opening its doors in May. Dressed in the comforting and relatable trappings of the Chinese–American restaurant experience, Lucky Dragon is using local ingredients here as well to celebrate and enhance the Chinese flavors the Jacobs grew up with, eating in the restaurants of Toronto's large Chinese community. They're doing everything from an elevated General Tso's Chicken to full service Peking Duck (call ahead).
Quaint and Quirky
The business landscape in Rhinebeck is composed of quality, quaint, and quirky retailers. Despite the village's considerable economic scale, Rhinebeck shops confidently lean into their individuality. Events like Porchfest in the fall and Sinterklaas in December bring a bold and uncommon artistry to the village. During Porchfest, musicians play on the front porches of dozens of homes in the village's historic district, promoting the walkability of the village and celebrating charming side streets one might not otherwise have the chance to appreciate.
Photo: John Garay
Susan Sprachman and Marie Marcasciano at Iconic Hair in Rhinebeck.
Later this year the Rhinebeck area Chamber of Commerce will host the second Bizarre Bazaar, further highlighting the creativity of the shopping district. "I think we are in the post-Amazon era and people are more interested in essentialism," says Chamber Executive Director and business doula Kyra Bonanza. "They only buy the things they really want from places and business owners they want to support. We see that here."
As with the restaurants, there are a number of shops that have really become fixtures like Upstate Films independent movie theater, Paper Trail, Winter Sun and Summer Moon and Samuel's Sweet Shop, which actors and local residents Paul Rudd and Jeffery Dean Morgan found so vital, they saved it from closing after its founder Ira Gutner passed away in 2014. They now run it the same way Gutner did, honoring his legacy.
Photo: John Garay
Culinary mainstays of Rhinebeck, Terrapin and Gigi Trattoria.
Another modern village institution is Oblong Books. Started in Millerton in 1975 by the Hermans family, the Rhinebeck shop opened way back in 2001. Suzanna Hermans runs the store with her father. "It will be 18 years here in September but I still feel like we're the new kids on the block," Suzanna Hermans says. "I continue to be dazzled by the hunger for books our community has. Rhinebeck is obviously a tourist destination but the local community is what gives it such a great vibe. Any town benefits from having a good bookstore—as a reading space and as a place to meet and learn."
Newcomer to the paper game in the village, Megabrain Comics has quickly become as much a community space as a comic book and gaming shop. Founded by the gregarious Jean Michel, it's a welcoming hole-in-the-wall full of magic.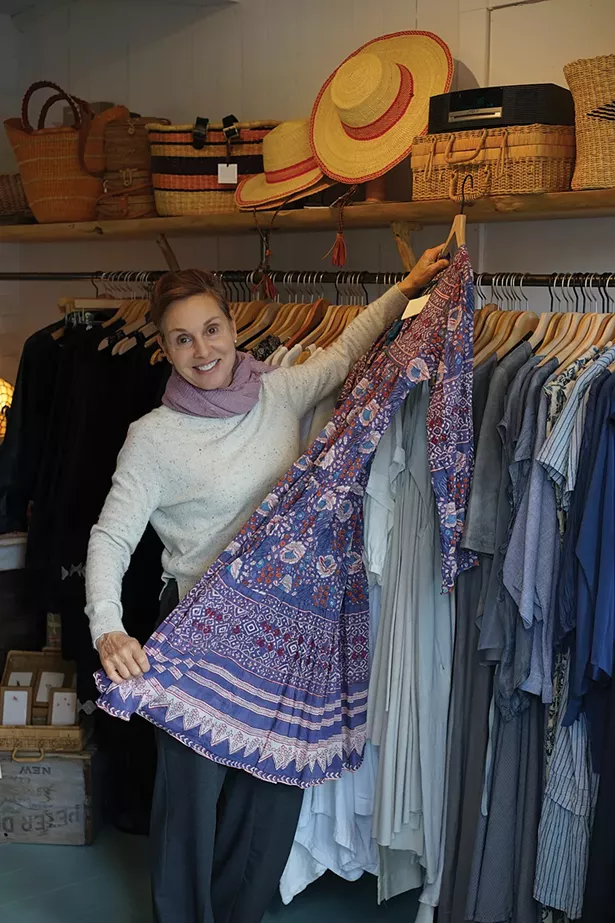 Photo: John Garay
Joya Drayton at Zephyr in Rhinebeck.
In the summer, Rhinebeck supports its less visible maker community with The Artist studio tour. The event opens doors into homes and shared studio spaces to offer a glimpse into local artists' private creative processes.
"Some people have this image of Rhinebeck, that there's this different class here, but that's not true," says Mayor Bassett. "We are diverse in our shopping and restaurants, and we are diverse in our community as well. There's something for everyone, and it's important to us that we keep a reputation that everyone is welcome."
Photo: John Garay
'T' Space art gallery in Rhinebeck.
A small but important example the mayor pointed to that exemplifies the tangible effort of character preservation is the municipality's partnership with the Anderson Center for Autism to make Rhinebeck an autism supportive community. Businesses have been given training on how to make their shops more comfortable for people with autism and sensory safe spaces have been created at events like Sinterklaas which can be particularly overwhelming.