Photo: John Garay
Rhinecliff Bridge, approaching Dutchess County.
Set to the task of forming the ideal Hudson Valley town, the end result would probably look and feel a lot like the Village of Rhinebeck, NY. The elegant, historic beauty of its architecture enrobes excellent restaurants, shops, and a vibrant, engaged community.
What really breaths life into Rhinebeck is that while it offers up the relaxed high-end experience tourists flock in for, it's also unexpectedly egalitarian and commercially diverse. From food to shopping to entertainment, Rhinebeck feels open to all.
"To me, what we are trying to do is character preservation," says Village Mayor Gary Bassett. "What we strive to maintain, from historic buildings to new homes or new businesses, is our unique character. Add on top of that our streetscape, I just feel there's no other place on the Route 9 corridor like Rhinebeck. It's walkable, bikeable, and sustainable."
There has been a lot of growth and change over the past decade in Rhinebeck—more high-quality but also higher-priced businesses and restaurants have proliferated. A large new housing development and the soon to be completed, massive Mirbeau Inn and Spa are making their presence felt as well.
The question presents itself: How has Rhinebeck grown without subverting the community feel that drew that growth in the first place?
Fair (Weather) Friends
Photo: John Garay
Students at Primrose Hill School in Rhinebeck.
What many people say has remained the great cultural equalizer in Rhinebeck over the past 100 years is the Dutchess County Fairgrounds, tucked into 147 acres at the north end of the village. A welcome reminder that here is still an agricultural society in practice and at heart, the Fairgrounds attracts folks of all stripes. All season long they come, not just for the Fair itself but for car shows, antique fairs, swap meets, culinary events, and community gatherings. Fair visitors also spill into the village and whether they're getting comfort Americana at Pete's Diner or refined comfort Italian at Market St., the fairground's tide raises all boats.
"Our mission is the same after 100 years, and that's to promote agriculture. We are still doing that, just on a grander scale," says Andy Imperati, president of the fairgrounds. "Think of just the Sheep and Wool Festival. We get 20,000 to 40,000 people coming from everywhere in the country. We are happy to be able to expose Rhinebeck to people who've never seen it before."
Asked what other institutions exemplify Rhinebeck to him, Imperati, who started at the fairgrounds in the carpentry shop 25 years ago, pointed to Foster's Coach House Tavern, opened in 1890, and the Beekman Arms, founded in 1766. The neighboring establishments have been feeding generations of visitors and locals alike. Offering both traditional roadhouse fair and fine dining, the establishments show that having a little something for everyone has always been a part of the village's story.
Rhinebeck is a restaurant town. While Foster's and the Beekman Arms sit as historic icons at the intersection of Route 9 and Market Street, their modern equivalents, Terrpain and Gig Trattoria, are just down the block at the Livingston Street intersection. Both proffer thoughtfully sourced and crafted dishes and tailor the experience to your mood. At Terrapin, housed in a stately old church, you can get the full dining room treatment or take it easy in the jovial, cathedral ceilinged bar room. At Gigi's, founder Laura Pensiero says while they are striving to offer perfectly executed Mediterranean dishes that highlight the best ingredients, she puts a huge focus on making sure diners get the individual attention they're looking for. "We have an incredible service team and an environment where we hope people feel they've walked into a place run by a really professional family," says Pensiero. "Food is very emotional, and however you're feeling when you're here, I think our staff is great at being in tune and connected to our guests."
Photo: John Garay
Jeff Mosher, Kelly Jones, Christian Matute, and Jacqueline Rusco at Aba's Falafel in Rhinebeck.
A Global Palate
Old and new, there are truly too many recommendable restaurants in Rhinebeck to mention, with 25 eateries within a radius of a few blocks.
Everyone around here has a strongly held bagel opinion, but Rhinebeck Bagels is undeniably one of the best shops in the region. Along with the classics are inventive sandwiches and shockingly creative specials that can include a Cubano or even a fully appointed bowl of ramen.

There's a notable cultural diversity to your restaurant options here too. From Thai at Aroi to Indian at Cinnamon and Aba's Falafel, whatever you're in the mood for is available at a rewarding caliber.
Photo: John Garay
Jean Michel and Brian Tamm, co-owners of Megabrain Comics in Rhinebeck.
Since it opened in 2017, The Amsterdam has quickly become a new standout and kind of feels like the culmination of a culinary conversation the region has been having for two decades. Every ingredient that should be sourced locally is—not as a gimmick but because it's the best. Preparations of dishes are thoughtful, considered and warmly modern. The feel of the menu and the well-appointed atmosphere takes stock in the past and present.
"We wanted to deliver a menu that's built on local, super fresh ingredients from small producers," says Howard Jacobs, who owns The Amsterdam with wife Chris. "Lately, we've begun to bring a more international influence to our dishes as well, but always with a local feel."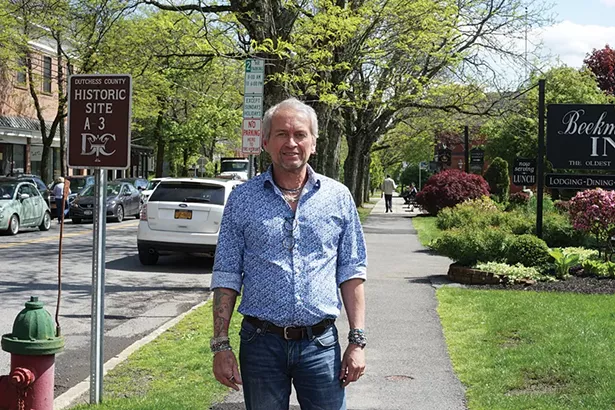 Photo: John Garay
Frey Johnsson at the intersection of Mill and Market streets in Rhinebeck.
The couple, along with the skill and zeal of Executive Chef Alex Burger, also recently launched Lucky Dragon. The upscale Chinese restaurant has received a lot of buzz since opening its doors in May. Dressed in the comforting and relatable trappings of the Chinese–American restaurant experience, Lucky Dragon is using local ingredients here as well to celebrate and enhance the Chinese flavors the Jacobs grew up with, eating in the restaurants of Toronto's large Chinese community. They're doing everything from an elevated General Tso's Chicken to full service Peking Duck (call ahead).
Quaint and Quirky
The business landscape in Rhinebeck is composed of quality, quaint, and quirky retailers. Despite the village's considerable economic scale, Rhinebeck shops confidently lean into their individuality. Events like Porchfest in the fall and Sinterklaas in December bring a bold and uncommon artistry to the village. During Porchfest, musicians play on the front porches of dozens of homes in the village's historic district, promoting the walkability of the village and celebrating charming side streets one might not otherwise have the chance to appreciate.
Photo: John Garay
Susan Sprachman and Marie Marcasciano at Iconic Hair in Rhinebeck.
Later this year the Rhinebeck area Chamber of Commerce will host the second Bizarre Bazaar, further highlighting the creativity of the shopping district. "I think we are in the post-Amazon era and people are more interested in essentialism," says Chamber Executive Director and business doula Kyra Bonanza. "They only buy the things they really want from places and business owners they want to support. We see that here."
As with the restaurants, there are a number of shops that have really become fixtures like Upstate Films independent movie theater, Paper Trail, Winter Sun and Summer Moon and Samuel's Sweet Shop, which actors and local residents Paul Rudd and Jeffery Dean Morgan found so vital, they saved it from closing after its founder Ira Gutner passed away in 2014. They now run it the same way Gutner did, honoring his legacy.
Photo: John Garay
Culinary mainstays of Rhinebeck, Terrapin and Gigi Trattoria.
Another modern village institution is Oblong Books. Started in Millerton in 1975 by the Hermans family, the Rhinebeck shop opened way back in 2001. Suzanna Hermans runs the store with her father. "It will be 18 years here in September but I still feel like we're the new kids on the block," Suzanna Hermans says. "I continue to be dazzled by the hunger for books our community has. Rhinebeck is obviously a tourist destination but the local community is what gives it such a great vibe. Any town benefits from having a good bookstore—as a reading space and as a place to meet and learn."
Newcomer to the paper game in the village, Megabrain Comics has quickly become as much a community space as a comic book and gaming shop. Founded by the gregarious Jean Michel, it's a welcoming hole-in-the-wall full of magic.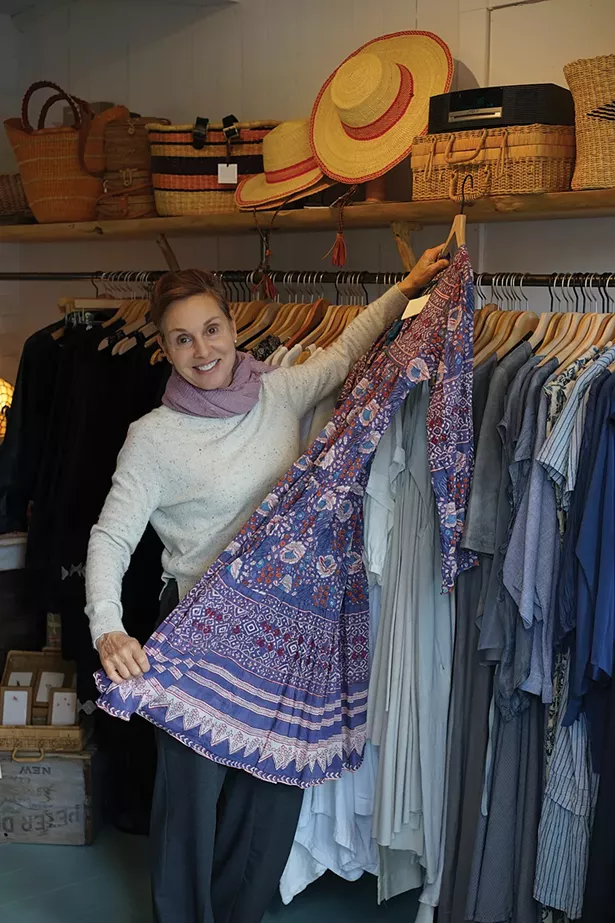 Photo: John Garay
Joya Drayton at Zephyr in Rhinebeck.
In the summer, Rhinebeck supports its less visible maker community with The Artist studio tour. The event opens doors into homes and shared studio spaces to offer a glimpse into local artists' private creative processes.
"Some people have this image of Rhinebeck, that there's this different class here, but that's not true," says Mayor Bassett. "We are diverse in our shopping and restaurants, and we are diverse in our community as well. There's something for everyone, and it's important to us that we keep a reputation that everyone is welcome."
Photo: John Garay
'T' Space art gallery in Rhinebeck.
A small but important example the mayor pointed to that exemplifies the tangible effort of character preservation is the municipality's partnership with the Anderson Center for Autism to make Rhinebeck an autism supportive community. Businesses have been given training on how to make their shops more comfortable for people with autism and sensory safe spaces have been created at events like Sinterklaas which can be particularly overwhelming.
It's clear that behind the scenes there's truly a lot of work put into cultural preservation here. The resulting experience for visitors feels, as intended—effortless and ideal.