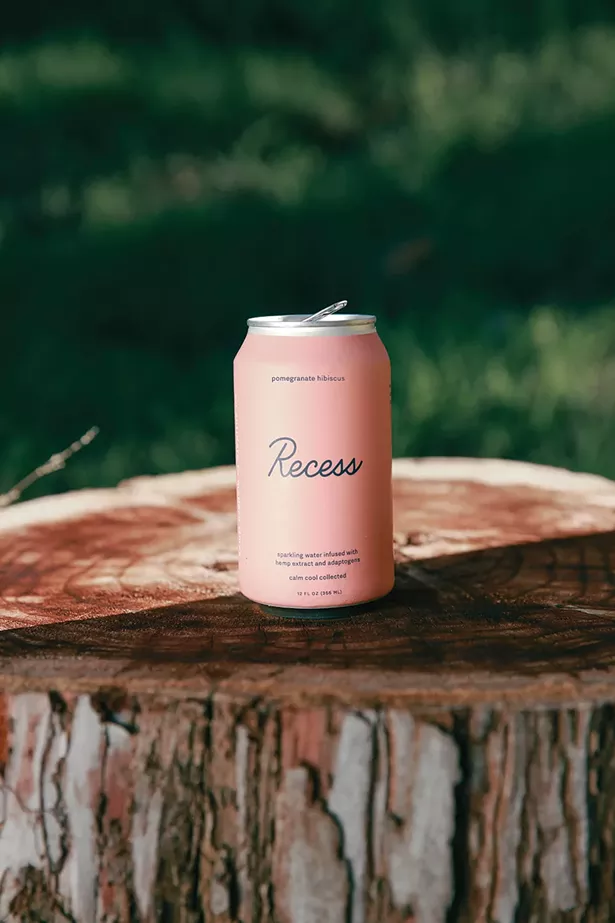 "In our company, we never use the word 'relax,'" says Benjamin Witte, founder and CEO of New York-based startup Recess. It's a paradoxical maxim for a brand that makes CBD- and adaptogen-infused sparkling seltzer, a trendy drink known for its calming ingredients.m

Recess, like many innovative start-ups, spawned from a problem: Witte suffered from anxiety and struggled to find ways to ease his stress levels while remaining alert and focused. His "lightbulb moment" occurred by chance in 2017, after purchasing a bottle of green juice from a health food store. This juice contained a curious new ingredient: CBD extract, which made him feel even-keeled, calm, and focused.
Witte, who worked in tech marketing in San Francisco prior to founding Recess, recognized the potential in that first sip of CBD-infused juice. His premonition: "CBD will become the next caffeine." He wasn't wrong.
Today, CBD has infiltrated the retail food and beverage industry, rising from obscurity to becoming one of the most ubiquitous consumer products on the market. You can purchase CBD-infused tea, shampoo, lotion, gummies, dog treats, even tampons.

Witte used his Silicon Valley mindset to create Recess, recognizing the chance to create a brand inspired in part by Red Bull, a company which began by selling energy drinks and evolved into a multimedia, community-driven empire. "I saw the opportunity to do the same thing, but for creatives," Witte says. "Music, fashion, arts, and internet culture—these are the communities Recess cultivates."
Rather than an offshoot of the beverage or wellness industry, Witte thinks of Recess as a productivity company. "To be your most productive self, you need to take recesses," he says, explaining the brand's alignment with the creative community. Creatives are constantly hustling—thinking, producing, seeking the next thing. To sustain this level of output, you need cognitive clarity.

Recess offers a refreshing, carbonated chill pill, bottled in Millennial pink cans. Its tagline proclaims the seltzer as the "antidote to modern times."

At the company's New York City headquarters, 30 employees focus on marketing and developing the brand voice. Whenever Witte needs a break from the city's frenetic pace, he visits the Hudson Valley for his own personal recess, basking in the region's scenic tranquility.
The Hudson Valley has also proved invaluable to Witte's business. Early in Recess's development phase, Hudson Valley Brewery owner John-Anthony Gargiulo introduced Witte to local business owner Jason Schuler.

Schuler is the founder of Drink More Good, a Beacon-based business that produces all-natural soda syrups, shrubs, and bitters. Given his experience in the beverage industry, Schuler was able to help Witte devise Recess's signature formula—a combination of seltzer, CBD extract, and adaptogenic herbs. Since then, Schuler has been a strategic partner at Recess. Both companies share a manufacturing facility in East Fishkill, where Recess has produced more than 400,000 cans since October 2018.
The CBD craze is palpable in the Hudson Valley, where a plethora of smoke shops, health food stores, and trendy small boutiques sell CBD-infused products. Fishkill's Sweet Central Express uses CBD extract in its gourmet ice cream, and The Leaf sells hemp-based tinctures and textiles out of its storefront on Beacon's bustling Main Street.
This region attracts artists and creative-types—folks who clearly fit the model for Recess's target audience. "It's a beautiful community with talented people," said Witte. His mission with Recess is to help such talented people access peak performance with his elixir for mind and body.
Recess seltzer, which comes in three flavors—blackberry chai, peach ginger, and pomegranate hibiscus—relies on more than just functional ingredients, says Witte. He advises consumers to be mindful of their expectations when drinking Recess; these invisible ingredients are as important to the drink's efficacy as its CBD and adaptogens. "Your intention of what Recess is going to do for you is of equal importance," Witte says. "Stress is in your head; stress is a story you tell yourself. We counteract that story with a different story."
As is fitting for a brand whose mission it is to battle stress, Recess's Instagram feed is a hilariously quippy, meme-filled playground that uses humor to tackle issues like stress, time management, and the creative process, itself acting as a recess from work.

As for the company's future plans, sparkling seltzer is just the beginning for Recess. The nascent company is launching its own editorial platform early in 2020, a content hub for all things Recess: merchandise, apparel, collaborations with like-minded brands and creators, featured profiles on artists, and tons of experiential marketing and events.