It makes perfect sense that Brian Dewan's father, Edmond Dewan, is both a physicist and a musician. In the end, one plus one will always equal two, and the musical methods of the younger Dewan are nothing if not the gloriously brainy and quirky synthesis of science and art.
"My dad plays the organ. He doesn't compose, but he does like to improvise," says the stocky, well-coiffed Dewan. "He exposed me to [modernist composer] Edgard Varese, [organists] Jehan Alain and Jean Langlais, and early electronic music like [1960s duo] Perrey-Kingsley and Dick Hyman's Moog records. He did research work for the Air Force during the height of the cold war, when the government was trying to second-guess what the Russians were doing and was indiscriminately funding just about any type of research, or so it seemed. So he was involved in a lot of really interesting projects, like researching [the phenomenon of] ball lightning and attempting to use brain waves to send Morse code. Weird stuff."
Dewan's music certainly qualifies as weird stuff itself, even to his fans. Generally speaking, it falls into either of two categories: 1) a folk-based vocal style that references hymns, obscure historical and topical songs, and the popular music of the last two centuries; or 2) the peculiar freeform, retro-futurist electronic music that he performs solo and with his cousin Leon Dewan under the name Dewanatron. But in addition to being a classically trained instrumental polymath with a bent for offbeat sounds—he plays anything with a keyboard, as well as homemade electric zither, autoharp, dulcimer, drums, and small wind instruments like the pennywhistle and the ocarina—Dewan, 45, is an underground renaissance man of the first order, a sculptor, painter, poet, furniture designer, orator, illustrator, and performer. And, perhaps most notably, with Leon he is also the co-inventor and manipulator of an ever-burgeoning arsenal of one-of-a-kind electronic instruments that are also called Dewanatrons.
Any one of the solid-state analog Dewanatrons could easily pass for the deus ex machina of a 1950s science fiction movie, and each has a name to fit: the Alphatron; the Swarmatron; the Dual Primate Console; the Portative Melody Gin; the Executive Chua Comber; the Astro-Space Organ. Most of these devices are housed in Dewan's weathered Catskill Victorian, which is itself one big, enigmatic conversation piece. Pass through the detritus-piled front porch and navigate the teetering towers of castoff cultural ephemera and arcane instruments in the front parlor, and one finds the owner's odd contraptions—and the endless mountains of raw electronic guts that comprise their innards—filling every nook and notch of the creaky old house. "Right now, I'm in the middle of getting the basement ready so that a concrete slab can be poured for the floor," he excitedly says. "After that's all done I'll be able to set up a real workshop and do everything down there, instead of squeezing it all in up here."
As his cat leaps from stack to stack behind him, Dewan turns to fire up the Coin-Op Melody Gin, a curious, angular box sporting a large sound hole and an array of knobs and switches that operate a series of oscillators within. The instrument comes alive and emits a signal recalling any number of vintage Atari video games (think Pong), which Dewan then begins to manipulate via the controls. Within seconds the steadily broadcasting bleeps and bloops have been reshaped into phased, gracefully morphing pulses that move with their own strange rhythms, artful figures that arc and pirouette like the strokes of a celestial paintbrush.
Rather than seeing themselves as instrumentalists when it comes to making music with theses appliances, however, Dewan and his cousin instead maintain that they're merely the machines' facilitators. "The special purpose of Dewanatrons is to grow music live in collaboration with the operators who guide them," reads the mission statement at Dewanatron.com. "While inherently musical in their impulses, the machines have no discipline and require governing by judicious overseers. The operators begin a process [that] develops into a shape beyond their authorship; the operators become gardeners, watering and pruning, mulching, and composting sound. The music becomes a contrapuntal morass, twining and climbing, chirping, buzzing, blinking, snapping. The operators guide the instruments, and the instruments carry the operators and others through an ever-metamorphosing landscape."
Dewan grew up in Lexington, Massachusetts, and attended Ohio's Oberlin College before returning to New England to partake in Boston's underground rock scene. In 1987 he moved to New York, where he immersed himself in the city's experimental music and art world, playing venues like the Knitting Factory, Dixon Place, and the Bog, and performing in and composing for the band that accompanied Blue Man Group's earliest performances (he even appeared with the troupe on "The Tonight Show"). The ex-New Englander also befriended They Might Be Giants, collaborating with the indie sensations on several recordings and contributing artwork for the band's T-shirts and album graphics (one of Dewan's "shrine" sculptures graces the cover of TMBG's smash 1989 album, Lincoln; he also designed the cover of David Byrne's 1992 release Uh-Oh, as well as the interior packaging of Neutral Milk Hotel's influential 1998 classic, In the Aeroplane over the Sea). Over time other plum gigs began to come his way, such as writing music for "Sesame Street," appearing in the überhip downtown Loser's Lounge revues, and becoming a member of the ongoing repertory Raymond Scott Orchestrette. In his folk/story-song guise he released two critically adored albums, 1993's Brian Dewan Tells the Story (Bar/None Records) and 1998's The Operating Theatre (Instinct Records).
But by the early 2000s, like many dues-paying urban artists, he was ready to move on. "New York was just getting more and more expensive. Most of the places I'd been playing had closed," he says, ignoring the loud rings of his nearby antique rotary dial phone. "There was less and less of a reason for me to be there. At first I had my heart set on City Island in the Bronx, but some friends turned me onto Catskill, which is much cheaper. It seemed like somewhere that I'd be able to get a place to live where I could build stuff and make sounds and not bother anybody. So I moved here in 2006." Since the move, however, Dewan's industrious work schedule hasn't relented in the slightest. Last year, he released his third song-based disc, Words of Wisdom (Eschatone), appeared at Scotland's esteemed Edinburgh Fringe Festival, and recorded a live album with the Liverpool Cathedral Bell Ringers, Ringing at the Speed of Prayer (Innova Records); December saw the release of a third Dewanatron set, Semi Automatic (Independent).
As part of his concentration on obscure historical music, one long-held area of interest has been the political songs of bygone elections. Dewan collected a number of these esoteric curios, such as "Jimmy Carter Says Yes," an absurdly amusing nugget that attained cult popularity via its inclusion on the compilation Beat of the Traps (Carnage Press), and performed the tunes on Manhattan cable TV. So does he think there were any good songs to come out of the recent presidential election? "Oh yeah, there were definitely a few," he says. "There's one about McCain, a country song by John Rich called 'Raisin' McCain,' which is pretty entertaining. But by far my favorite is a song by a rapper in Texas called Mr. Luke ['New Obama Song'], which uses the melody of 'Hail to the Chief' and a sample of the Reverend Wright shouting, 'Obama!' It's really crazy." Without missing a beat, Dewan next goes into stitch-inducing, off-the-cuff performances of both songs, the lyrics delivered verbatim from memory.
"Brian does a billion things, and all of them are really interesting," says Leon Dewan, who lives in New Rochelle and has been collaborating with his upstate cousin since spring 2002. "Brainstorming with him, and making the instruments, is always really delightful because he comes up with such great ideas."
Recently, many of Brian Dewan's ideas have been expressed through yet another medium: filmstrips. Using colorful maker pens, he draws images he uses for adaptations of fairy tales and original narratives such as Civic Pride and Obey Signals, which mock the stiff public-service strips once shown in grade schools. Using a vintage projector, he screens the works at galleries, accompanying them with recordings of specially composed music and narrating them in a detached, surreally authoritative voice; he even vocally re-creates the once familiar "boop" tone that signals an advance to the following frame. "A little while back I actually did a special show for a large corporation, which hired me to make a strip as, I guess, a sort of hip promotional project," says Dewan. "Some of the executives I showed it to asked me if I'd ever worked in PowerPoint, and I told them I'd never heard of it, which was true at the time, I hadn't. At first they thought I was kidding, but when they found out I wasn't they laughed and laughed. They just couldn't believe it." In a decidedly postmodern move, several of these works have been compiled onto a new DVD, Focus: The Collected Filmstrips of Brian Dewan (2008, Bright Red Rocket Video).
Another of Dewan's longtime collaborators is Julian Koster, who once performed in Neutral Milk Hotel and currently leads the Music Tapes. In 2002, Koster tapped Dewan to narrate the Music Tapes' 2nd Imaginary Symphony for Cloudmaking, a story-album set for release on the Merge label later this year and which Koster hopes to perform live in New York and other selected US cities. "Every generation has a few very special people, people who are makers of things and are waiting to be discovered," says Koster. "And Brian is definitely one of those people."
But until his generation finally discovers him, Brian Dewan is hard at work in a little house in Catskill. Making more amazing things.
Dewanatron's self-released Semi Automatic is out now. www.dewanatron.com.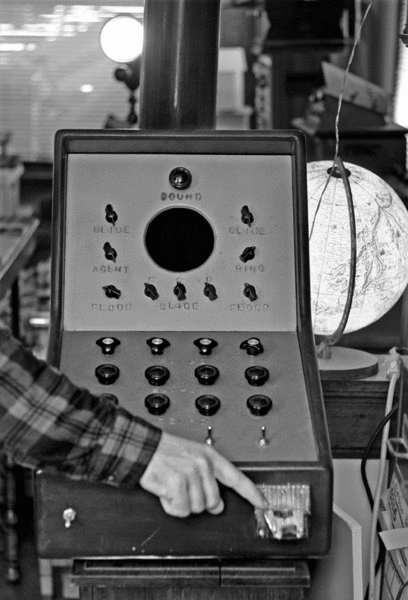 Fionn Reilly
ABOVE: The Coin-Op Melody Gin, one of the many Dewanatron instrumentsdesigned and built by Dewan and his cousin Leon Dewan.
Fionn Reilly
Brian Dewan holds the inner workings of a vintage organ.