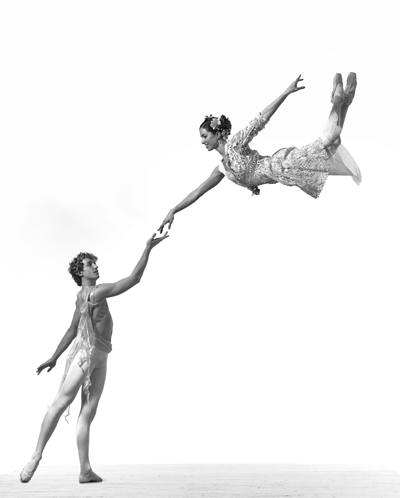 "Shall we their fond pageant see? Lord, what fools these mortals be!" observes Puck, the mischievous but slightly incompetent fairy in "A Midsummer Night's Dream," Shakespeare's comedy set in the woods outside ancient Athens. The play also contains what is arguably the most striking visual image in all of Shakespeare, in Act III—a man with a donkey's head being adored by the Fairy Queen.
The Catskill Ballet Theatre Company presents an all-new ballet of the story April 25 through 27 at Ulster Performing Arts Center. Anna Kirker will appear in the role of Titania and Matthew Prescott will dance the role of Oberon. Dr. Charles Schultz, a local cardiologist, will perform as Theseus, Duke of Athens.
Even as a play, "A Midsummer Night's Dream" becomes a kind of dance, with fairies flying and distressed lovers playing hide-and-seek. Felix Mendelssohn wrote "Overture and Incidental Music for A Midsummer Night's Dream" for a performance of the play in 1843, at the age of 17. It contains the "Dance of the Fairies," the "Dance of the Clowns," with a humorous imitation of a donkey braying, and the famous wedding march that we expect at all nuptials.
Shakespeare's comedy includes a play-within-a-play, where a bumbling, rustic theater company must perform for the Duke's wedding. Choreographer Davis Robertson transformed the theater troupe into a group of amateur dancers. Instead of presenting a play, they must perform a recital. The troupe hauls a piano into the forest and argues about which type of dance to choose. One member prefers jazz, another modern dance, a third ballet, and a fourth English clog dancing. Each displays his talents, and ridicules the others. Original music was written for this scene by David Homan, based on Mendelssohn's "Dance of the Clowns."
Mendelssohn's composition is short for a story-dance. "If you do a full-length [ballet], you must supplement that music, which is maybe 40 minutes in length," Robertson explains. "I chose to use all Mendelssohn—some selections from Symphony No. 1, some from Symphony No. 5, some of the 'Songs without Words.' And it's fascinating to me how beautifully and seamlessly the selections fit together."
Robertson began as a break dancer in Jacksonville, Florida, in the late '80s. He went on to become one of the original MTV Dancers, touring with Patti LaBelle. Meanwhile he was studying ballet, first at the School for American Ballet, then the Joffrey School. Robertson went on to be a principal dancer for the Joffrey Ballet for 12 years. His first work of choreography, Portrait of Hitch (1997), which integrated both Joffrey members and wheelchair dancers, received national attention. A Midsummer Night's Dream is Robertson's first full-length ballet.
The Catskill Ballet Theatre Company recently celebrated its 25th anniversary performance of "The Nutcracker." This production will include 22 children aged 9-17, most of whom study at the Anne Hebard School of Ballet in Kingston. They will appear as Oberon and Titania's fairies, and the clownish dance troupe.
The world premiere of A Midsummer Night's Dream will be performed April 25 through 27 at Ulster Performing Arts Center in Kingston.
(845) 339-6088; see www.upac.org.