The Crows Nest storefront in Red Hook catches your eye as you pass by, the big windows revealing brightly patterned textiles hanging from the walls within, colorful pillow collections, ceramic plates, and wooden cutting boards. A Poe-like round sign with three silhouetted crows signals the entrance to the new home goods and lifestyle store on West Market Street.

Shopkeeper Sarah Carlson visited Red Hook regularly as a kid, making the trek upstate from Brooklyn with her family. Going far away for college and then her career did little to pull her thoughts from the Hudson Valley, tugging at her until she finally heeded the call and moved back five years ago with her own family. "Why not live in the place you think about most?" she says.

By Design
After graduating from the Corcoran School of Arts and Design with a BFA in photography, Carlson headed to Miami to work for Holly Hunt, a design giant who revolutionized the industry through her work with furniture and textiles. Under Hunt, she learned the power of a well-crafted environment. She went on to work for another major player in the design industry, Stephanie Odegard, who collected handmade Nepalese rugs and had a passion for social responsibility within the world of design. Carlson's mission became combining beautiful products with what she felt was her responsibility to do good in the world. "The world doesn't revolve around us as individuals," Carlson says. "I'm a huge believer in community, locally and at large."
Community is part of what drew her to Red Hook, now home to her and her husbands' work as well as her children's schooling. COVID-19 presented the opportunity for her to reflect on how she wanted to spend her time. Her children had grown older, and so had she. She felt that it was the right moment to reevaluate. In 2020, she launched Three Crows Design, an interior design company that works with real estate agents and homeowners on renovations, styling, and staging. Then came the storefront.

The Crows Nest stocks products from both local and global makers—handmade baskets from Ghana; rugs from Afghanistan, India, and Nepal; and pottery from Morocco can be found alongside photography and collages by an artist who lives just a 10-minute drive away in Rhinebeck. The store's mission is to provide women-made and socially responsible goods at affordable prices. This means both environmentally sustainable goods, such as glassware made from recycled beer bottles, and goods made by women worldwide, such as necklaces of repurposed kente cloth and sari textiles made by mothers who sell them to put their children in school.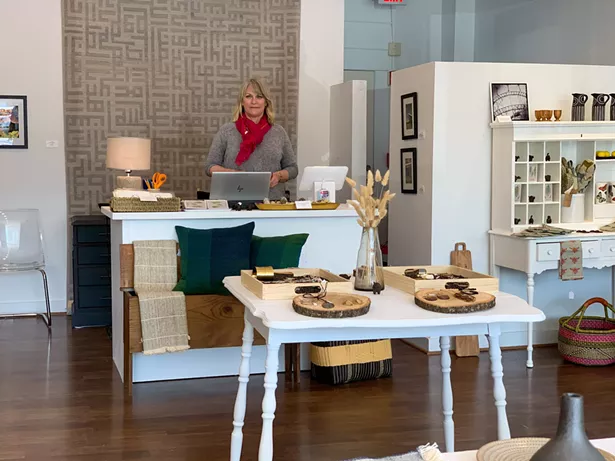 Affordability was one of Carlson's biggest priorities when compiling the inventory line. She wanted to create a place where "anybody can come in and find something to buy," no matter their price range. She loves engaging with customers, looking forward to "the story somebody's going to tell me when they walk in."
To Carlson, the products tell a story that bridges the customers and the creators. In a handmade Afghani rug, she sees the family that came together to weave it. One daughter may work in the morning while the other daughter is at school, and then they switch places in the afternoon, supervised carefully by their mother, the master weaver. "They all come together to make a beautiful product that will last a lifetime," Carlson says. "When somebody puts that rug on their floor, they're not only enjoying it for themselves and the beauty and enhancement it gives to their personal environment, they're also understanding that a lot of labor and love went into something like this." Objects with stories like these provide emotional dimension to the interior that they decorate, a connection with people the owner has never met from around the world.
Carlson's love of design goes back as long as she can remember. "It's always been in me," she says, pointing to the influence of her parents, who were both interior designers and took special care in curating the home environment. During a college internship at a gallery, Carlson discovered that she enjoyed the numerical nature of the business side of things, as well as the creative.
A Place to Nest
The recurring crow trope is no accident. "People see their loved ones after they've departed in different animals and beings," she says. "My sisters and I have always seen my mom in crows." Bonus points if you noted the lack of an apostrophe. "The Crows Nest" is actually meant as a sentence, with nest as a verb rather than a noun.
Carlson has indeed nested and made her home in Red Hook, and hopes that the products offered in her shop will help others to do the same. The Crows Nest is open Thursday through Saturday, 11am to 6pm, and Sunday 11:30am to 5:30pm.
The Crows Nest
9 West Market Street, Red Hook, NY 12571
www.thecrowsnesthudsonvalley.com
(845) 835-6299