Spotlighting several creative tenants of Atlas Studios in Newburgh.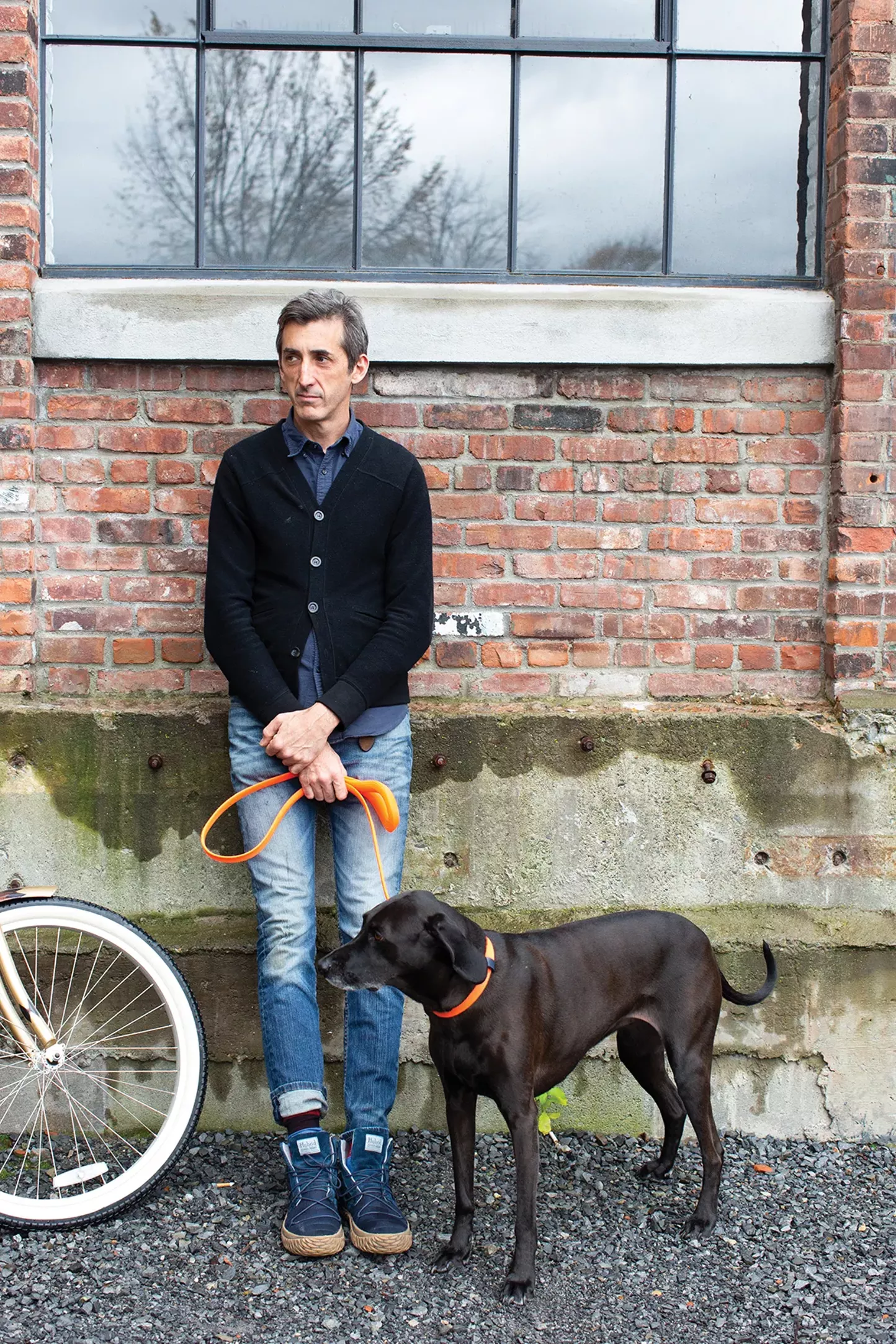 Aaron Lown, Product Designer
After living with his dog Starlite for a year, Aaron Lown realized that there was room for improvement in dog collar design. Lown asked himself the question, "If I had to wear a collar, what would I want?" The result is the UnLeash and CollarLess, a circular braided monofilament leash and collar set made from PET plastic that's lightweight, strong, and comfortable on the neck and hand—innovative products for dogs that are stylish and performance-driven. Vuff.com.
Alice Vaughan, Bookbinder 
"There's a different kind of glass ceiling in craft," says Alice Vaughan of Hudson River Bindery. "Craft requires x number of hours to do something and you can't make it go faster." The day we spoke, Vaughan had on her workbench an artist's book from the 1700s that she would spend countless hours taking apart and reassembling. The next book up after that is a dog-chewed copy of the Big Book, the basic text for AA. "I work on everything that comes through my door, from the sublime to the ridiculous," Vaughan says.
David Moldover, The Newburgh Pottery
Opened in September by husband-and-wife duo David and Jenny Moldover, The Newburgh Pottery is a 2,500-square-foot community ceramics studio that hosts classes and workshops for schoolkids and adults, as well as offering memberships for potters and ceramic artists. Recent transplants to Newburgh from Brooklyn, the couple live just a few blocks from Atlas. "Newburgh is the friendliest, warmest city I've ever lived in," says David. "It's got the small neighborhood charm that Brooklyn used to have."
Hannah Vaughan, Furniture Designer
"I'm a little chair obsessed," says Hannah Vaughan, who's busy creating a series of rough-hewn chainsaw chairs in her studio. Often inspired by salvaged materials, Vaughan has also created seats out of crushed cars. Working more on the sculptural side of furniture (read: expensive) than the functional end, Vaughan has also created an affordable chair kit. Based on Shaker design, the Hands to Work chair is a bundle of wood wrapped in rope, which is the seating material. It's simple, functional, and $170. "I wanted to make something that my friends could actually afford," says Vaughan.
Matt Kinney, Sculptor
Meet a man obsessed with tools—a man who carves simulacra of tools out of wood with woodworking tools. Kinney, who's worked in the construction industry, has created hyper-realistic versions of the carpenter's arsenal. Think of them as Platonic ideals of tools—perfectly crafted, never-to-be-used abstractions of lesser earthly materials. Kinney's ebony sculptures—axes, pliers, hammers, saws, wrenches, even a tool belt—explore what happens when humble subjects receive exalted treatment.
Steve Gerberich, Art Mechanic
The motto at the top of Steve Gerberich's very followable Instagram page (#gerbography) reads: "If at first you don't succeed, try epoxy." Gerberich is an artist/tinker who works with overlooked common objects and hot glue to create kinetic sculpture that tickles the imagination. He describes his work as "a mixture of 1 cup Duchamp, 3 teaspoons Calder, 2 tablespoons Kienholz, ½ cup Cornell, 1 pound Rauschenberg, and a sprinkle of Tinguely."
Winston Ragle and Justin Catania, Atlas Industries
Founded in 1993 by Thomas Wright and Joseph Fratesi, Atlas Industries is a multi-disciplinary design and manufacturing firm integrating interiors, furniture, and objects in a craft-based sensibility. Atlas's portfolio includes a wide range of work—custom cabinetry, custom millwork, modular office design, handmade furniture—but it's best known for its signature as4 modular shelving, whose understated elegance and clean lines have made it a favorite of designers.
Aaron Lown, Product Designer