A Farmers & Chefs food truck dinner at Angry Orchard in Walden.
From nationally-recognized cidery Angry Orchard to up-and-coming craft beverage brands, the Hudson Valley's market for breweries and distilleries has never looked better.
During a serious cold snap in January, when the mercury barely reached 10 degrees, five staff members at
Sloop Brewing Co.
prepared their Elizaville brewery and taproom for a Thursday release of a new canned IPA called Liquid Sorcery.
It took four people about three-and-a-half hours to fill, seam, and label about 2,200 cans before the doors were scheduled to open at noon. But the plans shifted.
"It was about 11:15 in the morning and it was four below zero outside," says Joe Turco, sales and marketing manager at Sloop. "Our tasting room manager came in and said I'm opening up early cause there's 30 people lined up outside."
Sloop sold out of Liquid Sorcery in a little over an hour. Customers drove down from Boston and up from Philadelphia to the rustic barn in the Columbia County countryside to acquire another of Sloop's juicy hop concoctions. It's one reason the company has outgrown its Elizaville space and will open a 26,000-square-foot brewing complex in Fishkill this summer, making a bold move to be a major player in the Hudson Valley craft beverage scene.
Sloop's expansion isn't the only recent development doubling down on the success of the local craft beverage landscape. Young breweries and distilleries keep popping up. The country's largest hard cider producer, Angry Orchard, calls the region home and is pushing hard on the region's Napa-like potential. Wineries are adding whiskey to their portfolios and boasting continued growth. And the distillery that broke down the doors for everyone else, Tuthilltown, was purchased in 2017 by William Grant & Sons, an international company that puts its bottles on shelves in London, Paris, and Athens.
The regional, and statewide, growth certainly looks good, but can it continue? It's clear that shelves are filling up with Hudson Valley beer, wine, cider, and liquor, while the crowds continue to gather at local craft facilities. But if there's a next level, whether it's Napa Valley east or something else entirely, craft experts say there are issues to confront amid an always uncertain future.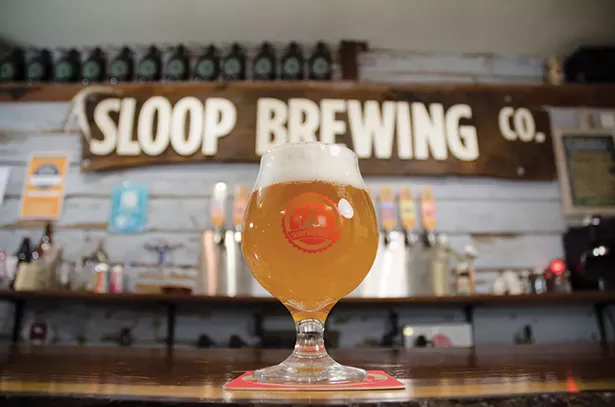 Juice Bomb, a Northeastern IPA, at Sloop Brewing in Elizaville.
Opening Act
Then again, nobody could've figured the present, with 2,000 small-batch distilleries nationwide and 139 of them in New York as of February. The growth of distilleries in particular—713 percent since 2012—underscores just how much change the state and region has seen in craft beverage production. The total number of craft manufacturers statewide is up 112 percent since 2012, with the Hudson Valley proving integral in this surge.
"Historically, the Hudson Valley is home to the oldest winery in America, and has always been a great region for growing grapes and apples," says Stefan Fleming, assistant director of industry development at Empire State Development, a department of state government. "It's a great location for craft production because of its history of growing high-quality crops; access to a reliable water source; access to a large population between Upstate New York, New York City and Boston; and its historic sites and picturesque landscapes."
The Hudson Valley's role in the rise of craft starts back in 1976 when Mark Miller, founder of Marlboro's Benmarl Winery, and John Dyson, for a time the state's commissioner of agriculture and markets and, later, the founder of Millbrook Vineyards & Winery, helped push through the Farm Winery Act, which allowed grape growers to start wineries and sell to the public. Nearly 30 years later, Ralph Erenzo wasn't able to sell his Tuthilltown Spirits Distillery products to consumers in a tasting room because the state still lived by antediluvian Prohibition legislation. So Erenzo and a few other small distillers lobbied heavily for the state to allow tasting rooms, leading to the Farm Distillery Act in 2007.
The same happened with breweries, which before the Farm Brewery Act of 2012 couldn't sell their product by the glass unless they held a separate tavern license. That law allowed brewers to offer tastings and sales of product permitting they were using a threshold percentage of state crop; plus, they could open multiple facilities to sell beer. One year later, New York passed the Microbrewery Act, which eliminated the thresholds but limited operations to one facility. In 2013 the Farm Cidery Law allowed cider producers to open tasting rooms and sell product on and off premises permitting they were using crops grown exclusively in New York. In essence, in just over 10 years, the rest of the craft beverage industry has caught up to wine.
Small Batch, Big Smash
In the Hudson Valley we've watched as communities have filled up with breweries and distilleries; its 106 total farm breweries, distilleries, wineries, and cideries ranks it second among all state regions to the Finger Lakes. Hutch Kugeman, who was the first brewer at Crossroads Brewing Co. in Athens in 2010, was among the established brewers who saw the growth firsthand, calling the 2012-13 period after the Farm Brewery Act "that next wave of massive expansion." Kugeman joined the Culinary Institute of America in 2015 to run its partnership facility with Brooklyn Brewery. That relationship was a sign that the culinary world had fully accepted craft beer as part of the fine dining experience and recognized its profit potential. Moreover, CIA will further its reach in alcohol education by partnering with Asahi Shuzo International, which announced in February a $28 million investment to transform a vacant Hyde Park building into its first American sake brewery.
With these recent developments, Kugeman says the CIA is focused on educating students how to brew and, secondarily, how to operate a brewing facility. He sees, despite the recent wave of brewery openings and expansions, there will be opportunities for his students once they leave the classroom, and especially in smaller farm breweries servicing their local communities.
"I think the guys who are going to get squeezed are the mid-sized breweries who we consider bigger for craft," says Kugeman, talking about minimum 50-barrel brewhouses. "Most of their business is in package, in bottles and cans, and it becomes harder to differentiate yourself."
Plus, he thinks it's hard to imagine the state doing anything to stifle the growth of the craft beverage industry considering how much they've supported business.
"You never know for sure what's going to happen when it comes to politics, but I'd be surprised," says Kugeman, who added that the State Liquor Authority has been helping producers secure licenses quickly while ensuring they're compliant with regulations. "The governor is very supportive of the small craft industry; not just breweries but distilleries, wineries."
That wasn't the case 15 years ago, when according to Erenzo, one of the leaders of the SLA said to his face, "I consider you a legal drug dealer. One of these days you're gonna break the law and I'm gonna catch you."
But Erenzo's lobbying group helped craft the Farm Distillery Act and broke down doors for small-batch distillers. Ten years later, through the American Craft Spirits Association, Erenzo and lobbyists ensured a reduction in federal excise tax for small distilleries from 100 percent to 20 percent, which is in line with small craft breweries and wineries. That change came as a bill packaged with the federal tax overhaul plan of December.
Earlier in 2017, Tuthilltown announced its sale from Erenzo to William Grant & Sons, a Scottish distiller of brands like Glenfiddich, Hendrick's Gin, and Tullamore D.E.W. Irish Whiskey. William Grant & Sons already owned the Hudson Whiskey brand, which they bought in 2010, but this move brings the international titan skin into the American whiskey game while giving Erenzo a chance to watch his former business grow in ways he didn't think was possible if he continued to own Tuthilltown. He's now serving as a brand ambassador of sorts for William Grant & Sons, while focusing efforts on lobbying for producers and keeping a long view of craft's future.
"What's needed next is infrastructure," says Erenzo. "We have all these producers—we have a huge number of craft beer, craft spirits producers, all of whom use malted barley. And almost all of the malted barley used in production doesn't come from New York State."
Fleming says the state's malting barley industry was just starting in 2013, but now there are 13 malt houses across the state growing more than 3,000 acres of the crop.
Erenzo added that there's room for distillery growth, but in smart ways. One option is a bar, restaurant, or catering model that has a small distillery to meet its needs alone.
Tapping into the Future
Some distillery growth has come from established producers in other craft. Steve Osborn of Stoutridge Vineyard in Marlboro is primarily a winemaker focusing on organic, all-natural product without adding water, sugar, sulfites, or sorbates. He was interested in making spirits and installed a distillery on his property but didn't use it for nearly 10 years, partially because the wine was selling and he wasn't ready to devote time to distilling. Also, back in 2008 a distillery and winery couldn't be attached and had to have separate tasting rooms.


The stills at Stoutridge Vineyard & Distillery in Marlboro.
Osborn lobbied early on with Erenzo to change the laws but left that loop around 2010; finally, in 2016, the laws changed so that a winery and distillery could coexist, helping spur Osborn to start producing spirits: vodka, brandy, whiskey, and gin.
"Even though distilling is capital-intensive, we had amassed some capital in the business so it wasn't as much of a stretch," says Osborn. "And by waiting the 10 years it allowed us to see 'Well, what does the customer really want?', and it allowed us to do that."
Osborn is excited about the brandy as he uses local fruit for varieties, while Erenzo touted brandy and its variants as the next frontier in beverage production, primarily because the state has such a wealth of apples. New York is the second-largest apple-growing state in America, accounting for 29.5 million bushels of apples annually, and the Hudson Valley ranks second among regions in statewide production, at around six million bushels. All of those apples means a lot of potentially discarded apples, and Erenzo sees potential for distillers. His son Gable Erenzo, founder of Gardiner Liquid Mercantile, is working with a fruit farm to make brandy out of otherwise trashed apples; he thinks all local distillers and farmers should make the same connection.
"It's incumbent with all the fruit growers in the state to hook up with their local distiller, and whatever they're not turning into their final product can be distilled into a spirit," says Erenzo. "And even wine or cider that's just not quite right—it doesn't meet your standards, so you would otherwise dump it—you can take that back and make it into a brandy, and increase its value rather than throw it away."
As for cider, leaders in the local scene are hoping to boost its reputation on a national scale.
Ryan Burk, head cider maker at Angry Orchard in Walden, comes from Western New York, the largest region of apple growing in the state, home to Mott's and big apple juice, which relies on the inexpensive Northern Spy and Golden Russet varieties. But Hudson Valley land is pricier, and apples here reflect pricier grocery industry demands, and those varieties aren't the best for cider production. Burk says he'd like to change that reality, bringing those interesting cider varieties downstate while still responding to demands driven by the cost of land.
"That's the thing we're working on now as an industry—to try to get people to understand that there can be two streams of juice," says Burk. "It's one of the reasons the Hudson Valley can be a great player in the cider industry: There are expert growers, with great growing conditions, that understand the value of fruit."
Angry Orchard chose the Hudson Valley, specifically Crist Brothers Orchards' 50 acres in Walden, because of the area's growing conditions and there being a partner willing to change his direction to supply the country's runaway leader in hard cider production. According to a 2014 study, Angry Orchard, which is owned by the Boston Beer Company, accounted for 56.8 percent of all hard cider sales. While having the big boys in the backyard has brought some backlash from other producers, Burk says Angry Orchard is working to boost production throughout the valley. For example, they've opened up their on-site cider lab to smaller producers, and they're working with Glynwood in Cold Spring to redistribute bittersweet cider fruit. In fact, Glynwood sponsors a local cider week, and in 2017 it created Ciders of the Hudson Valley, an effort to promote local cideries in an effort to boost the region's cider output as comparable to Napa Valley's wine culture.
The work Glynwood and Angry Orchard are doing, along with Cornell Cooperative Extension through its research orchard in Highland, are designed to push the Hudson Valley's cider culture as far as possible, but the challenge remains getting people on board with understanding cider.
"The cider industry at large is at a place where it's not sink-or-swim time, it's educate-drinkers time," says Burk, comparing this moment to craft beer just after its bubble burst around 1995. "People got their shit together and started to make real high-quality drinks and educate the people they're selling it to. Our industry won't grow until we start telling people how and when to drink cider, what cider is and where it comes from."
It's probably easier to see the Hudson Valley's cider industry sustain its growth, simply because its producers already have the most important ingredient in the local ground, and abundantly. With spirits and beer, there's work to be done. Malting barley is still growing, and while New York used to be the top hop grower in America, that industry died during Prohibition and didn't return until recently. Currently Fleming says there are more than 300 acres of hops in the state; for comparison, the average hop farm in the Yakima Valley of Washington is 450 acres.
Fleming says there are enough hops available for farm brewers to source 20 percent of their hops from New York through 2018. That threshold grows to 60 percent starting in 2019, but again, Fleming says there's enough supply to meet demand.
"No, I'm not concerned," says Fleming. "The Northeast Hops Alliance estimates that 50 to 100 acres of hops is enough to supply every licensed Farm Brewer in New York State at 100 percent."
The bigger issue is about variety. It takes several years for a hop variety to grow and flourish. Plus, hop varieties are proprietary to growers, so if brewers want to use some of the most popular styles, they have to acquire them from their home farm. Thus, if a local brewery wants to work with, say, Citra, the famous hop used in the popular New England IPA style, it has to source from the Pacific Northwest.
That brings us back to Sloop. Turco, the brewery's sales and marketing manager, says the moment the brewery realized it was time to move was after seeing the success of its New England IPA Juice Bomb (Sloop brands it a Northeastern IPA and won't divulge its ingredients). Turco, who worked at Bell's Brewing in Michigan—which distributes nationally and is a popular name in craft—says he's never seen a flagship sell like Juice Bomb. So, while Sloop is keeping the Elizaville barn for a barrel-aging program and tasting room, it's moving its 30-barrel brewhouse and adding six 120 BBL fermenters to the Fishkill facility. The complex will ultimately include a downstairs taproom, an upstairs sit-down restaurant, and a rooftop beer garden.
Sloop is betting on its flagship's success, its current operational success, and its potential in this move. Despite the fact that the most popular hops are out of state, that the growing culture is still young for distillers and especially brewers, and the continued increase of producers throughout the region, makers are thinking like Sloop, that the market is still in their favor.
As Turco said to Sloop's co-owners, Adam Watson and Justin Taylor: "You can't predict or dictate the industry at all, because there could be a beer in the portfolio now, or a beer that doesn't exist yet, that becomes a Number 1 beer in five to 10 years."
You can apply that thinking to the entire craft industry in the Hudson Valley. Right now, it looks really strong. In five or 10 years...who knows?