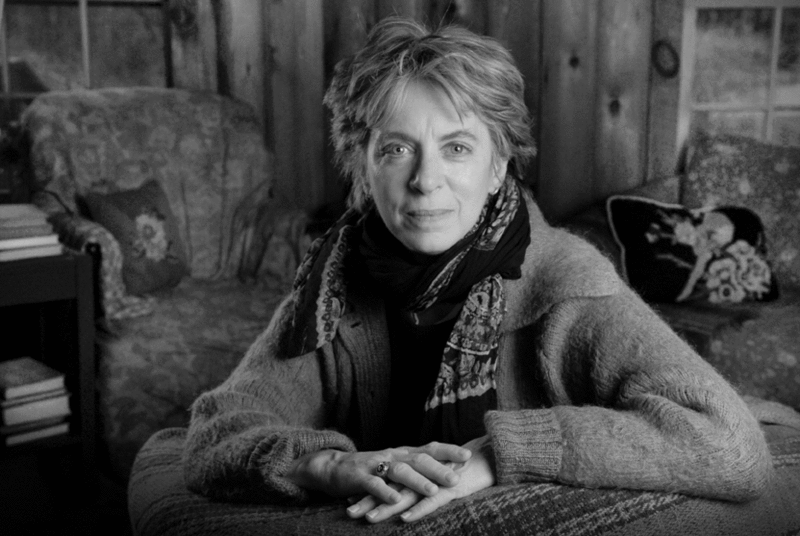 Jennifer May
Editor Michelle Slung.
What do gardening, murder, women's erotica, and Christmas past have in common? A most uncommon editor.
Woodstock-based Michele Slung has edited some 20 anthologies on these subjects and more. She's also the author of
Momilies: As My Mother Used to Say
, a cheerful compendium of maternal wisdom that has sold over a million copies, and other humor books including
The Absent-Minded Professor's Memory Book
. She's written books for
National Geographic
(
Living with Cannibals & Other Tales of Women's Adventures
and
Cat Shots
), and fine-tuned a first novel by a Muslim academic (
The Girl in the Tangerine Scarf
) and the memoirs of a professional submissive (
The Pleasure's All Mine
).
It's a surprisingly broad range of interests, but surprise is Slung's stock-in-trade. Her anthologies combine gems by little-known authors with offbeat selections by bigger names. One doesn't expect to find Stephen King in a gardening anthology, any more than one looks for Virpginia Woolf and A.A. Milne in a collection of crime fiction. Yet there they are, in
The Garden of Reading
and
Murder & Other Acts of Literature
, respectively. And while
A Treasury of Old-Fashioned Christmas Stories
does feature the requisite work by O. Henry, it isn't that well-roasted chestnut
The Gift of the Magi
but its Wild Western cousin,
Christmas by Injunction
.
From the unusual suspects in her police lineup of authors to the brief teaser quotes beneath every title in The Victoria Reader, Slung's individualistic touch is everywhere. Who else, for example, would name two collections of erotic writing by women (
Slow Hand
and
Fever
) after lyrics made famous by the Pointer Sisters and Peggy Lee?
"All I ever wanted to do was read," Slung declares, curling up in an armchair near her woodstove, one of many spots in her farmhouse that seems tailor-made for that pursuit. There are stacks of books everywhere, even marching up stair treads. Slung cites a feature she heard on NPR, dividing the world into filers and pilers. "I knew I was a piler," she laughs, though an editor's sense of order informs her carefully chosen decor: Oriental rugs, vintage tins, antique quilts. One collection takes center stage at the top of the stairs: a full set of original Oz books.
"Oz books basically dominated my childhood needs," Slung says. "Every birthday or Christmas, I got an Oz book." L. Frank Baum also helped cure her nail-biting habit: For every nail she let grow, she earned a new journey to Oz.
Slung grew up in Louisville, Kentucky, and though she has barely a trace of an accent ("I still say Missourah," she notes), she still sees herself as "a Kentucky girl." Her father owned an auto parts store, and her mother was a homemaker; Slung describes them as "ordinary people, Book-of-the-Month Club readers." Their only child started reading the funnies at just under three, and never looked back.
"I was a committed reader," Slung says. "When I think of Thanksgiving, I think of the smell of wet coats—I was always hiding out in bedroom with a book." She sometimes took out five library books at a time, read them in one day, and returned them for more. A local librarian once gushed to her mother, "Michele was the best reader we ever had."
Slung did have a literary mentor of sorts: Her father's brother, Louis Schaeffer, was a drama critic who won a Pulitzer Prize for his biography of Eugene O'Neill. Slung recalls infrequent visits with her "odd duck" New York uncle, who sent her a tin toy typewriter and, years later, packages of books by J.D. Salinger and Peter Matthiessen.
After college, Slung moved to New York City. There, she managed a Madison Avenue carriage-trade bookshop that retained other-era touches like packages tied with satin ribbons and handwritten ledgers into the 1970s. "I never worked for a bookstore that took credit cards," she notes dryly.
A favorite client offered the young bookseller a job at a literary agency, but Slung didn't feel she was suited to contract negotiations. "I couldn't type, I didn't want to be an assistant," she recounts. "To succeed in publishing, you need a specialty." She asked herself what she knew best, and went for the jugular.
Since childhood, Slung had devoured countless mysteries, moving from Nancy Drew books to Agatha Christie ("They're very well suited for bright eleven-year-olds") and on to Dorothy L. Sayers and Ngaio Marsh. As a young New Yorker, she sleuthed out hard-to-find titles, haunting secondhand bookstores on Fourth Avenue. Knowing the turf like few others, she queried the just-launched Ms. magazine and landed a mystery column. Then she returned to her agent friend to pitch an idea inspired by Hugh Greene's The Rivals of Sherlock Holmes—why not a collection of women detectives?
Her first editorial lunch was a hole-in-one: Slung went home with an offer from Pantheon for her first anthology, Crime on Her Mind: Fifteen Stories of Female Sleuths from the Victorian Era to the Forties.
"The world has changed so much," she marvels. "In the 1970s, there were almost no women detectives. Now there's practically nothing else." Her prescient subject matter garnered full-page coverage in the New York Times Book Review—a publication that generally shuns anthologies—and sent the delighted Slung on a book tour.
At her first Edgar Awards dinner, she met book collector and mystery aficionado Otto Penzler; they've been colleagues for more than 20 years. "I'm his Rosalind Russell, but he's half the size of Cary Grant," she quips affectionately. (Slung herself is far shorter than Russell.) She's read manuscripts and edited books for Penzler's Mysterious Press imprint, and screened literal thousands of stories for his Best American Mystery Stories series, working with a rotation of high-profile guest editors, most recently, Carl Hiaasen. When Penzler opened The Mysterious Bookshop in New York in the late 1970s, Slung was his first choice to run it.
But life can throw curveballs, and when Slung's then-husband, journalist Hendrik Hertzberg, became chief speechwriter for Jimmy Carter, she followed him to Washington. "It was Potomac fever at its most feverish," she recalls. "I'd never been there except for school trips and Moratorium marches [to protest the Vietnam War]." Slung commuted part-time to New York for over a year before taking a job at the Washington Post, writing a column called "Book World."
At 33, she walked into Ben Bradlee's office and gave notice. A lifelong fan of the Cary Grant movie Holiday, Slung had promised herself that, "Whatever I was doing at the age of thirty-three, I would quit." The powers that be were incredulous; one friend offered to print her a T-shirt, "I Quit the Washington Post."
Slung plunged into editing work, helming the Plume American Women Writers reissue series, which reprinted such overlooked authors as Ursula Parrott, Fannie Hurst, and Martha Gellhorn. More anthologies followed: I Shudder at Your Touch, Seduce Me: Twelve Erotic Tales, Stranger: Dark Tales of Eerie Encounters.
For anthologies, Slung seeks "stories that aren't frequently reprinted, stories that surprise me." She often spends 10-hour days combing the short-story index in the Library of Congress, and misses the days of open stacks, when she could spend hours sitting on the floor and reading, surrounded by the musty perfume of old books. She also bemoans the loss of card catalogues: "I'm an absolute addict, and yes, you do find more through them than working on a computer. It's a hand-eye-touch-brain thing."