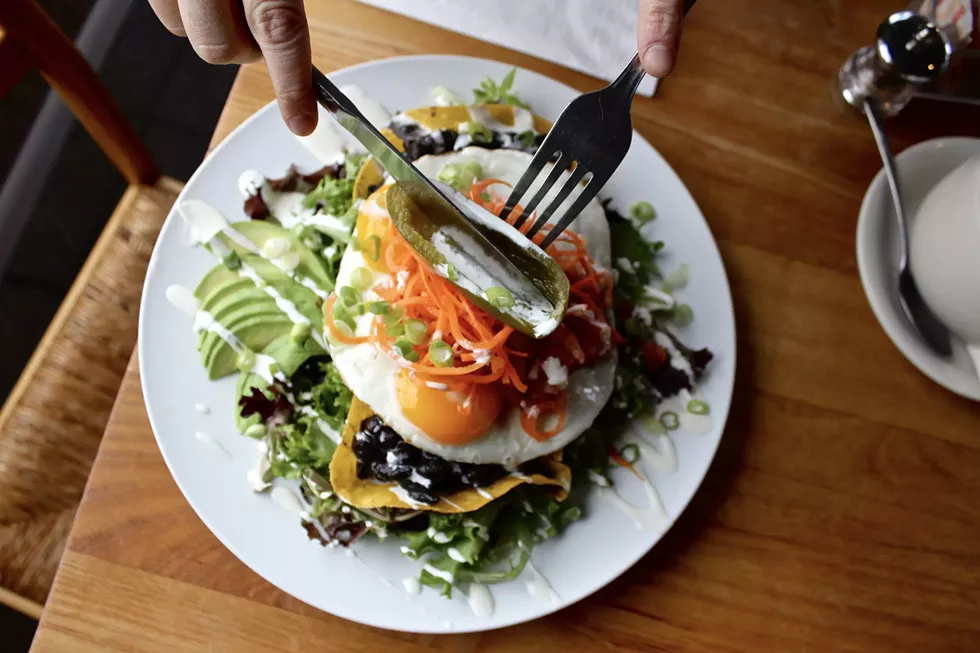 LACE Photo Media
Brunch at Cafe Mio in Gardiner
We have 19th-century British wit Guy Beringer to thank for the popularization of brunch. "Brunch is cheerful, sociable and inciting," he wrote in an 1895 essay. "It is talk-compelling. It puts you in a good temper, it makes you satisfied with yourself and your fellow beings, it sweeps away the worries and cobwebs of the week." Amen. We. Love. Brunch.
Beringer claimed to be defending the needs of hungover carousers, and "Brunch: A Plea" was witty enough to get picked up by the national magazine
Punch
. Brunching gained popularity on this side of the pond in the 1920s, first and foremost as a trend among those with ample resources, leisure, and a blasé attitude toward Prohibition.
You don't need to be hung-over or a member of the leisure class (although you certainly may be) to groove on brunch. Just hungry and in lazy, jolly spirits. That said, not all brunches are created equal. So we put together a list of our favorite Hudson Valley restaurants for gobbling down a late-morning—oh hell—early-afternoon feast.
Hudson Valley Brunch Spots
Phoenicia Diner
Phoenicia Diner
. This roadhouse serves up a standout breakfast menu all day long, with all kinds of omelettes and skillets incorporating sustainably sourced ingredients like locally smoked trout and house-cured grass-fed brisket corned beef, as well as house-made bread and granola and local maple syrup for your pancakes. Nestled in the foothills of the Catskills, this is a great place to fuel up before a day of mountain exploration or for post-trek refuel.
Brunette Wine Bar
Brunette Wine Bar,
one of Zagat's "
11 Reasons to Drive to the Catskills
." Brunette is a cozy, chic corner of the Strand, perfectly suited to the level of cheerful sociability Beringer was trying to promote. And while they made their name as one of the first places to champion natural wines in the Mid-Hudson Valley, Brunette's constantly evolving food menu is one of Kingston's best-kept secrets. Feeling breakfasty? Go for the Manhattan-caliber white fish on toast. More on the lunch train, try either of the ramen dishes. The bougie hot dogs are delicious as well.
Backbar
Dim Sum Brunch at Backbar,
served Saturdays and Sundays from 12-4pm. (What a relief, no one was even expecting you to make it before noon!) Dim sum emerged from the tearooms of South China to take over the brunch world because it is quite simply wonderful. Backbar, which is beloved for its lively, casual environs and slammin' Malaysian cuisine, holds true to form with the dim sum brunch, featuring spicy and savory concoctions like chili pork and shrimp, steamed kale and crispy beef brisket, that will break open your provincial hollandaise definition of brunch.
Home/Made Hudson
Home/Made Hudson
, dishes up an otherworldly level of creativity. Open only on weekends, a recent menu featured toasted brioche with cardamom pecan honey butter, and scrambles. Pair with a bottomless coffee and/or fresh-squeezed mimosa or Hudson Standard Daily Shrub. Brunch is weekends, 10-3; they recommend reservations, as it's a small room that pampers guests with cozy couches.
Gracie's Luncheonette
Gracie's Luncheonette
, where the culinary emphasis is on elevating every element of classic diner fare to its best self. Breakfast is served all day long, and whether your fancy is biscuits and gravy, fried chicken and waffles, or yogurt parfait, you can be assured that it will be artfully delicious and made with ingredients like house-cured meats, fresh-baked pastries, and from-scratch condiments.
Frida's Bakery and Cafe
Frida's Bakery and Cafe
, on Milton's mellow Main Street, is especially great for families—there's a spacious, light-filled playroom—but everyone will love the freshness of the house-made foods. There are gluten-free and vegan options, satisfying egg sandwiches, hearty soups, and every sort of amazing baked good and pastry to eat in or take with.
High Voltage Cafe
High Voltage Cafe and Bar
. There's also craft beer and a creative array of sandwiches and salads. High Voltage has two locations in Asbury Park and this one in
Mountain Dale
, a wee and wondrous Catskills hamlet worth exploring in its own right.
Cafe Mio

Cafe Mio
is perhaps an unexpected place to find a bang-up brunch. But for nearly a decade, chef-owner Michael Bernardo
has been delighting the highly selective palates of Gardiner residents and their guests from near and far with his (mostly) locally sourced menu of breakfast and lunch classics. The banana bacon French toast is made with thick slices of artisanal bread, topped by caramelized banana, Applegate bacon, dulce de leche, and whipped cream. If sweet isn't your thing, try the popular corned beef hash, topped by two eggs any style. And make sure you get an order (or two!) of parmesan truffle fries for the table.
Pakt
Pakt
in Midtown Kingston promises "the grub that makes you wanna dive in face-first," which is exactly how a brunch spread should be, especially one replete with Southern treats: fried green tomatoes, hush puppies, catfish club, sausage gravy, biscuits, shrimp and grits. This is not light fare by any means, but it's the weekend, so who cares? Brunch is served 10am-4pm Thursday through Monday; the weekend menu expands with Benedict variations like crab cake and fried avocado. And be wary of specials boards for promos like 2-for-1 mimosas. You're welcome.