Page 2 of 4
A PhD in War
He'd joined the army in the summer of 2001. His girlfriend Tori, who is now his wife, was pregnant. Carrell, a 20-year-old who had been moving furniture with his father in St. Louis, needed a job with benefits. His daughter was born on September 10, 2001. His deferred basic training was moved forward and his service began. His second child was born in April 2003, as he waited in Kuwait to invade Iraq three days later.
When he came home unscathed for a fourth time in 2011, he expected life to get easier. "I'd already put in my time," Carrell says. "All the hard work was done." After all those tours, he could have coasted through his last years in the army training soldiers. Having spent that much time in combat, he could have risen through the ranks quickly. "Four tours in Iraq is like a PhD in war," says Carrell. But when he saw an army doctor all of that fell apart. He'd gone in to get his back looked at. It had been bugging him for the longest time, but he'd always toiled through the pain—that's the warrior mindset. He figured he'd get a prescription for some painkillers and some stretches. The doctor told him his back was shot, that he wasn't quite sure how Carrell was still walking. Three discs had to be removed. His military career was over.
But soldiers don't just walk out of the military. Usually, they live on a base, amid colleagues who are also their friends. It's the only life they've known. And while it may be over, extending it for as long as they can is more comfortable than moving on. They hang around. The realization that they have to start over, that they have to remake themselves entirely, is where the trouble begins for a lot of veterans. Without a sense of direction, many spin around aimlessly.
Carrell knows the sentiment. "A lot of times, it's that you miss the camaraderie of it. And you're bored here," he says, pointing all around him, to the coffee shop and the strip mall and the busy road. "Being a civilian is absolutely boring. Because you wake up and you know what you're doing every day. You miss the adrenaline rush of getting called out to go secure a helicopter that crashed or something."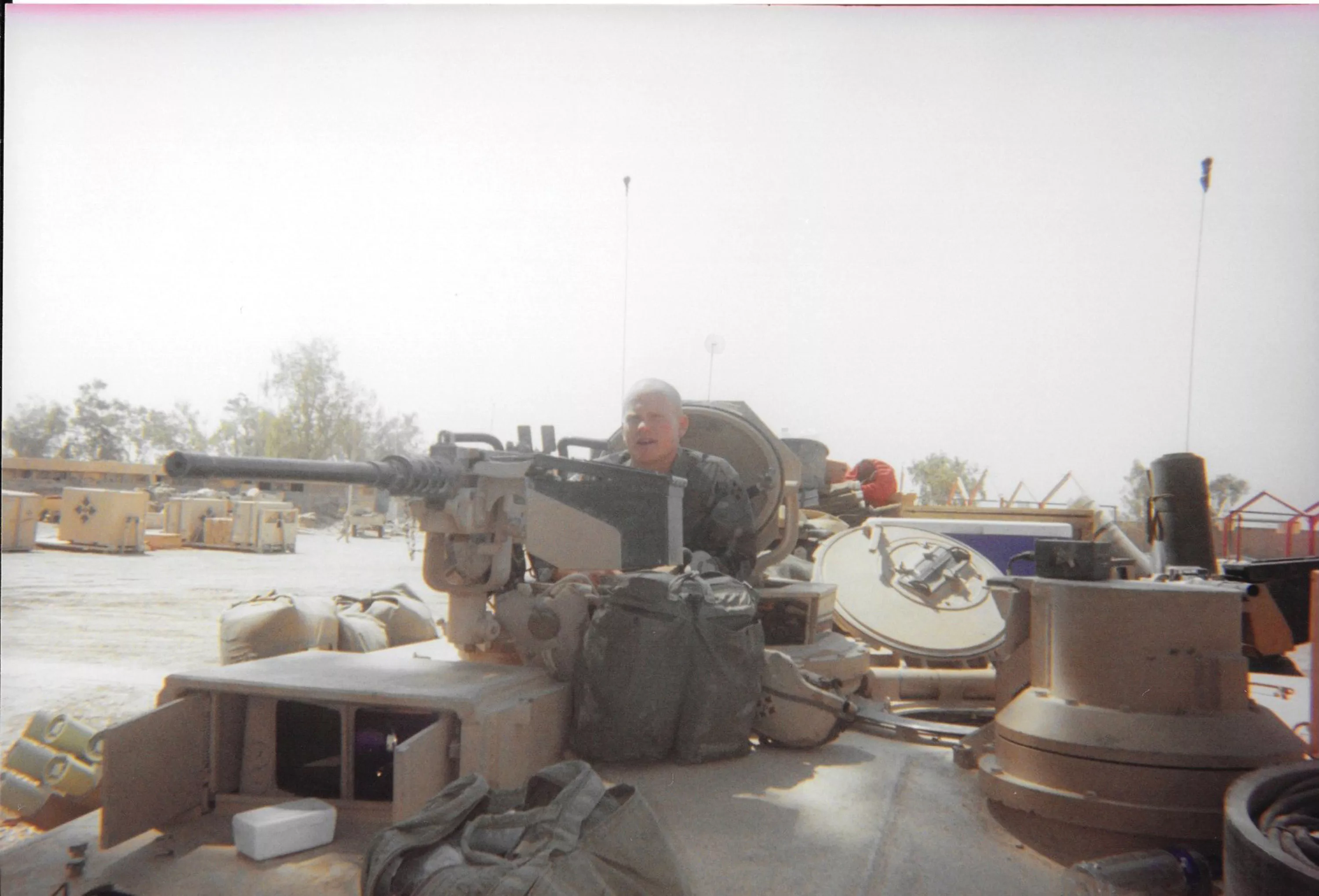 David Carrell on parol in Iraq in 2003.
This is the trap for veterans. To spend the rest of their lives coming down from that rush, without doing much of anything. Carrell could have used the war as an excuse to hole up in his mother's basement for the rest of his life. Instead, he figured he'd take the almost total stress resistance he'd developed in all those years of dangling on the sharp edge, and put it to use. "If you're not getting shot at and there's nobody dying," he says, "there's nothing that can hold you back."
Recovering from his back surgeries, stuck in Fort Hood, Texas, through the long process of getting his medical retirement processed, Carrell got bored. He'd dropped out of high school as a sophomore but gotten his GED soon thereafter. He'd never been to college, but he decided to enroll in a six-week class in a community college. When it was over, his commander told him he didn't have to report back for duty—as he awaited his discharge—so long as he was taking classes. "I signed up for every class I could take so I wouldn't have to go to work," Carrell remembers. "Now I was getting paid to go to college."
He got his associates' degree, barely, and was asked by an advisor if he was interested in attending Vassar College, which was looking to attract veterans on a partial scholarship. Eager to break out of the army bubble, he said yes. Then he Googled Vassar. He moved his family to the Hudson Valley and shrewdly figured out the finances. Tuition was about $50,000 a year. The GI Bill would pay him up to $19,000. And the Yellow Ribbon program would match Vassar's scholarship of some $15,000. Put together with his housing allowance from the army and his partial pension, they could just about make ends meet. And Tori would even have time to go to Dutchess Community College, in hopes of transferring to Marist College the subsequent semester.