Ah yes, kombucha—the fabled fermented elixir of the 21st-century health nut. With its probiotic-boosting, immune-reinforcing qualities, and its slightly acrid yet addictive effervescence, 'booch has found a broad market with everyone from kindergarten teachers to hungover Millennials and middle-aged dads.
Like most trending products that have hit the mainstream, Hudson Valley makers have found a way to create their own artisanal version. Between the sauerkraut slingers and apothecary peddlers, kombucha is right at home here in Upstate New York, and there is no shortage of local suppliers.
Here are five Hudson Valley kombucha brewers, whose creative variations on the theme will convince even those most dubious of skeptics.
Darragh Studio ​Kombucha, Millerton
"I dreamt of a large room with intricately carved pillars. There was smoke coming from small fires, contained in stone pits placed equally around the room, which were warming low, round copper kettles full of beautiful, sweet scoby and kombucha...I was in an ancient brewery where kombucha was being brewed for the warriors. When I awoke, I knew what I had to do." So begins the mystical origin story of Darrah Studio Kombucha. Darragh Park Rooney moved to the city to study art under Caroll Dunham but left several years later after becoming disillusioned with his mentor. Seeking the peace of the countryside, he returned home to Millerton.Emanating his release of toxicity, Darragh Studio ​Kombucha creates OG kombucha—it's raw and unfiltered with minimal ingredients. Yet at 1.2 to 1.3% alcohol is about three times stronger than your average 'booch, and more like an ultra-light alcoholic drink than an all-day health beverage. Rooney makes tart cherry, black cherry, and grape kombucha, which he sells through his website and to restaurants and markets across Dutchess County, with more flavors in the works.
Blessed Brewery, Beacon
Bringing modern conveniences ato bear on the kombucha world, Beacon-based Blessed Brewery delivers 'booch to your front door. You won't find them in any stores, markets, or breweries, their drinks are only available by subscription. Blessed Brewery offers two subscriptions to feed your kombucha habit a little easier: for $480 you receive six 350ml bottles every two weeks, and for $240 you can receive the same every four weeks. The six signature flavors of Blessed Brewery are the strawberry and ginger Fairy Tonic; the ginger, beet, and cayenne Ginger Dragon; the raspberry and cacao Truth Serum; the lemon, ginger, and apple Fresh Start; the orange peel and turmeric Thai Tea; and the apple cider vinegar Fire Tonic.
Calmbucha, New Paltz

Creative flavoring is what makes Calmbucha stand out in the crowded kombucha field. The 11 drink creations push the envelope to make interesting flavor combinations with names to match. Some options include the blueberry and mint Nectar of the Gunks, the pomegranate, ginger root, and lime Seven Chakras Up, and the mango and cardamom Mumbai Nights. The exotic flavor combinations push the limit of what you thought was possible or compatible with kombucha's mild vinegar profile, a surprisingly delightful palate-expander. Their small-batch product is organic, vegan, gluten-free, and unpasteurized. Calmbucha's upstate reach is vast, with product in markets across Ulster, Columbia, Dutchess, Orange, and even Putnam and Westchester counties as well. Peep their list of their retailers, adorably dubbed "The Booch Belt" (from which we've shamelessly poached our title) to find a supplier near you.
Yesfolk Tonics, Troy

Yesfolk Tonics
, is brewing in natural materials like American oak and glass. This trendy family-run brewery in Troy creates craft nonalcoholic kombucha to enjoy alone or mix with spirits of your choice. Diverging from the classic black-tea brewing method, Yesfolk offers five single-origin tnics using different tea bases: jasmine, yaupon, Black Dragon, Royal Phoenix, and Emerald. They also offer two plant-therapy flavors using adaptogenic and medicinal herbs: Soft Rays, a green-tea kombucha infused with tulsi, St. John's wort, and saffron; and the detoxifying Crystal Falls, made with burdock root, lemongrass, and cardamom. Their website even recommends food and spirit pairings, like the Black Dragon, which plays nicely with stout, mescal, asada tacos, and massaman curry. And if you can't make the trip to their Troy tasting room, don't worry: Yesfolk is available across the Capital Region as well as the mid- and lower Hudson Valley.
SeekNorth, Kingston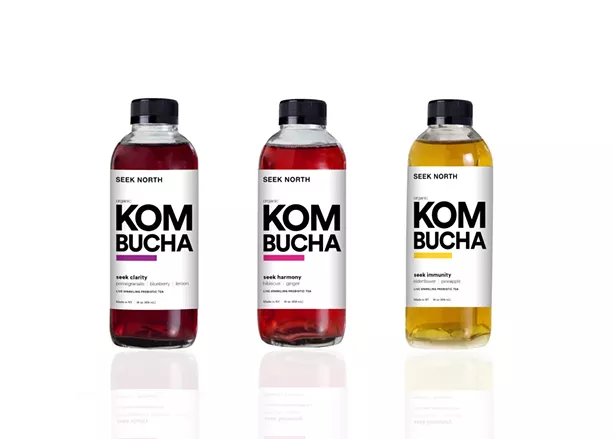 When Julian Lesser was diagnosed with neurological Lyme's Disease, he left his job with us at Luminary Media to rest and recover. His partner, Philippe Trinh, had been perfecting his kombucha-making skills for years, and it suddenly became apparent that his alchemy and aesthetic combined with Lesser's marketing experience were a dream-team. So together they created Seek North, which is made in small batches in their home kitchen in Kingston. The brand's three bottled flavors—hibiscus and ginger; elderflower and pineapple; and pomegranate, blueberry, and lemon—each focus on a different aspect of health: harmony, immunity, and clarity. On tap flavors also include APPLE HIBISCUS LAVENDER; pineapple passionfruit, prickly pear, and jasmine. Using a cutting-edge technology called the Spinning Cone Column (SCC), SeekNorth separates the alcohol content from the kombucha without affecting the probiotic or nutrient profile, making them one of the only virtually alcohol-free booch brands. Additionally, SeekNorth donates a portion of all their proceeds to fighting Lyme's Disease in honor of Lesser. SeekNorth's kombucha is available in restaurants, markets, and breweries in Newburgh, Beacon, Poughkeepsie, New Paltz, and Monroe.