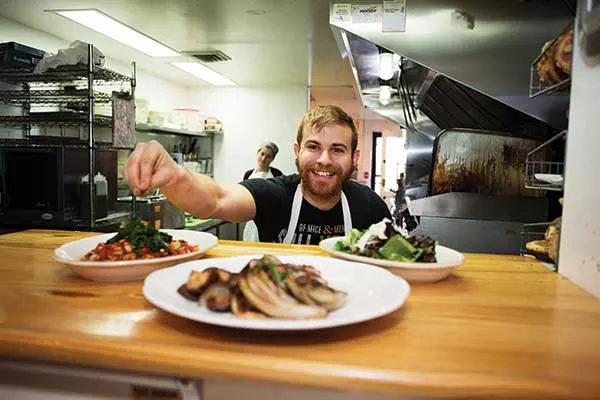 Karen Pearson
Darren Unger in front, Stephanie Skiadas in background.
What is "American food?" As a nation of immigrants, the United States lacks anything that might be called a "national cuisine." Of course, there are regional favorites, many of which are informed by the traditions of the people who brought the dishes that their mothers and grandmothers (and perhaps a few grandfathers) made in the Old Country. For this reason, dining out for Americans is often a kind of "gastro-tourism," even if we never leave our shores, much less our neighborhood. The question "What shall we have for dinner tonight?" is often followed, not by particular dishes, but by a list of national traditions: Italian? Chinese? Mexican? And more and more often, German cuisine is among the options we consider.
In some ways, German food is as close to a "national cuisine" as we have. When one thinks of American food, hot dogs—sausages with origins in Frankfurt and Vienna—and hamburgers, from—you guessed it—Hamburg, top the list. Many of the people and traditions of the American Midwest have their origins in Mitteleuropa, not to mention the Pennsylvania Dutch (Deutsch, actually) and the Central European Jews who began selling hot dogs to Brooklyn Dodgers fans back in the day.
German food is simple, hearty, filling, and comforting. Since we have begun to recognize that "healthy food" has much more to do with the origin of our meat and vegetables and the size of our portions and less to do with labels like "fat-free," which often mask processed foods that really aren't good for us, and that fat is an important part of our diet and that processed carbs are the real danger to our bodies, German food can be considered healthy as well. Anyway, the fat's where the flavor is.
Here in the Hudson Valley, we have a couple of wonderful options when you're feeling like something spaetzle. Of course, the Mountain Brauhaus in Gardiner has been serving authentic German staples like sauerbraten and schnitzel for 60 years. And for nearly five years now, co-owners Elizabeth Steckel and Dirk Schalle have been serving up hearty, comforting, delicious meals in an atmosphere inspired by Dirk's native Bavaria at their Gunk Haus in Highland.
"We both really like beer," says Elizabeth, "and we wanted something that really paired well with it. We knew that we didn't want to be just a bar, we wanted to be a restaurant, but it really was the beer that drove the concept. Since Dirk is German, German cuisine became the focus. When we were trying to figure out what kind of restaurant we wanted to open, we tried to be very practical about it. We knew that there was a lot of growth in the craft beer market. When I talked about how America was experiencing this great craft beer revolution, Dirk would scoff and say, 'We've always had that—We've always paired beer with food!' I can't say we were that prescient, but it seems like a lot of people were thinking similarly, because you see more and more German restaurants. I think German food goes hand in hand with people's interest in craft beer, which is still very strong, and it also ties in well with the whole farm-to-table, DIY, start-from-scratch movement. So it just seemed natural to us: Dirk grew up in that kind of environment in Germany, watching his uncle slaughter pigs and so on."
The restaurant evokes the kind of country inn one might find traveling through Central Europe which, as Bavarians and Bohemians alike will confirm, greatly resembles the terrain and climate of the Hudson Valley. To those new or unfamiliar to our region, Gunk—as phonetically Teutonic as it may seem—refers to the Shawangunk Ridge, of which Gunk Haus, set upon a hilltop in the Marlboro Mountains of Highland, offers splendid views and breathtaking sunsets that can be enjoyed while sipping craft beers from the deck in summertime.
"We knew we had to have really great burgers and fries," says Elizabeth. The 8 oz. Haus Burger ($12) is made from local, all-natural pastured and hormone-free beef raised in Stone Ridge and comes on a "Haus-made" pretzel bun. Other staples of the gastropub-style menu include a Roast Pork Loin Sandwich ($13), Hungarian Goulash ($19)—pork cooked slow and low in a spicy Hungarian paprika sauce served over herb spaetzle, and a Sauerbraten Sandwich ($13), slow-braised brisket in a traditional sweet-and-sour gravy on a pretzel bun.
On a recent visit, I began with a glass of the Rushing Duck Beanhead Porter ($6.50), an aged dark beer enriched with coffee beans, and a cup of the Chorizo and Red Bean Soup ($4), while my partner had the Curried Green Lentil Soup ($3)—a vegan option among several others on the menu. Both were rich and flavorful and served hot (how often is that not the case?). For the entree, I chose the Jaeger Schnitzel ($18), a lightly breaded and sautéed boneless pork loin served with a mushroom ragu over herbed spaetzle, while my partner had the Mixed Grill ($23), a sampling of German cuisine that included bratwurst, weisswurst, and smoked kielbasa, served with warm German potato salad and sauerkraut with bacon. Both meals were delicious—the schnitzel was piled high with mushrooms and the sautéed spaetzle—something between a dumpling and a noodle—was more comforting than the backseat of a Mercedes. It paired beautifully with the Great Divide Colette, Belgian-Style Farmhouse Ale ($6.50). All of the sausages in the Mixed Grill are made locally by Mark Elia in Highland, and all were moist and tasty with a lovely, fine texture and paired well with the local Brotherhood Pinot Noir. For dessert, I ordered the Apfel Strudel ($6), built from local Empire apples on a flaky pastry with a gorgeous espresso caramel sauce and a generous dollop of freshly made whipped cream—probably the most sumptuous strudel I've ever enjoyed. My partner ordered the Flourless Chocolate Cake ($6), which won't disappoint even the most discerning chocolate lover. "We know we can't be all things to all people," says Elizabeth, "but we try to keep the menu in the German context, and to keep it local and seasonal."
The couple has done considerable research into the history of their restaurant. Today's Gunk Haus began as a single-family-home in the 1870s, and was converted to a boardinghouse after the Civil War. Known as the Hollywood Hotel, it remained a boardinghouse until the 1930s, when it was purchased by an Italian family who operated it as the Hollywood Bar and Grill, which it remained until 1967, when it was purchased by a Jamaican family who kept the name but ran it as a Jamaican restaurant. In the 1990s, it became well known as a reggae club, as unlikely as that might seem in the apple orchards of the Hudson Valley (there were many Jamaican immigrant families working in the orchards). The couple discovered the building when they came up to the Hudson Valley to visit Elizabeth's sister and brother-in-law. "My brother-in-law drove me past this place and I started to laugh—'No way!' I said. Dirk and I were heading to Germany that week, but on the way out of town we drove by the restaurant and I said to Dirk, jokingly, 'Oh, by the way, that's the place Ted wants us to buy.' We barely paused on the road and didn't discuss it any further. So we left for Germany—I don't really speak German, but I can understand a bit, and after a while I began to realize that he was telling everyone he had found his dream restaurant. I said 'Dirk, are you talking about the Hollywood Bar?' And he said, 'Oh yeah—I loved it—that's the place!' It looked like it needed so much work that I didn't take it seriously, but he recognized the potential from the get-go. When we were renovating, so many people stopped by and wanted to take a look at the place, saying they had been interesting in buying it but that it looked like too much work. Every time we heard that, we got more and more discouraged. But in the scheme of things, the work was largely cosmetic. The beautiful old wood floors were here, but they had about two layers of linoleum on top of them. There was a drop ceiling that we took out, which revealed the original rafters."
The interior of the Gunk Haus is open, light, airy, and spare, with the relaxed atmosphere of a country pub. Whether seated at a banquette or at one of the long, pub-style tables, your eyes are drawn up to the rafters. The walls have been freshly plastered (with actual plaster—something of a lost art that is experiencing a revival), which contributes to the Old World feel of the place. The bar is lively, with a semi regular, semi local crowd, but the emphasis is on the restaurant. "For the first year, we didn't even have bar stools," says Elizabeth. "It's just not something you would ever see in Bavaria. People sit together at long tables." Gunkhaus.com