When you visit the Berkshires in summer, there are certain sights you expect: swoon-worthy views of alpine streams, goats frisking through clover fields, raw-boned farmers and a clutch of genial hippies picking at guitars.

What you might not expect dotting the landscape is a nonagenarian dancer, a barefoot Ethiopian long-distance runner, an Eskimo adolescent girl, a strung-out graffiti artist, and a wisecracking Joan Rivers. These are not hallucinations, but rather a few of the onscreen images when the fifth annual Berkshire International Film Festival (BIFF) sets up shop in June.
Western Massachusetts was not an unlikely locale for this four-day marathon of screenings, parties, and star-worshipping. When BIFF founder Kelley Vickery arrived here a few years ago, she had been drawn to the area's history as a fresh-air camp for artists, dancers, and musicians. (The Berkshires were already home to the celebrated Jacob's Pillow dance school and Tanglewood summer concerts.)
Yet in this region, Vickery says, "film was not as celebrated as it could be." The oversight was puzzling, as local residents include film titan Arthur Penn (Bonnie and Clyde), Andrew Bergman (screenwriter of Blazing Saddles, Soapdish, and Honeymoon in Vegas) and actors Karen Allen (Raiders of the Lost Ark) and Lauren Ambrose ("Six Feet Under"). Drawing on her background as an administrator at the Denver Symphony Orchestra, the Kennedy Center, and a pair of Singapore museums, Vickery set about to bring film to the regional foreground.
More than 1,000 people were drawn to Vickery's noble experiment in 2006, a flattering reception for a maiden voyage built on maxed-out credit cards, called-in favors, the wary support of merchants and the indulgence of local luminaries. The first year's honoree was Pittsfield, Massachusetts native Mike Haley, known in Hollywood for a 40-year career as assistant director on numerous Mike Nichols films. (Subsequent honorees have included Arthur Penn and Kevin Bacon.) But only after crunching numbers did Vickery realize the convivial gathering of film gods and their disciples could become an annual cultural tradition.
Now a half-decade old, BIFF has grown from 42 films to 75 films and from three to seven screens in Great Barrington (the Triplex Cinema, Mahaiwe Theatre, and the Great Barrington Town Hall) and, for the first year, nearby Pittsfield (Beacon Cinema and the Berkshire Museum's Little Cinema). The festival has, said Vickery, already achieved her modest mission: "[T]to celebrate film, and those people who make them and those people who enjoy them."
Vickery programs both serious films about social issues and crowd-pleasers that include live celebrity appearances. Happily, there are enough local filmmakers to book on the schedule, but directors from 18 countries are also represented. To the Sea (Mexico) brings together a cultural clash between a Mayan man and his Italian spouse. Eyes Wide Open (Israel) concerns two Hasidic men who must confront their forbidden romance. L'enfer d'Henri Georges-Clouzot (France) reassembles the footage of a 1964 film never finished by the master director.
There is a progressive cast to the offerings: Ahead of Time profiles Holocaust heroine Ruth Gruber; Countdown to Zero dissects the history of the atomic bomb; How to Fold a Flag challenges the enduring symbolism of Old Glory in wartime; and My Neighbor, My Killer looks at Rwanda's efforts to heal after the 1994 Tutsi genocide.
"It's not about stirring up controversy," Vickery says, "but yeah, there's some heavy films in there."
This year's BIFF Achievement in Film Award recipient should draw a full house: Patricia Clarkson, whose steady climb from bit player (The Untouchables) to indie darling (Far from Heaven) to mainstream success (Shutter Island) has been an enviable career path. Clarkson will introduce her latest film, the romantic drama Cairo Time. "Sopranos" alumnus Michael Imperioli will screen Hungry Ghosts, which he wrote and directed.
Berkshires resident and Hollywood dance legend Marge Champion will attend the screening of Keep Dancing, a tribute to the grace and longevity of a woman who started her career in the 1930s at the Disney Studio as the model for Snow White. While comedian Joan Rivers will not appear, the new documentary Joan Rivers: A Piece of Work opens the festival. It is a mercilessly lacerating look at a survivor in a fickle industry.
BIFF 2010 offers four days of screenings, panels, the Berkshire Student Film Festival, cocktail parties, a disco dance party, and a live reading-musical performance of the 1936 Yiddish film Jidl Mitn Fidl. All this—plus the aforementioned mountain views—will draw more than 3,000 people this month, Vickery estimates. "So, I think we're doing something right."
The Fifth Annual Berkshire International Film Festival takes place June 3 to 6.
(866) 811-4111; www.biffma.com.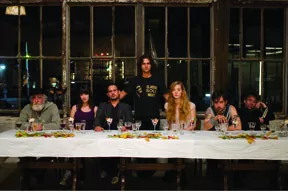 "Soul Kitchen," directed by Fatih Akın and starring Moritz Bleibtreu, Birol Ünel, and Adam Bousdoukos is one of the films being screened at the Berkshire International Film Festival.