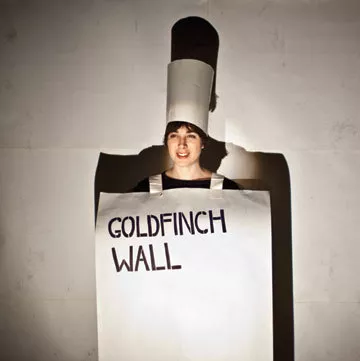 Karinne Keithley in "Montgomery Park, or Opulence," part of the Mount Tremper Arts Festival.
The term "avant-garde" is out of fashion. Matthew Pokoik and Aynsley Vandenbroucke use the phrase "hybrid artist," referring to performers who combine dance, storytelling, visual art, and other forms. Hybrid artists will speak, gyrate, sing, and pirouette at the third Mount Tremper Arts Festival, beginning July 10. Vandenbroucke and Pokoik, the founders and directors of Mount Tremper Arts, are themselves a "hybrid couple": she's a choreographer, he's a photographer. At 33 and 35 respectively, they may be the youngest impresarios in the Hudson Valley—and among the most impressive.
An all-day free celebration kicks off this year's festival, including "NOX," a collaboration between the writer Anne Carson and members of the Merce Cunningham Dance Company. ETHEL, the Juilliard-educated string quartet known for vigorous performances of contemporary composers, will play works by Terry Riley and Julia Wolfe. Then the Cunningham dancers and ETHEL will collectively perform a piece titled "Event." The day will culminate in a meal featuring roast pig (for a fee). "The day is meant to encompass everything we do, from the finished, professional, polished work, to the work-in-progress, to a pig roast," Pokoik remarks.
On July 17, Miguel Gutierrez and the Powerful People will dance with text projections in what Pokoik describes as an "untitled project with Jenny Holzer but I'm not allowed to give it a name yet." (Holzer is a visual artist known for her "Truisms" such as ABUSE OF POWER COMES AS NO SURPRISE.) Gutierrez, who recently won a Guggenheim Fellowship, mobilizes dynamic groups of dancers, and (like many of us) has a love/hate relationship with pop culture.
On August 7 and 8, Foofwa d'Imobilité will present the US premiere of "Pina Jackson in Mercemoriam," inspired by the deaths of three major figures in the dance world during a five-week period in 2009: Merce Cunningham, Pina Bausch, and Michael Jackson. In this satirical performance, d'Imobilité plays a 500-year-old Italian dancer-zombie who reenacts Dante's voyages through hell, purgatory, and heaven, meeting the souls of the departed choreographers. The dancer does perfect imitations of the three stars. "He's incredibly beautiful and meticulous physically, but also a clown," Vandenbroucke notes. Following the Saturday night performance will be a Michael Jackson dance party.
This year the festival will inaugurate a Friday night series of meals, Food for the Arts Barbecues, serving local, grass-fed meat and vegetables from their three-quarter -acre garden. Along with the dinners will be lectures and presentations–including Vandenbroucke challenging Cory Nakasue to a "choreographic duel" (August 6). The directors envision an outdoor rural salon, like a cross between John Cage's loft and Robin Hood's hideout. "It's been so valuable for us as artists ourselves working up here, and then watching other people come up here, where they unplug—like, the cellphones don't even work!" Vandenbroucke observes, with a laugh.
The visual aspect of the festival is a photography exhibition, "Seven Summits," featuring seven photographers, many of whom are inspired by the history of painting. The opening reception on July 16 is free, and will include slide shows, videos, and talks by the artists.
The Mount Tremper Arts Festival will run July 10 through August 15 at Mount Tremper Arts, 647 South Plank Road, Mount Tremper. (845) 688-9893; www.mounttremperarts.org.