Charlie and Megan Fells have turned the long-closed M. Schwartz & Co. clothing store on Main Street in Poughkeepsie into an urbane, hip, and bustling restaurant. Cynics thought that not enough people would be willing to support a serious restaurant in what has long been perceived to be a crime-ridden and decaying part of the city. But the moment the Artist's Palate opened in May of last year, it struck a receptive chord with its patrons. The restaurant's presence has reinforced the city's efforts to revitalize the neighborhood, and the city in turn has improved security. The Artist's Palate presently serves as the anchor establishment for what will likely become a more gentrified part of town. The owners and chefs owe their success not only to the delectable food they serve but also to the restaurant's eye-catching interior design.
Alan Baer, an interior designer from Kingston, created the polished and inviting space. Although this is the first restaurant he designed, he came up with a number of wonderful touches that allowed the owners, in Megan Fells's words, "to realize our idea of making the interior aesthetically interesting, a place where food and art would be seamlessly integrated." A large, shiny aluminum duct pipe runs just below the high original tin ceiling along the length of the restaurant. Coupled with other exposed pipes, this gives the interior a sleek, modern industrial look. The sense of openness is reinforced by the stainless-steel kitchen located in the rear of the restaurant. It allows the chefs to look out on the 76-seat dining room and enables patrons to see the activity taking place in the open kitchen. At the left of the entrance, a seven-seat bar has a dark gray poured concrete top decorated with backlit round holes filled with clear fiberglass. Interspersed along the left wall are large cream-colored alcoves, framed in steel gray and containing featured artwork. The brick rear and right walls, a Tuscan red-painted section of the rear wall, and Finn Form yellow tables and chairs placed on the dark brown hard wood floors accent the milieu with additional drama and color.
As with its art (a new show rotates through every other month), the restaurant regularly reconfigures its menu. It features contemporary American food with Italian, French, or Asian accents. Seventy-five percent of the items on the menu change every two weeks, including all the entrées. Charlie Fells believes that "this keeps us fresh and creates a bit of excitement for our clients, who can look forward to some surprises each time they come."
Among the five appetizers that have become a staple offering, the onion soup is made from four types of onions: red, Sea Pine Island (a pungent, strong, and delicious variety of cooking onion) or common yellow, the white part of leeks, and shallots. After caramelizing the onions and deglazing the pan with cream sherry, fresh thyme, and a bay leaf, the onion base is slowly simmered in chicken stock, beef broth, and a touch of Worcestershire sauce. As in the French fashion, the soup is presented in a small bowl with a toasted baguette slice and topped by a layer of melted Gruyère cheese. The variety of onions and their subtle variations in flavor, ranging from mildly sweet and garlicky to delicately spicy, set this soup apart from others of its type.
The appetizer most favored by patrons according to the chefs is the Lobster Mac and Cheese—an inspired twist on the classic American comfort food. The Fells's variation substitutes Italian fontina, a cow's milk cheese with a mild, nutty flavor, for the traditional combination of extra-sharp cheddar and Monterey Jack. Maine lobster, lobster stock, heavy cream, elbow macaroni, and fontina are combined and then topped with buttered breadcrumbs. Once baked, the breadcrumbs form a browned, crunchy topping to the mélange of bubbling-hot lobster sauce, pasta, and morsels of succulent lobster. The dish is finished with a Pedro Jimenez sherry drizzle. The sherry's sweetness and round, crisp, velvety aroma adds to the appetizer's decadent luxuriousness. This suave dish can easily become addictive.
There is always a wide selection of entrées to choose from, including a vegetarian option. On one occasion, using beef Wellington as inspiration, the chefs offered a salmon Wellington made with a five-ounce wild king salmon filet. In the traditional preparation, a filet of beef tenderloin coated with a pâté de foie gras and a duxelles of mushrooms are all wrapped in puff pastry; in the Fells's revised dish, a mixture of chopped wild mushrooms, leeks, shallots, fresh tarragon, butter, and brandy is sweated until the moisture has evaporated and, once cooled, placed on top of a skinless salmon filet, which is then wrapped and sealed in puff pastry. Making a Wellington of any kind requires getting the pastry properly baked without under- or overcooking the main ingredient. The chefs have mastered this technique: They present the diner with a moist, cooked-to-order piece of salmon, given added zest by the luscious mushroom mixture and the spicy, sweet, licorice taste of the tarragon encased in a lightly browned, crisp puff pastry package.
One of Charlie Fells's dishes drawn from his Italian repertoire is a veal chop Valdostana, named after an area in Italy just a short drive from Torino, where, traditionally, cheese figures prominently in main course preparations. The chef cuts a pocket into a thick (12-ounce) milk-fed veal chop and stuffs it with fontina cheese, foie gras, and sage. After the chops are sautéed in butter, they are finished in the oven and served with a pan gravy. The stuffing bolsters the relatively bland and lean veal and adds a rich, creamy, nutty, citrusy flavor to each bite of the butter-soft chop.
A wide array of exotic game meats, such as venison, elk, ostrich, buffalo, wild boar, kangaroo, and antelope, is featured on the Artist's Palate ever-changing menu. Diners seeking a new experience should not miss the free-range South Texas antelope medallions sautéed with Turkish figs, Madeira, and sage. The medallions, cooked preferably rare to preserve their tenderness, have a rich, complex flavor similar in taste to venison. Any hint of "gaminess" in the meat is masked by the caramel and bittersweet chocolate accents in the Madeira sauce. The chopped, crunchy figs complement the sauce and add another layer of texture to this dish.
As the chefs point out, the desserts do not measure up to the high quality of the other courses. Their biggest hit is a dessert sampler, a tasting of chocolate gelato, lemon sorbet, apple cobbler, and Key lime tart. While all are made in-house, and are good, none of the desserts are prizewinners. The Artist's Palate is not alone in this regard, however, as there's a trend among many of the better restaurants in the Hudson Valley away from an emphasis on dessert. This may accurately reflect a declining interest in dessert on the part of chefs and diners. Still, plenty of people would like to finish a fine meal with a dessert to match. What's needed are skilled pastry chefs and restaurateurs who are willing to hire and encourage them to imaginatively ply their art.
A relatively large number of internationally diverse white and red wines are available at $6 to $11 a glass, while there are quite a number of interesting bottles priced between $20 and $30. These are examples of two very good, value-priced wines: The 2003 Monkey Bay sauvignon blanc from Marlborough, New Zealand, at $8 a glass and $23 a bottle for the 2005 vintage, is a fruity, light, crisp, refreshing white wine with hints of grapefruit and lemon and a stylish finish; the 2004 Fontal Tempranillo Roble from Bordegas Fontana, Spain, 2004, at $9 a glass and $24 a bottle, is a rich and vibrant red of medium intensity and crisp acidity that is packed with flavor and will go well with most meat dishes. During dinner, appetizers average $8, entrees $24, and all desserts cost $6. A three-course meal with a glass of wine plus tax and gratuity will cost, on average, $60 per person.
At the Artist's Palate, variety, clarity of flavor, and good taste drive the cooking. The restaurant's pleasing design and emphasis on exhibited art suggest that the serious artist and the fine cook have much in common. But this is not a pretentious restaurant. The dress code is casual, the service friendly and knowledgeable. Catering to your eye and sense of taste, providing generous portions of contemporary American food at relatively moderate prices, offering dishes that comfort or challenge the diner to experience something new, Charlie and Megan Fells have made their restaurant a preferred destination for food enthusiasts.
Jennifer May
An exposed brick wall with a slender mirror and soft lighting forms one length of the Artist's Palate.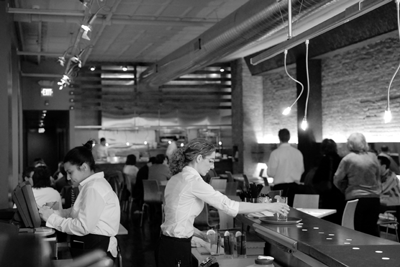 Jennifer May
Lunch at the Artist's Palate can be a bustling affair, and on a Wednesday afternoon in chilly February, foot traffic on Main Street in Poughkeepsie floods inside.