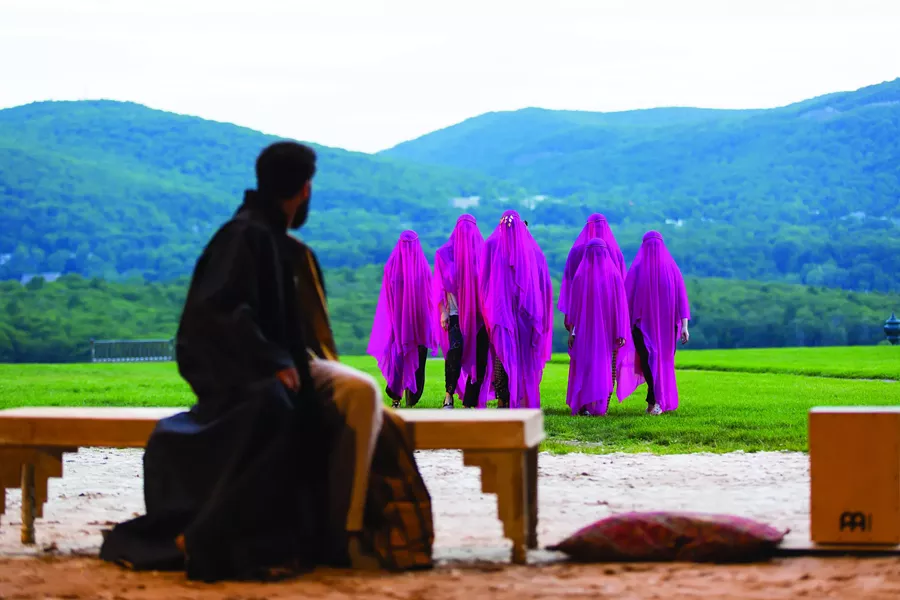 The cast of "The Arabian Nights" makes an entrance into the Hudson Valley Shakespeare Festival tent at Boscobel.
Now in its 29th season, the Hudson Valley Shakespeare Festival has remained a place of creative fecundity. Against the magical backdrop of Boscobel—a vision we might believe to have jumped out of the pages of the Bard's own mind—brilliant narratives are re-imagined. Almost three decades of tales have woven and unwoven themselves under the open-air tent as waves of actors and directors have washed over the earthen stage, leaving behind evidence of their stories like ripples of salt on sand.
The festival's epic legacy of storytelling has become a poignant centerpiece in this summer's production of "The Arabian Nights." Mary Zimmerman transforms One Thousand and One Nights, a collection of stories culled from various corners of Asian and Middle Eastern history, of the traditionally oral folklore into an "impactful two-act play that packs a lot of punch," explains Lileana Blain-Cruz, the director of "The Arabian Nights." The play focuses on a betrayed king, Shahryar (Babak Tafti), and his fury-fueled obsession with revenge. When a young girl, Scheherazade (Susannah Millonzi), falls victim to Shahryar's mad plan to kill every virgin in the kingdom, she uses her commensurate storytelling abilities to save her people from Shahryar and, ultimately, to save Shahryar from himself. Blain-Cruz works with this narrative and Zimmerman's fantastic play to push it toward its next stage of metamorphosis, thus giving birth to this summer's energetic production.
Make no mistake: energy is certainly centerstage in "The Arabian Nights." Dancing, singing, laughing, and audience participation are greatly encouraged. It might seem that a play about storytelling would be a decidedly passive and sedentary endeavor. Passivity, though, is the last thing this play embodies and with good reason. Blain-Cruz and Davis McCallum, the HVSF's artistic director, both prioritize the play's union of the legendary and the contemporary. "The play fuses ancient stories with the sensibilities of today," McCallum explains. "The clothes, music, set design—it's all fresh and modern." Scheherazade's stories, too, are emphatically timeless. "These stories are about the spaces between men and women," McCallum points out, a subject as eternal as any. Further, Blain-Cruz reminds us that the play represents "a collage of all worlds, across space and time. Scheherazade's stories are fun, insightful, and, above all, relevant."
Blain-Cruz's vision for the play includes an extension of the frame narrative in which the audience is swept away in Scheherazade's stories, much like King Shahryar is. "You almost can't escape the journey; you're immediately wrapped up in the joyousness and silliness of it all," Blain-Cruz explains. "The stories weave themselves like a maze, like a kaleidoscope," McCallum adds. "They are sexy, funny, ridiculous, wise, and, ultimately, spiritual."
The protagonist of the play, King Shahryar, is essentially a broken man rehabilitated by a young woman's powerful tale-weaving talents. Blain-Cruz sees this as an enduring and important exchange: "Scheherazade opens Shahryar's mind to love, joy, and compassion. It's easy for us to become jaded and complacent in our lives. Sometimes, we need to be reminded of the beauty and importance of the world outside of our own tedium."
Amidst a difficult sociopolitical climate, shaping a narrative that represents a culture so far away and so currently important to our understanding of the world proved arduous for Blain-Cruz. How does one respect these delicate circumstances while still talking about and portraying these civilizations? "I believe that storytelling, both in the sense of the performance and of the narrative, offers a space for empathy," she explains. "Storytelling is a gift to be shared. It helps us to find peace with each other and guards against marginalizing those who are different. We share our stories. We do what we can."
What is it that you can do as an audience? "Come early," Blain-Cruz says. "Come early and dance."
"The Arabian Nights" is currently in HVSF summer repertory along with "A Winter's Tale," "An Iliad," "The Tempest," and "A Midsummer Night's Dream." (845) 265-9575; Hvshakespeare.org.