Image by Good Bites & Glass Pints™
Though edibles might seem like the modern-day cannabis frontier, many cultures around the world have a long history of infusing the plant into food and beverages such as teas, jams, and more. While cannabis' criminalization in the US lessened the popularity of edibles, it began again in earnest in the 50s, when Alice B. Toklas, Gertrude Stein's life partner, published a recipe for "Hashish Fudge" in her 1954 cookbook that would reintroduce them to a wider audience once more.
While everything from cannabis-infused gummies to chocolates has grown in popularity, edibles' long-standing reputation for inconsistency is something that the industry has been working to combat. From developing consistent THC dosages to providing information about how long it might take for a given product to work its way into your system, the variety and consistency of edibles has come a long way in the few years since legalization has started to sweep the country.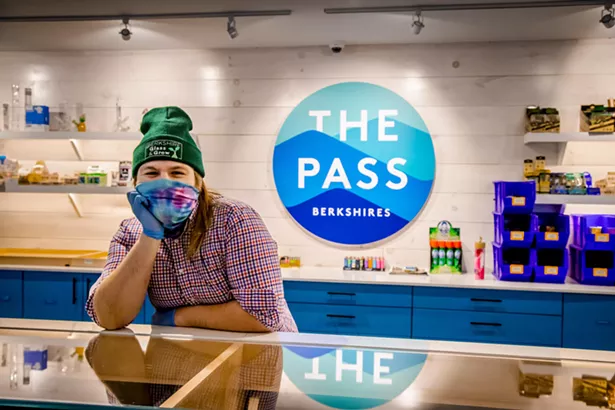 Image by Good Bites & Glass Pints™
Brian Lizotte, Operations Manager at The Pass
"The edible market has seen the most innovation in this industry thus far and because of this, cannabis is extending its reach into the norm now more than ever," says Brian Lizotte, Operations Manager at The Pass, a farm-to-label grower and producer of adult-use recreational cannabis products based in the Berkshires.
From seed to sale, The Pass has worked hard to develop rigorous quality controls for its wide selection of consumable products. All of its branded edibles start as rich, raw plant material cultivated at its vertically integrated campus in Sheffield, Massachusetts, which are developed at its engineer-led processing lab into world-class gummies, mints, and more. Through biochemistry and extraction methodology, the team isolates and distills specific cannabinoids and terpene profiles for specific products and effects or blends desirable compounds for whole-plant entourage experiences. At every step of the process, analytics are performed to ensure product quality and reliability.
Image by Good Bites & Glass Pints™
"When I first started in the industry there wasn't much choice when it came to edibles besides 'What kind of candy do you like?,'" says Lizotte. "Recently, however, there has been a shift towards 'What kind of effect are you looking for?' which is a familiar question for cannabis users. That's why we've started to produce our own line of edibles that coincides with our overarching mission of curating products that help users get more out of cannabis in their day-to-day lives."
Image by Good Bites & Glass Pints™
Among the Pass' many branded and partner products are Coast Cannabis's chocolates, which reportedly provide a quick-acting effect due to chocolate's higher fat content; The Pass' own sugar-coated Knockout Gummies, which are great for portioning into smaller sizes and have added melatonin for use as a sleep aid; and Levia's cannabis-infused seltzers that Lizotte says are discreet enough to allow drinkers to feel at home next to those enjoying alcoholic beverages. No matter the edible experience you're looking for, the team at The Pass is working to ensure there are quality, consistent options for any taste preference or desired effect.
To stay up to date on new products and store events, join The Pass' mailing list.