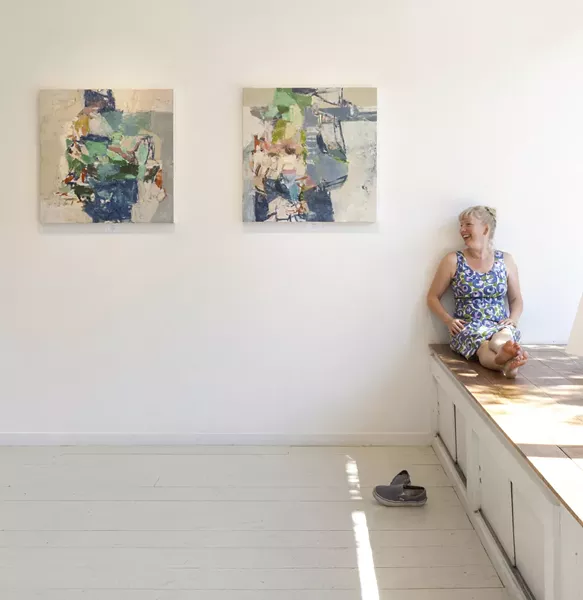 In the world of painterly abstraction, certain forces are always in tension—balance, spontaneity, coherence, transcendence, discomfort, evolution. The artist's work is to facilitate the composition's own process of self-discovery.
Woodstock-based painter
Jenny Nelson
brings a long history of drawing to the canvas, which informs her sense of space, structure, and color relationships. Beginning with an extensive palette of custom-mixed colors, Nelson makes use of brushes, palette knives, and oil sticks to cover the canvas in semi-intuitive, semi-impulsive bursts of color. "This process leaves me feeling quite lost a lot of the time, and I have had to learn to become comfortable with that feeling" Nelson says.
You and Me Swimming, 2018 40 x 40 inches, oil on canvas – On view at Carrie Haddad Gallery, Hudson, NY
From the initial chaotic impulse of color, Nelson begins a process of refinement in conversation with the canvas—adding and subtracting, studying and waiting. "The process of layering creates a kind of history on the canvas," Nelson says. "Shapes have a story to tell. Lines that have been obliterated and resurrected over and over again have an emotional charge."
Tension is built through the push and pull of paint as it is layered over colors creating lines, shapes, and textures that add depth and mystery. In the past few years, Nelson's square canvases have leaned into patina-toned hues of blue, grey, and green with sporadic accents of orange and pink.
Nelson's latest paintings will be on display at Carrie Haddad Gallery, along with the work of five other artists, in the upcoming show "
Contemporary Artists
." The exhibition will also feature landscape paintings and pastels by
Nancy Rutter
, encaustic paintings and works on paper by
Donise English
, stamp drawings by
Andrea Moreau
, small, whimsical landscapes by
Laura Von Rosk
, and camera-less photography by
Birgit Blyth
. "Contemporary Artists" will be on view March 6-April 21, with an artist reception on March 9 from 5-7pm.