Khaldun Michael Sturm remembers the exact moment he realized the power of retreat. Sturm, the Assistant Director for Spiritual Activities and Service at The Abode, an interfaith retreat center in New Lebanon, first visited the center in the summer of 2011 as a volunteer. During lunch one day, he noticed a man walking by who had just completed a 30-day retreat. To Sturm, the man's entire presence radiated an effortless energy. "It looked like there was no weight whatsoever on his shoulders," Sturm says. "That's when it occurred to me that retreat can be this really transformative process."
Located on 350 lush acres in the foothills of the Taconic Mountains, The Abode is a picturesque place for contemplation. Its main campus was once home to the New Lebanon Shakers, a spiritual community whose history there felt auspicious to The Abode's founders when they discovered the property in the early 1970s.
The Abode was originally established as an intentional Sufi community in 1975 by followers of Hazrat Inayat Khan, credited as the first teacher of Western Sufism—a spiritual practice taken from the mystical form of Islam that espouses personal development through inward contemplation.
One of the ways The Abode fosters this is through the act of retreat within nature, which offers the opportunity for greater self-understanding and reflection to people of all walks of life and spiritualities. "In life, it's natural that we develop these personas of partner, wife, parent, or employee, and to identify with those," says Yaqin Joseph Aubert, one of The Abode's founders and the director of its Pir Vilayat Center for Meditation & Retreat. "While these personas are necessary and useful, they can also limit us," he says. "A retreat offers the opportunity to step back from the rhythm of your regular life and to ask yourself what your goals are and what is meaningful to you."
The Abode offers four paths of retreat for individuals—Sufi, interfaith, nature, and artist—as well as larger group retreats for families, friends, community organizations, or companies. Based on the goals of an individual or group, Aubert pairs prospective retreat participants with their own dedicated retreat guide. The retreat guides are all trained members of The Abode's staff who customize each retreat itinerary and often meet daily with those on retreat to provide guided meditation or suggest contemplative practices like walking in nature or work with breath, light, or sound.
Photos by Jane Feldman
Yaqin Aubert.
Many individuals come to The Abode for a three-day weekend retreat, where they will either stay on the main campus in one of three rustic cabins in the woods or on the second floor of the meditation hall, one of the campus's 11 c.1800s Shaker buildings. Meals are mostly vegetarian and often sourced from The Abode's own farm. About a quarter mile uphill from the main campus lies the mountain campus, which has accommodations for up to 200 people in cabins, huts, and space for tenting and is mostly used for group retreats.
According to Aubert, if a group simply wants to enjoy the peaceful environment and come together without the assistance of a retreat guide, they're more than welcome. "The Abode is a hospitable environment for many activities, like group yoga retreats or family reunions," he says. "We even have a group who has been coming for the last 30 years to make ice cream."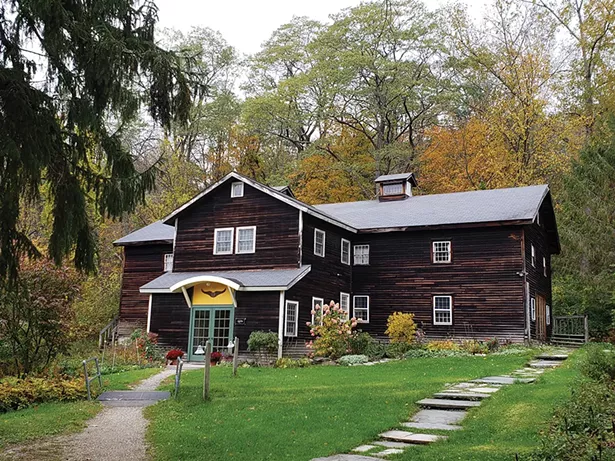 Photos by Jane Feldman
Meditation Hall.
"We have a basic pattern for retreat, but we're not rigid," Aubert continues. "It's not about being a hermit who gives up the world. You don't have to go off into the woods in a hut and grow barley. You can be right in the middle of your life and pursue a greater awareness of what's important to you, socially, culturally, or spiritually. You can find what you are seeking here."