Looking to indulge in some of the finest culinary and cultural offerings of the Hudson Valley this fall? The Saratoga Wine and Food Festival returns to the Saratoga Performing Arts Center (SPAC) for its annual gourmet gala on October 4-5. The 2019 festival centers around the cultural and culinary bounty of the region, ushering in the harvest season with a feast of savory delights, live music, and brilliant artistic design.

Wine and dine with tastings curated by artist and chef Kim Klomstock, owner of local boutique farm-to-table catering company Lily and the Rose, and globetrotting guru John Sconzo of Rascal & Thorn. The tastings, cooking demonstrations, wine seminars, and innovative menus will pair with a focus on sustainability.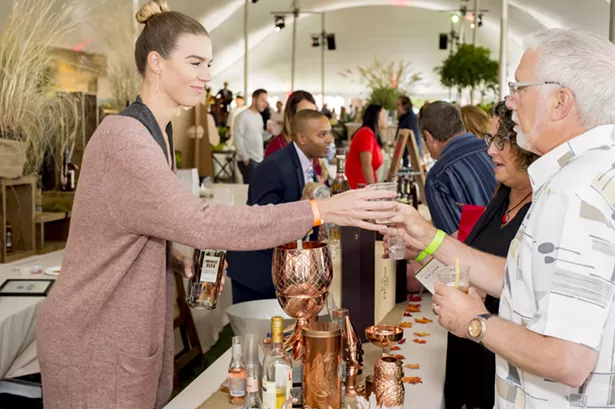 Credit: Bigler Productions
Colin Cowie Lifestyle
, the world-renowned hospitality and catering company (named No. 1 Best Wedding Planner by Vogue) will lead bespoke chef presentations on sustainable culinary practices. Colin Cowie's team will offer additional VIP experiences and design demos for guests looking to learn more about the intersection of luxury entertainment and environmental commitment. Also on the agenda: Live music curated by Saratoga's hallmark folk venue,
Caffè Lena
, an array of sculptures by Glens Falls art museum,
The Hyde Collection
by John Van Alstine, photography by
Terri-Lynn Pellegri
, known for her "Cycle of Life" series on businesses who practice composting.
"Our region is blessed with extraordinary cultural richness and a bounty of culinary and artistic talent," SPAC President and CEO Elizabeth Sobol says. "The 2019 Wine and Food Festival will explore the importance of sustaining the richness of the region while celebrating those local farmers, chefs, and artists who have been so committed to caring for our environment."
Credit: Bigler Productions
The festival, according to Sobol, is SPAC's primary fundraiser for its educational programming reaching nearly 40,000 students. The center offers classes and community events focused on celebrating performing arts and engaging a new generation of creators.

"The weekend event is a festive way to support arts in the community and for the first time, celebrate the beginning of the autumn harvest season," Sobol added.

The 2019 Saratoga Wine & Food Festival returns to Saratoga Springs on Friday, October 4-Saturday, October 5. Visit SPAC's website for more information and to purchase tickets.