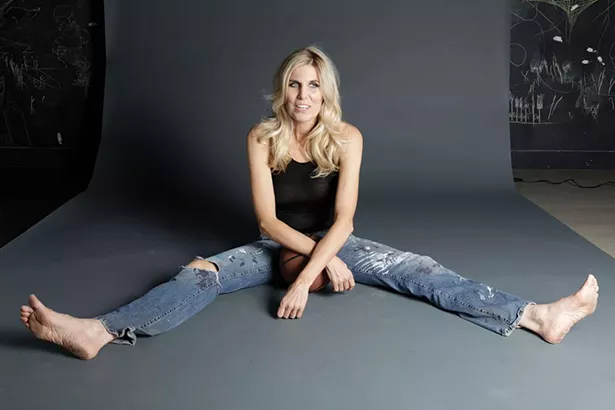 Barry Hollywood
Terri Mateer stars in "A Kind Shot," her one-woman show at Mountainview Studio in Woodstock.
When women took to social media to share their stories of sexual harassment and abuse amidst the national conversation around revelations about Harvey Weinstein and other powerful men, Terri Mateer wasn't surprised; actually, she found it all fantastic. "It's beyond time," the performer, producer, and writer says. "To hear guys sincerely respond, and to read apologies and reflections, I think that's great. I hope it's not all forgotten."
In this national context, Mateer's one-woman show, "A Kind Shot," which will be presented later this month at Mountain View Studios in Woodstock, couldn't be more timely. The 75-minute show, which began production and preview in 2014, is a roller coaster—with an uncertain course that's at once funny and heartbreaking. In it, Mateer traces her story as the first female basketball scholarship recipient from Brattleboro Union High School in Vermont to playing professional basketball in France (before the advent of the WNBA) to her life as a performer in New York. She shares her history with sexual harassment and abuse in simply factual terms. "I've gone through the mourning and the mining and the pain," Mateer explains. "So, people can really experience it rather than listening to someone complain."
After playing professional basketball in France, Mateer played street ball in New York City. On Manhattan's gritty playground courts, people would stop to watch the anomaly of an ultra-feminine player among the guys. "I used to play in these spandex dresses and leggings," she laughs. "It was just a hoot. I became a quasi-famous street ball player." That helped bring her into the performance world, and she began working a precursor to "A Kind Shot" with a coach from the Barrow Group, a performing arts organization dedicated to transformational storytelling.
After 9/11, Mateer and her husband, Brian, left New York City to live full-time in Woodstock. Developing local businesses in construction and architectural design, Mateer connected with the local theater community on the side. She performed and produced "The Vagina Monologues" locally, raising money for Family of Woodstock. Earlier this year, when women marched on Washington the day after President Trump's inauguration, Mateer co-organized a sister march in Woodstock which drew 1,500 people. "I'm all for pulling women together. Any way that we can give each other opportunities, encouragement, and guidance, I'm all about that," Mateer says.
Using basketball as a metaphor to drive the personal narrative in "A Kind Shot," Mateer says that's how she also drives her life: keep going, have heart, play defense, and make your free throws. Mateer feels it's a choice to give up or keep going. "I just need to take a second to figure out what's still burning in me, and use that as momentum." She says if people are coming from the heart and kindness, things will work out in time. Playing defense, she explains, is about telling people to back off. Taking the free throws, or the opportunities life offers, is often hard for women, Mateer says. "Women, they'll pass the ball. You got to take your shots, especially when they're free."
After each performance of "A Kind Shot," Mateer stays to answer questions, and it often sparks deep conversation. Mateer hopes the ultimate takeaway of "A Kind Shot" is to inspire people to look out for each other.
"A Kind Shot" will be presented at the Mountain View Studios in Woodstock on December 16, at 3pm and 7pm. Tickets are $15 in advance, $20 at the door.