Karen Pearson
Jones Farm in Cornwall.
A Cornwall tradition returns with the 42nd Annual Fall Festival (also known as "The Sidewalk Sale" by locals) on September 20 along Main Street. Food, creative crafts, and other goods are sold and distributed by local businesses, special-interest groups, clubs, nonprofits, and more alongside street performances, kid-friendly activities, and myriad forms of entertainment.
On the last Saturday of every month through October, Newburgh shops and art galleries keep their doors open until 8pm or later along Broadway, Liberty Street, Grand Street, Ann Street, and the Waterfront, allowing visitors to get a taste of the local art scene by simply strolling the neighborhood. "Newburgh Last Saturdays" are part of the city's alliance with Art Along the Hudson, an organization that aims to make art more accessible in participating Hudson Valley towns.
Halloween is just around the corner, which means Cornwall residents are preparing to defend their title as the number one town for trick-or-treating in the United States. The Daily Meal crowned Cornwall as the best place in the country for candy and mischief last year.
The Cornwall Farmers' Market is held on the front lawn of Town Hall on Wednesdays from 12 to 6pm and Saturdays from 10am to 2pm from June to October, featuring fresh local fare, prepared gourmet foods, specialized crafts, and, occasionally, snuggles from a local celebrity: Eli the Edgwick Farm Goat.
Newburgh debuted a professional baseball team this year in the North Country Baseball League (NCBL)—the Newburgh Newts. Despite losing their home field due to financial issues three weeks into the season, they were crowned the first NCBL champions last month.
Nineteenth-century author, editor, and poet N. P. Willis built a 14-room cottage in Cornwall-on-Hudson and named it "Idlewild," which would later inspire his 1855 novel, Outdoors at Idlewild. Other celebrated Cornwall residents include Olympic speed skater Bonnie Blair and General David Petraeus, while former Major League baseball pitcher Rob Bell and architect/landscape designer Andrew Jackson Downing originally hailed from Newburgh.
After school and on the weekends, the kids of Newburgh and Cornwall can be found on the field or in the gym, depending on the season. Both towns offer a variety of seasonal and year-round recreational and athletic youth programs. The high school and middle school programs are competitive, with both the Cornwall Dragons and the Newburgh Goldbacks consistently earning high ranks in the Section 9 division.
No matter where you are in the country, you can get your hands on a New York slice thanks to Prima Pizzeria in Cornwall. They ship their pizzas overnight via "Air Prima FedEx" nationwide. The pies are fully cooked, never frozen, and use all-natural ingredients and zero preservatives.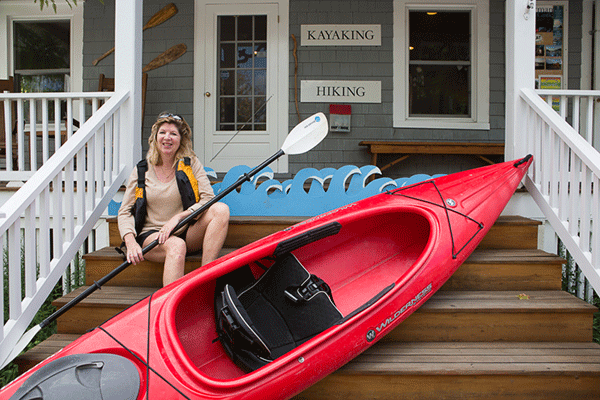 Karen Pearson
Kris Seiz of Storm King Adventure Tours in Cornwall.
Storm King Adventure Tours in Cornwall is the official kayaking company for viewing Melissa McGill's "Constellation" art installation over Bannerman's Castle on Pollopel Island, providing an on-the-water, fully immersive experience on Fridays and Saturdays through October, weather permitting. Private tours may be arranged during the week for groups of four or more.
When Henry Hudson and his navigator, Robert Juet, sailed up the Hudson River in 1609, Juet reportedly called the site of Newburgh "a pleasant place to build a town," though some historians argue that he may have actually been referring to the area in front of Cornwall-on-Hudson. Either way, the waterfront towns were most likely indistinguishable since they shared the same geographic features. Regardless, we agree—both areas proved to be perfectly pleasant places to settle.


For more things to do in Cornwall visit http://www.lovecornwalllove.life/.