Jesse Turnquist
Ashley Seeley at The General Store of Catskill
The connection between Catskill and Hudson is invoked in the very name of "River Crossings: Contemporary Art Comes Home," an exhibit happening through November at Olana in Hudson and the Cedar Grove Thomas Cole National Historic Site in Catskill. Get to Olana on Saturdays by 11 for an artist-led tour; catch the free shuttle to Thomas Cole's digs, where September 20 is Community Day, with music, eats, and kid stuff.
It's easy enough to trace Hudson's name back to an explorer named Hendrick, but the question of who put the Cat in Catskill is a little murkier. One theory traces it to Dutch poet/magistrate Jacob Cats, but that's just one theory. One thing's sure: the "kill" part definitely refers to the creek. And residents of this river town still face the need to explain that they live in Catskill, not The Catskills.
Some of the first signs of Hudson's solid resurgence came from the antiques sector. Warren Street's been an A-list antiquing destination for several decades; today's Hudson Antique Dealer's Association has five dozen member shops. There's an equally splendiferous array of vintage, ultramodern, and custom home design specialty places.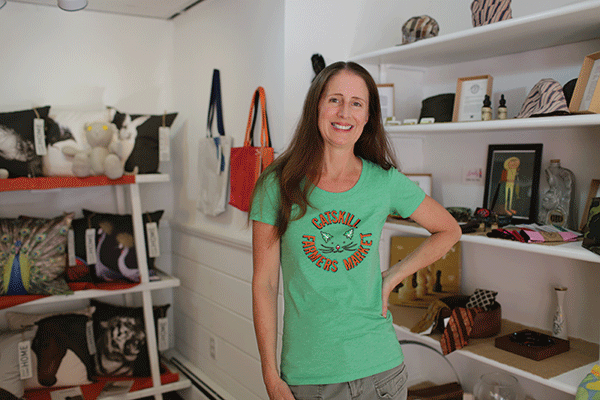 Jesse Turnquist
Liz Kirkhus at Lovely in Catskill.
Dina Bursztyn and Julie Chase turned a Catskill fried chicken restaurant into their Open Studio 10 years ago and have been doing free-range outsider art (and selling eclectic cool stuff) ever since. It's a place unlike any other. At the moment they're having fun with kachina dolls, abstract planters, and Dina's latest book, When I Was a Tree.
Hudson is home to the best music and nightlife scene along the whole length of the river, what with 10 (yes, 10) live performance venues within its two square miles. There's the 1855 Hudson Opera House, the sleek Club Helsinki, and the industrial chic of Basilica, where you can catch the Soundscape "antifestival" this month. Then there are more intimate spots like the Half Moon and Spotty Dog Books and Ale.
Catskill is where you'll find the solution to your gluten-free and other specialized dietary needs and wants. At Pamper Thyme Country Store, they will create your personal food tolerance profile and craft you custom baked goods, made from locally sourced organics in a kitchen that meets National Celiac Foundation standards.
Before you catch one of those great live shows in Hudson, dine at any of a couple dozen topflight eateries offering a world-map of cuisines from Asia, Europe, the West Indies, and the Americas. After the show, hit a pub or wine bar for a nightcap. Or two or three, if you've been clever and booked a room at one of Hudson's assorted B&Bs and boutique hotels.
You can dine elegantly in Catskill too: on the water, at Frank Guido's Port of Call or the Creekside, in rustic splendor at the Barnwood, or at the new 394 Main. Catskill's also got some good Italian options, and there's a nice selection of casual grub like pizza and diner.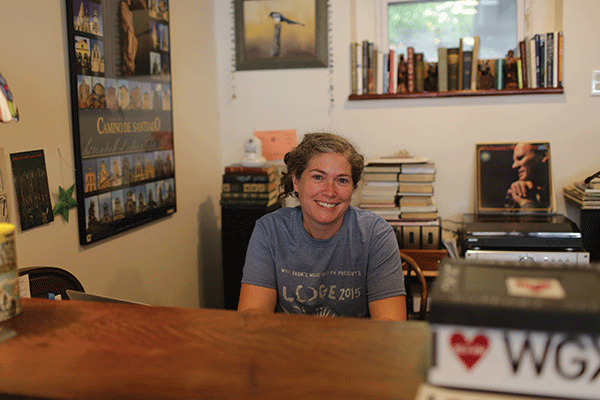 Jesse Turnquist
Kristi Gibson at Magpie Book Shop in Catskill.
Hudson has a top-notch recording studio, Waterfront Studios, run by famed sound engineer/producer Henry Hirsch. And Publication Studio Hudson (in Catskill)does custom, on-demand book production for writers and artists. Then there are a half-dozen cutting-edge digital design outfits.
Hudson Cruises offers lighthouse and other sightseeing tours from Hudson Landing to get you out on the deep channel where the whalers once reigned. They also offer private charters and a weekend ferry to the town of Athens, which is beginning to catch a case of the infectious art-and-good-eats scene in its own right.