It's a hell of a long way from Jamaica to the Hudson Valley. Something Neenee Rushie, a native of the former, is reminded of every year with the arrival of December.
"Awwgh! I hate the cold," she grumbles outside a diner in midtown Kingston—New York—on one of the season's first bitterly frigid nights. "I can't get used to it."
One can only surmise, then, that Rushie must have a pretty good reason for sticking around the Hudson Valley and not heading back to her homeland of palms and Patois. Indeed, she does. Rushie sings for the Big Takeover, the area's most exciting roots-reggae and ska act, and of the few that also specializes in rocksteady.
Largely overlooked in America, rocksteady is the midtempo, mid-'60s-born genre that evolved between ska and reggae proper, bridging the transition between the former's up-beat rhythms and the latter's laidback, balmy grooves. "When I tell people we play rocksteady usually they're, like, 'What's that?'" says bassist Rob Kissner, who also does the band's booking and recorded its two albums using his own equipment. "So most of the time I just end up saying we play reggae. Or ska. Then they get it. Around here, unless they're really, really into reggae music, people don't know what rocksteady is."
True. But, then again, outside of Millie Small's "My Boy Lollipop" (1964) and Desmond Dekker's "Israelites" (1968), ska didn't actually make much of an impression in the States until the early 1980s. That was when UK "Two-Tone" revisionists—the Specials, Madness, the English Beat—hit the punk/new wave circuit and sowed the seeds for a third generation of acts, several of whom—Rancid, Sublime, No Doubt—broke into the mainstream during the '90s. And reggae, though now taken as a given on college campuses from Boston to Boise, didn't really emerge as a viable force in the US until well after the 1981 passing of its preeminent saint, the great Bob Marley. So as far as the rise of rocksteady in America goes? Give 'em time, son.
Time, though, has certainly begun to pay off for the Big Takeover, which has been, well, rocking steadily since 2007. Also comprised of guitarist Jon Klenk, trombonist Andy Vogt, saxophonist Chas Montrose, and drummer Sam Tritto, the group met while its members—all still in their early 20s—were college students, and maintains a brain-jarring schedule, regularly hitting New York and packing sweaty skankers into local venues like Bacchus and Snug Harbor in New Paltz and the Black Swan in Tivoli. The sextet has also shared stages with some of reggae's heaviest names, opening for the legendary Wailers at the Chance in Poughkeepsie and Aston Ellis and Inner Circle at the Bearsville Theater.
"All of [the band's members] have this great sparkle in their eyes, a very unique energy," says promoter Lea Boss, who organized the Bearsville shows and manages reggae shop Free Spirit of Woodstock. "They just have a spark that we really haven't seen in the Hudson Valley for a long, long time."
For Kissner and Tritto, that spark took flight in their hometown of Beacon, where they got into music at about the same time and learned to play together in basement bands. So what was it that made a couple of suburban white boys want to play reggae, as opposed to heavy metal or folk rock? "Marijuana!" blurts Tritto—jokingly, he insists. "For me, as a kid, it just sounded good. I had a babysitter who played me [a recording of the Bob Marley song] 'Buffalo Soldier' and I loved it right away. Rob and I used to go to a lot of outdoor parties in the summer time and there'd always be reggae CDs playing in the background. We both loved the easy, laidback feel [of the music]. So we actually kind of grew up with reggae always being around us, and we definitely wanted to start a reggae band at some point."
Although it would be a few years before Tritto and Kissner realized that particular musical goal, they did, however, continue to perfect their skills in the funk-soul trio Filet of Soul, a group that still works the bars around SUNY New Paltz. It was there that Tritto met Rushie, who'd never been in a band before and had no aspirations beyond her undergraduate English studies. Nevertheless, the drummer and Kissner talked her into performing and started to recruit other musicians. One of the first was Klenk, a startling player whose burning, rock-edged leads are another characteristic strength that sets the Big Takeover apart from its rote-reggae competitors. (The guitarist further explores his Hendrixian, blues-rock side with Kissner in the Jonny Monster Blues Band.) Vogt and Montrose, who also divide their time with Highland ska unit Boy Scout Dropout, were added next, and the band rather quickly became one of the bigger draws in New Paltz.
With its growing regional cachet upped by a 2008 debut disc, Following Too Close (Independent; reviewed in the January 2009 issue of Chronogram), the outfit took to the road, getting on the bills at several outdoor festivals in New England and doing a two-week summer tour of the Southeast. The latter experience was especially eye-opening for Rushie, who hadn't visited much of the US beyond the Hudson Valley and New York and got to witness the universal appeal of her native nation's main musical export firsthand. "We played in Virginia, North Carolina, Philadelphia, Baltimore," says the singer. "And it was great. Of course, most of the people didn't know our band before they came to see us, but there was just a really good vibe in the audiences. The roots of reggae are about peace and love, and they were feeling that."
Last summer, between juggling area shows, day jobs, and side projects, the band released a stop-gap EP, Walk the Plank, and worked on its just-unveiled sophomore full-length, Tale of My Life (both Independent). Taped in a former doctor's office building in Kingston, where some of the band members lived for several months, the album shows the group stretching out somewhat from the comparatively stricter Following Too Close to include dub ("Months of the Year"), dancehall ("Summertime in the Ghetto"), and even calypso-pop ("Take Me Home"). Two cuts reprised from the EP, "Rattle My Bones" and "Walk the Plank," are among the strongest, thanks largely to Montrose and Vogt's infectious dual horns.
Besides being more relaxed and conducive to experimentation, the sessions for Tale of My Life were also reflective of Kissner's learning curve behind the recording console in that they went far more smoothly than those for the first album—which, he says with a noticeable groan, the band recorded in full four times before finally coming up with tracks deemed worthy of release. The tension from such efforts has certainly broken many a band. But throughout its trials in the studio and on the road and the stage, the Big Takeover has kept the exact same lineup since the beginning, which the bassist describes as being like "straight-up family."
In addition to the all-important tightness of both its ranks and its music, with Rushie out front the band of course also possesses the advantage of having an actual Jamaican vocalist. Conversely, the singer might never have stepped up to the mike if she hadn't been encouraged to by her bandmates.
"It's ironic that I had to come [to the US] to play reggae," muses Rushie, who also works as a substitute teacher in the Newburgh and Poughkeepsie school systems. "I've always loved music, but I really don't think I would have been in a band if I'd stayed in Jamaica. Growing up there, I was headed toward a life of conformity. I had to come here to spread my wings."
So one could say, then, that the intensely jubilant music the Big Takeover makes is the sound of Rushie, as well as her five gifted cohorts, spreading their creative wings—and picking up more and more new fans as they fly along.
Tale of My Life is out now. The Big Takeover will headline a release party for the album at the Bearsville Theater on February 19. www.bigtakeoverband.com.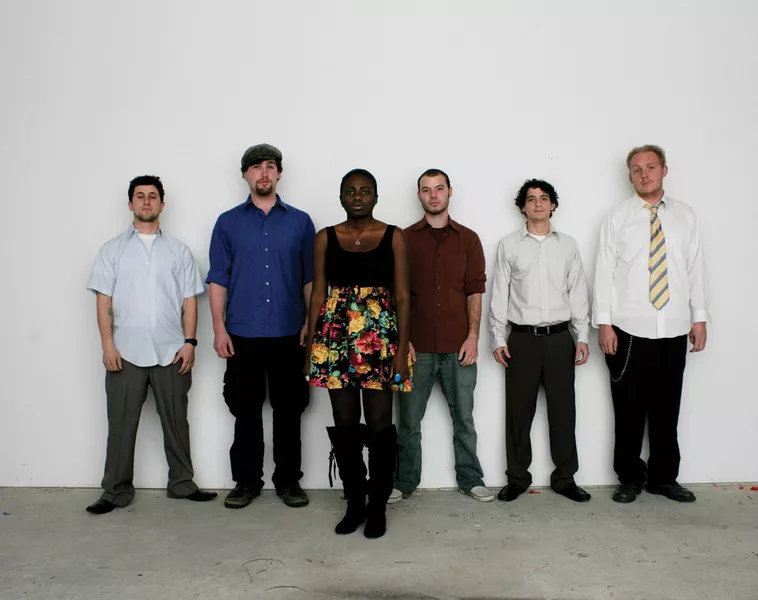 Fionn Reilly
(l-r) Sam Tritto, Andy Vogt, Neenee Rushie, Chas Monstrose, Rob Kissner, Jon Klenk