It's just before 5pm and the phone is ringing. On the other end is the Rosendale Cafe's Mark Morganstern with an update on tonight's sure-fire sell-out by septuagenarian blues legend Louisiana Red.
"Listen, Red's wife, Dora, just called," Morganstern says. "They're in New London, Connecticut. She thinks they can be here in about two hours. No way. If we're lucky, they'll roll in just in time for Red to set up and play." But the cafe's famously tasteful talent booker seems barely fazed by the delay. "Oh, well, that's the blues, I guess. We'll be fine."
Half an hour before show time, however, Red's straight-back chair is still waiting, empty, on a tiny riser against the long wall in the middle of the one-room venue. None of the patrons in the packed house are complaining, though; they're all engaged in conversation or chowing down on veggie quesadillas or tofu stroganoff. Yet, to a former promoter, the uncertainty of the star's whereabouts all too quickly brings back certain nail-biting episodes of the 1980s. Will he show, or will the premises face mass refunds and rioting, angry blues fans?
Neither, thank God. As if on cue, Red and Dora's car pulls into the parking lot with only minutes to spare. Morganstern and some helpers carry the musician's amp and guitars in and set them up. The booking agent next returns to help the blind elder bluesman to the stage and introduces him to the audience with palpable reverence, humility, and graciousness. Then it's goosebumps all around as Red gets to work, growling away, stomping his foot a la John Lee Hooker, and slap-plucking his guitar like Son House. It's the real deal, all right. Rack up yet another stellar performance at the Rosendale Cafe, though not without a little sweat.
But after 14 years of presenting a truly unparalleled balance of world-class live music, eye-catching local art, and renowned vegetarian cuisine, Morganstern, whose focused intent, wild gray hair, and bushy mustache might one day land him the lead in The Albert Einstein Story, has built up a knack for riding out such potential difficulties. He'll be the first to tell you, however, that it's been a communal effort the whole way: Mark's wife of 23 years, Susan Dorsey, co-owns the restaurant and oversees its menu; the couple's three children, Luke, 21, Lily, 17, and Harry, 11, can all be seen waiting tables and helping out; and the business also employs a dedicated, hardworking staff of young students, musicians, and artists.
Together with some early partners, the Mark and Susan opened the eatery-cumvenue in September 1993, directly across the road from its present location in what had been the Tea & Foibles coffeehouse. Susan, a slim, studied dancer who holds a degree in theater and also works as a professional doula (assistant to the mother during childbirth) rolls her eyes as she recalls the period right before they took the plunge. "We thought, 'Wouldn't it be fun to have a little, simple coffee shop?'," she says with a short laugh. "We had no idea we'd end up with something like this. But back then Rosendale really had nowhere to go if you wanted to eat out, unless you count the Stewart's Shop on Route 32. So we decided to reopen [the original coffeehouse] as a vegetarian restaurant—healthy fast food, using organic ingredients as much as possible—and it just took off. People were telling us they drove for miles just to get our apple crisp and coconut cake. So then we thought, 'Why not book some music, too?'"
Since the day that fateful question was asked, the list of luminaries to have graced the cafe's modest space has grown to include some of the most revered, iconic, and promising new performers of folk, jazz, blues, rock, and world music; names like Janis Ian, Reggie Workman, Graham Parker, Chris Smither, Steve Forbert, Honeyboy Edwards, Dave Van Ronk, Tin Hat Trio, Ron Carter, Mary Gauthier, Eilen Jewell, Don Byron, and Mark Murphy, to name just a fraction. (In April, the bistro even hosted a talk by Ralph Nader, who was in town to promote the Rosendale Theater's screening of An Unreasonable Man.)

By 1998 the burgeoning operation had necessitated the move to a bigger space, so they took over 434 Main Street, a 100-year-old building that has, at various times, been a grocery store, a post office, and a video store. To help attract a crowd on the off nights, the cafe recently installed a gorgeous 1930s-era wooden bar, acquired from a local salvage outlet. "Early on, as I understand it, the upstairs was
a place where ladies lived who provided 'entertainment' for the miners who stayed at the Astoria Hotel [across the street]," says Morgenstern. "It's been said that these ladies used to sit on the gallery porch, sunning themselves."
Mark is perhaps the most discerning booking agent upstate, one who knows what's real and good and prefers not to bother with the mediocre; a connoisseur whose prudence area audiences have come to trust and respect. "The concept is to present the absolute best music of its type in whatever genre," he explains. "It doesn't matter if [an act is] local, national, or international. It has to be something really exceptional, something that really moves me, or I'd rather just not have anything for that night." A fiction writer whose work has appeared in Chronogram and other publications, Mark has a background that makes him well qualified to make the kind of artistic judgment calls his solid reputation is built on. Raised in Schenectady, he's a classically trained bassist who studied at the Manhattan School of Music and played
in jazz ensembles for several years (during the Vietnam War, he circumvented the draft by joining the Army band and even performed at the White House).
"What the Rosendale Cafe does is totally unique," says Chris Silva, executive director of Poughkeepsie's Bardavon Theater, "completely different than any other live-music venue in the entire Hudson Valley."
"Mark really strives for quality with the kinds of acts he books. I mean, where else could you see someone like [the now deceased] Dave Van Ronk in such an intimate setting? With Mark, it's never about 'How much money can I make?' It's all bout the music."
In addition to the venue's proven genres, Morgenstern's "as long as it's good" policy has resulted in dates featuring local hip hop crew ReadNex Poetry Squad (October 20) and Rosendale hardcore unit Rising Up/Rising Down, whose drummer, Dan Estes, is a line cook at the cafe. "The [loud] volume was a bit too much for me," Morgenstern says of the latter event, a matinee record-release party, "so I just stood outside and watched the kids jump up and down. Which was still pretty fun, actually." Other mediums have a home at the venue too: Morgenstern selects the regional artists whose work hangs on the walls each month (October features paintings by Lora Shelley; a show by top photographer and Chronogram contributor
f-Stop Fitzgerald opens with a reception on November 4), while Susan's passion for dance has resulted in a popular Sunday-night salsa class/dance session. "We take nothing from the door, it's all for the musicians," says Morgenstern. "We have people that drive up here from New York to see shows. This place just has a really good feeling."
Talk to a few, and the musicians themselves are quick to echo the sentiment. "It really is a very welcoming place, definitely one of my favorite places to play in the Hudson Valley," says pianist Francesca Tanksley, whose trio featuring John Coltrane bassist Reggie Workman and drummer Newman Taylor Baker performs on October 6. "Mark obviously respects the musicians very much, and he creates a really great atmosphere—not just for the musicians, but for the audiences, too. When I play there, it feels like I'm among friends."
Add one more voice to the choir, that of Louisiana Red. "This is my favorite place I played at so far this tour. It's a really nice place here," he enthuses. "And you better print that."
No doubt the headliner himself has picked up many new fans tonight, but the youngest one in the room has to be Harry Dorsey, who shuffles between the full tables, offering cups of water to customers still reeling from a transcendental performance. So, Harry, out of all the musicians you've seen play here, who did you like the most? He doesn't have to think about it long. "This guy," he says, pointing at the smiling, venerated bluesman. "So far."
High praise, indeed. So keep smiling, Red. Harry may be young, but he knows
what's good.
For a complete schedule of the Rosendale Cafe's upcoming events, visit
www.rosendalecafe.com.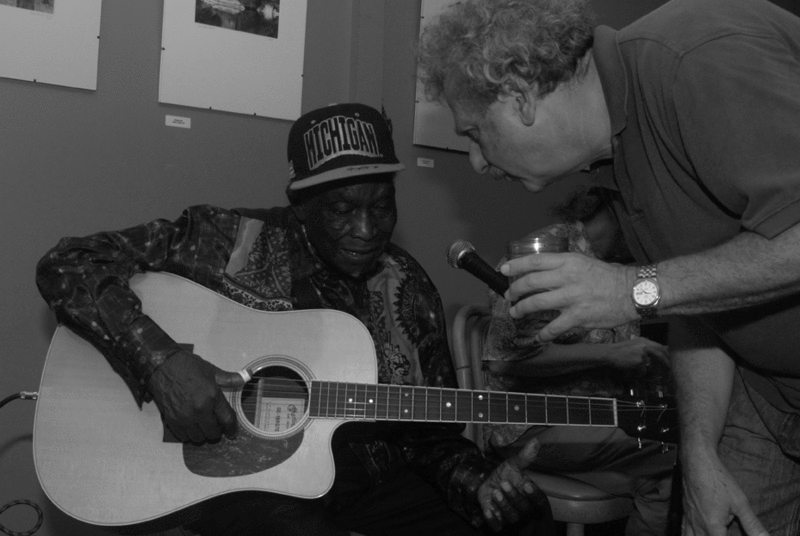 F-Stop Fitzgerald
Honeyboy Edwards and Mark Morgenstern at the Rosendale Cafe.
F-Stop Fitzgerald
All in the Family: Mark, Luke, Lily, Harry, and Susan.