There are 12.3 million women-owned businesses in the US and there are 114 percent more female entrepreneurs than there were 20 years ago. Women have been starting their own companies in ever greater numbers, and 40 percent of US businesses are women-owned. These national statistics are reflected in the Hudson Valley business scene, which is driven by innovative female entrepreneurship across all sectors of the economy. We talked with some of the region's business leaders on how they get it done, from the boardroom to the storefront.
Listening to Your Gut
For 20 years, Kate Bradley Chernis worked as a radio DJ and had more than 20 million daily listeners. Then a dream career turned into a nightmare. Fed up with the "boys club," hostile work environment, sexual harassment and gaslighting, she knew it was time to leave when the job affected her health. "I had a rash on my torso that no one could explain, and I developed epicondylitis and tendonitis throughout both arms and hands and I couldn't type anymore, but nobody at my job thought anything was wrong with me," says Chernis. "I also wasn't getting credit for my ideas."
Eventually, Chernis made a lateral move to another music-related company, but the toxicity continued while her health worsened. She needed a change. "In the beginning of Guy Kawasaki's The Art of the Start, he writes, 'Don't make a plan, just get started,' so I stopped reading and started my own business," Chernis says.
As she was marketing the first version of her business, which was related to music, a client complimented her marketing and paid her enough to break away from music for good. In 2014, an investor handed her $50,000 and she became the founder/CEO of Lately, now a social media management platform company. "Suddenly I was advising Walmart and I got them a 130 percent ROI, year-over-year, for three years," she explains. "Since then, I realized that broadcasting to 20 million listeners was scary, but this wasn't."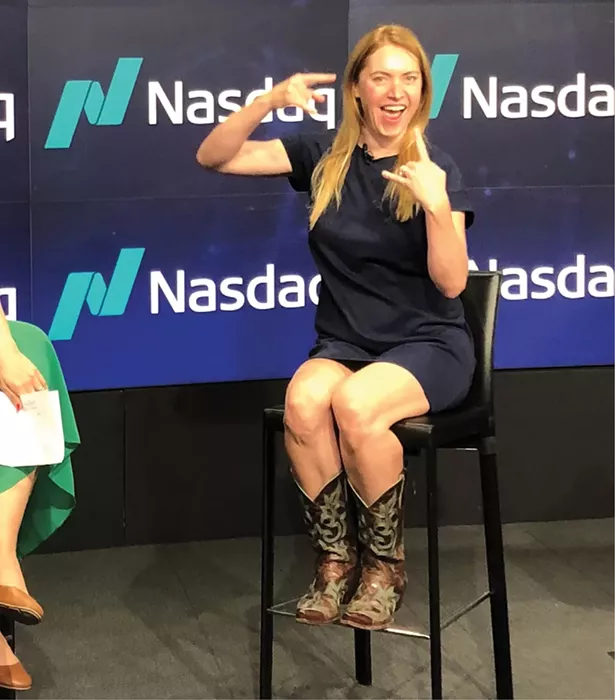 Kate Bradley Chernis, CEO of Lately.
In the last year, Chernis's business has grown by 250 percent. "I've busted my ass and cried a lot, but this is a big deal," she says. "I'm in the position to say, 'I don't need your money and I did all the things you told me not to do, because I knew they were the right things to do.'"
She credits her success to trusting her gut. "As women, we have a gut, a womb that magically breathes life, but we ignore it constantly," she says. "But after my body debilitated me, I listen to it now, because I don't want to go there again."
Health Scare as Catalyst for Change
When she was 28, Lauree Ostrofsky was unhappy in her career. "I was not being paid to do what I was the best at," says the Kingston resident. "I also wasn't being valued at the company for being a good listener and knowing what our clients really wanted."
It was time for a change, but the day she would give notice she was diagnosed with a brain tumor. "I did not leave that day because I had great health insurance, but it was through that realization of my unhappiness at work and my fear of leaving that my business was born," Ostrofsky says.
That business is Simply Leap, which is exactly what she did when she healed. "I realized that real life is way scarier than quitting your job," says the business coach.
As a first-time entrepreneur, Ostrofsky learned a few things right away. "As women are taking more and more leadership positions, we're having an opportunity to reinvent the workplace," she says. "We know how to sit in a cubicle, but when you work for yourself you need to figure out what works for you."
Financially, Ostrofsky says that entrepreneurs cannot depend on money at first, so you either need a loan or a day job until you have the ability to go full-time. Ostrofsky worked her day job and side hustle before she quit. "I knew when I had absolutely no extra time because the business was doing well that it was time to change," she says. "Then I freed up the time and energy to get more clients."
After moving to the Hudson Valley in 2003, Ostrofsky wanted to be around other entrepreneurs, so every month since December 2014 she hosted a group of regional women business owners. That group grew into the Hudson Valley Women in Business group, which now has nearly 3,000 members, a private Facebook group, weekly and monthly events, and more.
"Some of the best businesses are created out of our own needs and when we realize that other people need to add value, that's when the business starts to take off," she says. "Now it's about how I am communicating into the world and supporting women business owners."
Ostrofsky advises future women entrepreneurs to be really clear about what they are good at. "If you're feeling stuck in your career, stop trying to figure out the term that describes what you want to do and look instead at the things you're drawn to do," she says. "Make a list of the things that people thank you for and that you feel really good about. That will indicate the direction that you need to be going in."
Have a Plan
On her first day back at work after maternity leave from her previous job, Anita Pierce was told her position had been eliminated. "I applied for other jobs after taking some time off in the summer, but I kept getting rejected," she says. "Based upon the work that I was doing before, which is pretty much engaging companies, doing project management, and hosting corporate events, I realized it wasn't as much fun as I thought it was, so I rebranded."
She started management consulting firm Eleven3Seven5 in 2017 and says that working for herself has given her a lot of flexibility. "Being a mom it's harder, but it still allows for time flexibility," she says.
Pierce has faced dual challenges as a woman of color. "We have issues with raising capital and things like how our products translate into all types of diverse areas," says Pierce, who used her own money to fund her business but believes that easier access to capital would have made her progress easier and quicker.
"As a whole, collectively, we don't need to compete against each other, because I'm a person that believes in sharing information," she says. "I'm a person that believes that we all have a space and opportunity to win. I'm also very intentional about building relationships, so I'm always seeking out ways to be able to diversify my personal business portfolio and build relationships that are diverse. You have to set out a plan to be intentional about getting out there."
Make Sure Your Heart Is in It
When her husband came up with a tasty barbecue sauce recipe, Tamera Knapp jumped on board to help the business get off the ground. They launched
Butchy's BBQ
, based out of Hyde Park, in 2015. "We wanted it to be a whole lot bigger than just friends and family enjoying the sauce," said Knapp, who was a stay-at-home mom when the business launched. She worked diligently to obtain all of the paperwork needed to become a full-fledged business, but after a year and a half, still has not received her Minority and Women-owned Business Enterprise Certification, which will open even more doors for the business to grow.
"It allows you to be accepted into the big box stores and you can be in the front running with other businesses running against you," Knapp says. Unsure of the holdup, Knapp admits that the pandemic has also affected their business, but she hopes the turnaround will come soon. In hindsight, she wishes she had a better guide to starting her business. "You need to call someone to do every part of your business, and there isn't one manual that tells you everything you need to know."
Her advice to all women entrepreneurs? "When you decide to open a new business, do it all the way," she said. "Make sure your heart's in it. You're going to hit obstacles but don't stop, because when you feel those obstacles it means a window is about to open."
Building Business Out of Need
When Hillary Peckham's grandmother was diagnosed with ALS, otherwise known as Lou Gehrig's disease, her mother researched the benefits of medical marijuana. In July 2014, the Compassionate Care Act was passed. It provided a medical marijuana program for New Yorkers.
"It also allowed for businesses to apply for a license to operate, grow, and sell medical cannabis," says Peckham. Hillary, who was a music therapy major, and her sister Keeley were graduating from college that year, so they ventured into the cannabis business together with their mom, Amy.
The business was a natural transition for Peckham, who'd had hip surgery in college that failed. "I lost the use of my right leg for two years and had to relearn how to walk, so we saw how end-of-life care can be mistreated and I saw firsthand how pain can be mismanaged with opioid use," she says. "It was inspiring to me to hear everyone's stories about the quality of life that these products were giving them."
The path to entrepreneurship wasn't without disparaging comments about being young women. "There were comments like, 'Why don't you just come on as my secretary and I'll teach you what real business is?'" says Peckham. "It was a competitive application process, and people discredited us. We were the only women-owned company to apply and then get one of five New York licenses."
Peckham says the challenges of small business are similar to others. "We all compete with large public companies," she says. "But I wasn't expecting to face a lot of pushback or skepticism about this work and the legitimacy of it. The education that we do within local communities and particularly medical communities has been really important to us."
Advice for other aspiring entrepreneurs? "Whoever you're going into business with should align with your long-term vision and be very clear and transparent with where you want to go with it," she says. "If the relationship doesn't feel right, it probably isn't."
Finding the Formula for Success
Barbara Fisher was teaching math at SUNY Orange and had become a second-time mom when something didn't add up. "I didn't want to teach anymore," says the Beacon resident. "I wanted to do something different."
Formerly a vegan, Fisher returned to meat out of a medical necessity when she was advised she needed to eat more protein. While researching the process of purchasing fresh meat, she thought about becoming a butcher. Learning everything she needed to know about cutting meat while working with a local CSA, Fisher took out a business loan to purchase the building and equipment she would need to launch a typically male-dominated business. "I don't think about the fact that I'm a woman doing anything," says Fisher. "But this is the hardest thing I've ever done."
Barb Fisher, owner of Barb's Butchery and Barb's Fryworks.
She opened Barb's Butchery in Beacon in November, 2014. Today she has seven employees, five are women. In October she opened Barb's Fryworks, located at the Hudson Valley Food Hall in Beacon. Being a woman entrepreneur isn't without challenges. "I have had my fair share of run-ins with people where they definitely attack me in ways that I'm sure they wouldn't if my name was Bob," she says.
For other women who wish to open their own business, Fisher says, "Have a solid focus and know who you can count on to help you get you there. I had the right help when I needed it."
Building Furniture and Business Success
Casey Dzierlenga has always worked with her hands, first on set design for films when she lived in Los Angeles and then as a sculptor. But she's always been drawn to wood. "I like honest materials, and it's not perfect, but it won't be ruined by a dent," she explains.
She checked Craigslist to see if there were woodworkers in the Los Angeles area. What she found changed the trajectory of her career and her personal life. "I found an ad where they wanted to train someone in woodworking and they would pay minimum wage," she says.
Dzierlenga jumped at the chance to learn. It was there that she met her now husband, Sam Moyer, for whom she worked for a few years. With both of their families on the East Coast, they relocated a decade ago. "We fell in love with the Hudson Valley," she says. She opened Dzierlenga F+U in Staatsburg when she moved back, designing heirloom furniture made from sustainable, hand-milled, locally sourced woods.
Dzierlenga says she feels pretty lucky to be a woman business owner. "Initially, there was a lack of confidence, but then I appreciated the shock factor of what I do," she says, but notes that working in a male-dominated trade is not without its challenges. "A big company wanted to produce one of my pieces, but offered me less money for some reason. I'm not sure if it was because I was a woman, but I have a very supportive community and have enjoyed making a safe space for other women who want to learn the craft and are a little nervous about the bravado that sometimes comes along with it."
Working with children is another challenge. "One of us spends the first three hours of the day trying to get everybody where they need to go and the other one handles all the pickups," she says. "My advice to parents who are thinking of starting a business would be to set boundaries, and to prioritize taking care of yourself. It's hard to appreciate a full and happy heart when you're exhausted."
Her best advice for other women entrepreneurs? Keep it lean, especially at first. "Low overhead costs make the tumultuous early days easier to manage, and when you do start thinking about growth, consider how that will change your role within the business," she says. "For a long time, I was convinced I wanted to scale up at some point. But as I've grown enough to support my family, I now realize the balance I've attained is more important to me than taking over a factory somewhere."