With the promise of warmer weather in the air, many home owners are throwing open the windows and turning their attention to winter-neglected porches, patios, and gardens, only to become overwhelmed by the list of outdoor tasks that await. But wait—before you draw the curtains, let's take a moment to consider the creative possibilities lying dormant in those outdoor spaces. See that lonely brick patio? With a little landscape design and decoration ingenuity, you can create an intimate reading nook, or the perfect place to enjoy a Sunday brunch. The shoe- and umbrella-filled back porch could become the outdoor dining space you've always dreamed of, protected from the elements and benefiting from the hospitality of the upcoming summer months. It's the perfect time to think about extending your living space beyond the four walls of your home with an outdoor room.
Porches, patios, gazebos, pool houses, and gardens can all fit the "outdoor room" bill. Although outside, these living spaces are actually extensions of your indoor spaces, and serve to create a connection between the inside of a home and the surrounding landscape. In addition to being places to entertain family and friends, they can also lend an air of rejuvenation and relaxation to your life, providing a space to reconnect with yourself.
So how should you approach this project? First, determine your goals. Are you an avid gardener who wants plenty of space for garden beds, trellises, and arbors, all around a comfortable vantage point? Or do you envision your outdoor space as a way to extend your entertaining possibilities—a place to cook and serve guests outdoors for midweek luncheons, Friday-evening cocktail parties, and Sunday brunches? An excellent reference by landscape designer Martha Baker,
The Outdoor Living Room: Stylish Ideas for Porches, Patios, and Pools
, is full of suggestions for homes and spaces of all designs, whether provincial, classic, modern, contemporary, or rustic. As you approach the project, expand your design and decorating reach beyond what's "suburbanly" popular. Individuality is key here—this space is for you, so allow it to become a true reflection of your personality.
Building Your Dream
When Robert George, a local landscape and design specialist, meets with clients, he first determines their dream vision for the space. Then he works to relate those goals to the "architecture of the land and the home." Consider the space your have to work within—it's both your scene and your palate. Regardless of size, many of the same possibilities exist for any space, whether it's an apartment patio or a tumbling backyard acre. And, given the elements in this area, it's wise to consider working some shelter into your project. A more popular option in the South, screening- or glassing-in back porches provides protection from the weather and insects. Take the sun into account too, and make sure the space incorporates some shade.
As both Baker and George suggest, keep the architectural style of the house in mind, and design with complementary elements to maximize the feeling of flow and connection between the home and outdoor room. Case in point: When George designed and built a patio cover for clients living in a converted historic barn, he wanted to create a structure that would reflect the heritage of the property. So he constructed it out of hand-hewn beams, reclaimed from a 19th-century barn in Delaware County.
Take a Look Around
If you're working with a blank slate—an unlandscaped backyard, for example— there are many ways to define the space. Railings, gates, and arbors can be designed with decorative metalwork. Steve Morris, of Steve Morris Designs, creates just such pieces, and says that the materials options are many. If you want the work to reflect the elements, steel is an ideal medium, since rust will give it a nice patina. Fences and low walls are always a possibility, and especially important for creating a sense of privacy, but keep them in scale with the rest of the project and the surroundings beyond. To create pathways to, from, and within your outdoor living space, Baker suggests placing steppingstones in the grass, or using cedar chips to create winding paths.
Plantings are an important part of any design, and obviously so for outdoor rooms. For ideas, turn an eye toward what's already growing around your property. "The region of the Hudson Valley is your feature," says George. He suggests planting with indigenous wild ferns, azaleas, burning bush, and mountain laurel. The benefits are threefold: using local flora translates into lower maintenance issues; you'll have fewer deer-chewed leaves; and it will blur the indoor/outdoor line by bringing the outdoors closer to home. Gardening in raised beds is also an option, says George. Cultivating fresh flowers and herbs will mean you'll have vibrant centerpieces and abundant seasonings throughout the growing season. Baker suggests using wheeled containers to create mobile gardens with maximum decorating flexibility.
Exterior Decorating
When selecting furniture, keep several things in mind. Will the chairs, benches, and tables be in a covered or open area? Weatherproof upholstery will see you through the months with little worry, as will wrought iron. If you're working within a covered space, consider using indoor furnishings and lighting. Baker's book suggests decorating with club chairs, ottomans, and indoor lamps to create a true outdoor "living room." Remember to keep the size of the space in mind. Overstuffed couches work well on a sprawling patio but may be too bulky for a smaller screened porch. Keep those decorative accents—colors, pillows, picture frames, vases—scaled to the space and reflective of indoor decor.
And if you just can't seem to find the perfect style, consider working with an artisan to design your own furniture. Morris works with clients to design the perfect furniture for their outdoor living spaces. He is also launching a new furniture collection, the Hudson Line, this month. Constructed of found objects from the Hudson River, the tables, chairs, and other pieces combine bricks and driftwood with metal and glass to give the creations a modern edge. Many of the pieces can be used in outdoor living spaces, says Morris, such as his glass-and-metal coffee table with brick accents.
Bringing the Inside Out
What else should you consider? Since you'll want to enjoy your outdoor room well into the evening, choose lighting and floor treatments to maximize comfort. Lighting options range from indoor lamps to hurricane lamps, paper lanterns, candles, and torches. Rugs and floor coverings can either be weather-tough matting, plush chenille, or even wool. And since many people envision outdoor rooms as outdoor dining spaces, those outdoor grills, refrigerators, and sound systems can all make this the most popular room of the house.
Ultimately, the most important element to remember when creating an outdoor living space is to keep it low-maintenance. This space, says George, "should be absolutely a pleasure. It should not be a headache, and you should not have to hire someone to care for it." This sentiment is echoed in Baker's book: "Another of the best things about al fresco living rooms," she says, "is that they don't need cleaning."
So as you consider that empty stretch of backyard or that unused patio this spring, think of how you might extend the warm and welcoming interior of your home to its exterior. Envision a place of escape and privacy, of connection and renewal; a place where you can commune with family and friends, and also with yourself. Create an outdoor room you'll want to live in, this summer and beyond.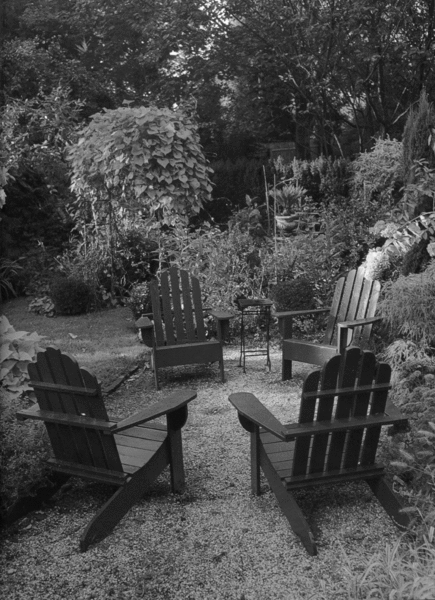 Photograph by Chuck Baker, from _The outdoor living room_ (Random House, 2001), by Martha Baker.
A screened outdoor dining room made from locust timbers and Catskill flagstone. Designed by Robert George.