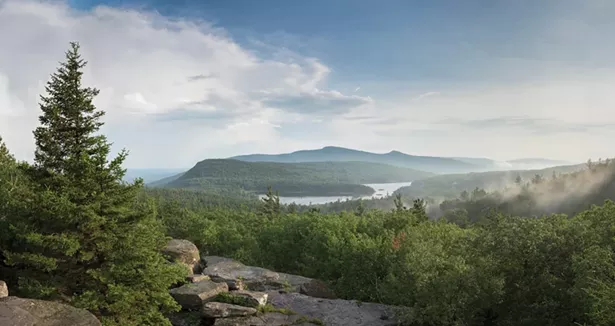 It's hiking season again in the Hudson Valley, but the perennial hiking question remains: Where to go? To answer that query, we reached out to a handful of local outdoor guides and experts to suggest some hikes to explore this summer. Wherever you go, be responsible on the trails and follow "Leave No Trace" principles to minimize your impact on our fragile ecosystem.
Mount Beacon
Brian PJ Cronin is an environmental/outdoors reporter for the Highlands Current.
On paper, the hike to the casino ruins atop Mount Beacon seems like a lot of bang for your buck. Only one mile to a killer view of Beacon, Newburgh, and the Hudson River? Sweet! And it is sweet, but be forewarned that the one-mile hike is straight up: You'll gain a lung busting 1,000 feet of elevation for that view. It's worth it, but it's a shame that so many of the crowds that brave the hike don't keep going when they reach the top. The hard part's already done. It's about another mile south from the ruins—along a trail that's mostly flat—to reach Mount Beacon's true summit, where the fire tower marks a stunning 360-degree view of the Hudson Valley and, on a clear day, Manhattan shimmering in the distance. (Follow Cronin on Twitter @brianpjcronin)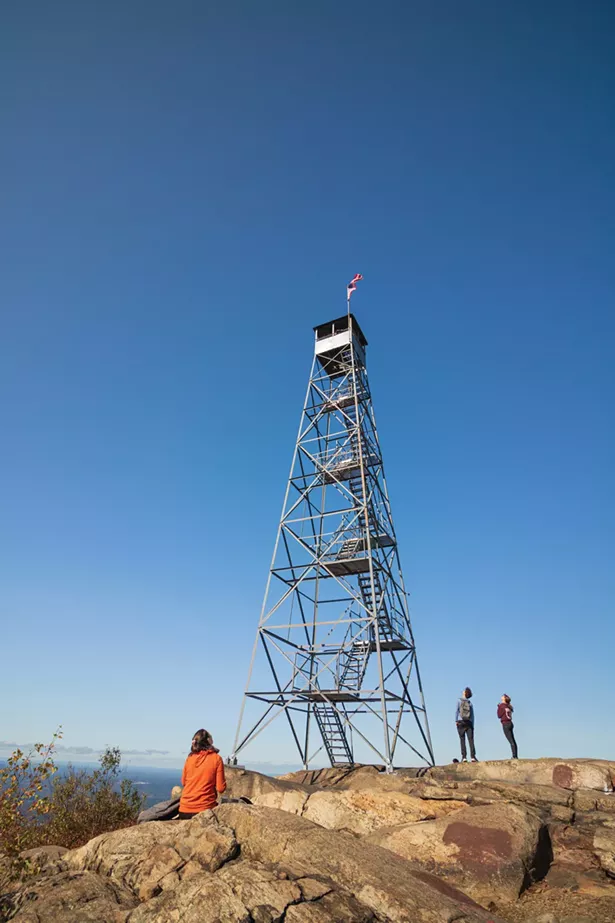 Millbrook Ridge Trail
Deyano Manco is the founder of BaseCamp, an outdoor community hub in Gardiner.
Millbrook Mountain is the crown jewel of the Shawangunk Ridge. This hike is approximately 3 miles from start to finish (one way). The views of the valley and Catskills are stunning as you meander on the actual ridgeline of Millbrook. But don't worry, there are several spots to bail out onto carriage trails if needed. Be aware that there is a decent amount of easy scrambling involved in the terrain, so be prepared with proper footwear and hiking poles for stability if that helps. Along with the views, enjoy seeing raptors, including hawks, vultures, and even occasionally eagles from the numerous lookouts. Access is best from the Mohonk Preserve West Trapps parking area or the visitor center parking lot. (To hike in the Mohonk Preserve, visitors must purchase a day pass, which is $15.)
Byrdcliffe Trail
"Ranger" Dave Holden is a Woodstock-based, DEC-licensed hiking guide.
In 2012, I built the Byrdcliffe Trail for the Woodstock Byrdcliffe Guild to connect Byrdcliffe directly with the older Mt. Guardian Trail. Many people consider the Byrdcliffe Trail to be one of the best short hikes (under three miles, round-trip) in the Southeast Catskills. The BT itself courses up and across relatively gentle terrain, but once it meets the other trail the going gets steep, with a 900-foot elevation gain culminating in excellent views, so proper hiking footwear is highly recommended. Maps may be available at kiosk. The trailhead is in the northwest corner of the parking lot of the Byrdcliffe Theater, 380 Upper Byrdcliffe Road in Woodstock.
Escarpment Trail

Heather Rolland is former president of the Catskill 3,500 Club.
It's very difficult to choose a hike to "promote"—I have to think carefully about where I would like to send people. Some of my absolute favorite places in the Catskills are sensitive and increasing traffic in those areas would be detrimental to exactly what makes them special. That said, there are so many truly lovely and magical areas.
The Escarpment Trail runs approximately 25 miles from North-South Lake to Route 23 in Windham. There are numerous gems along the entire length of the trail, from spectacular views to waterfalls (not Kaaterskill Falls—that's a separate trip!) to unique ecosystems. The entire North South Lake area is accessible from multiple parking areas and easy to plan short or mid-length hikes. This area is a real big-bang-for-your-buck experience.
If a smaller, more intimate and quiet experience is what hikers are seeking, Sloan Gorge in Woodstock is worth checking out. It's small compared to the grand high peak trails, but full of great rock formations, wildlife, and perfect for botanizing. Woodstock Land Conservancy owns a number of parcels open to the public for hiking. No dogs.
Cope's Lookout

Andrew Bajardi, Director of Visitor Experience and Chief Ranger, Mohonk Preserve
My favorite view in the Mohonk Preserve is from Cope's Lookout. To get to Cope's lookout, it's a three-mile walk each way on carriage roads from Spring Farm trailhead. It's a good hike for a larger group or visitors that aren't looking for a significant athletic challenge. Cope's is located on the back side of the Shawangunk Ridge, not far from the Mohonk Mountain House. The view is to the south, so you can see the Trapps, Near Trapps, and Millbrook Ridge and the Clove Valley below.