Photo by Montgomery Sheridan
The porchetta is offered as a weekend special at Tabla in Tannersville
For seasonally influenced restaurants, winter is an opportunity to reset the table and fortify the menu with ingredients and flavors that nourish bone-deep. In come the hearty brassicas and cable-knit sweaters, out go the heirloom tomato salads. Anyone paying a return visit to Tabla in Tannersville this season will also notice a renewed energy and decidedly Spanish turn in the kitchen, a result of the direction of new culinary director, chef Alex Dill.


When restaurateurs David Schneider and Patty Wu opened Tabla last December, they

hired chef Zack Shornick to bring their concept to life. For the first year, Tabla's
menu offered a wide-ranging tour of the flavors of the Mediterranean in a small plates format. A few traditional Spanish tapas like papas bravas mingled with larger Italian-leaning entrees, fusion pizzas, and even the occasional Middle Eastern kofta.
Photo by Montgomery Sheridan
For Dill, the team's original chef de cuisine, moving the menu toward its Iberian influences just felt right. "The menu was a little everywhere all at once," he says. "I really want the restaurant to have more of an identity."
The Joy of the Spanish Table
A native of Rhode Island, Dill grew up immersed in its Portuguese culinary scene, rich with the seafood-rich petiscos that are a distant cousin of Spain's tapas. The chef's formal training began with French fine dining at Bouchard Inn in Newport, but it was at Michael Chiarello's Coqueta in San Francisco that he discovered the convivial joy of a table laden with tapas.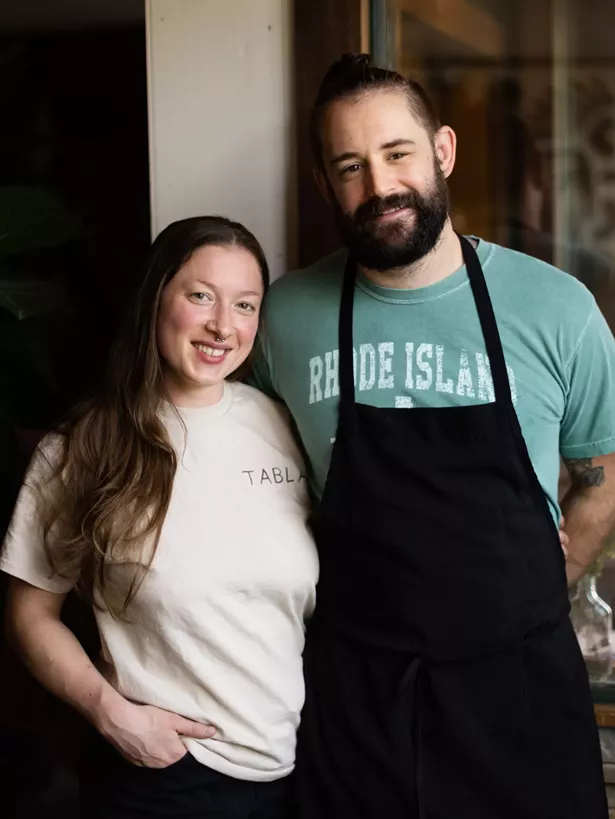 Photo by Montgomery Sheridan
Emily and Alex Dill. Alex, a chef with Michelin-star training, is Tabla's new Culinary Director. His wife Emily, a pastry chef, is heading up Tabla's dessert menu.
"One of the things I love about Spanish cuisine is that it brings a family aspect to dining. You gather around a table, share food, and try a few new things. There's just a certain wholesomeness to it," he says.
After his time at Coqueta, Dill went on to work as a sous chef at San Francisco's two-Michelin-starred Acquerello, then moved to Atlanta to work under chefs Hugh Acheson and Joshua Hopkins at Empire State South, where he went all-in on the seasonally-based, nose-to-tail philosophy of cooking.
Photo by Montgomery Sheridan
Tapas Take Center Stage
"So often we hear people tell us that the small plates style is the way they love to eat, but they just didn't have a name for it," says Tabla's GM Molly Schneider. "The menu is now at a place where it makes more sense that you're building out your own plate by ordering a centerpiece dish and two or three others, all for sharing."
Photo by Montgomery Sheridan
Aleppo popcorn with sumac and saffron
With Dill's first update to Tabla's late fall menu, diners can select from a deep bench of locally sourced spins on classic Spanish tapas. There are smaller snacks such as marinated olives and a pinxto (toast) of the day, as well as a variety of conservas (tinned fish) served with bread from See & Bee Kitchen in Cairo—perfect for enjoying with one of bar manager Emilia Dyczewska's seasonal cocktails.

And coming soon will be Spanish-style cornbread seasoned with Aleppo pepper, saffron, and pimenton served with whipped orange butter and calabrian honey and deviled eggs with shaved prosciutto and botarga.
Photo by Montgomery Sheridan
Crispy octopus with potatoes
Heartier small plates include lamb and pork albondigas in a saffron broth; pipirrana, an Andalusian tomato salad that Dill currently makes with charred cabbage but will soon be swapped for pleasantly bitter Castelfranco chicory leaves; crispy octopus with potatoes and aioli; and gambas al ajillo, a pile of plump shrimp served in a garlicky sauce spiked with lemon and chili.
Photo by Montgomery Sheridan
For the centerpiece dishes, Dill has been working with Lunch Nightly butcher Miles Crettien to create several custom cuts of steak—from a one-pound strip all the way up to a table-sized 35 to 55-ounce tomahawk—sourced from Kilcoyne Farms.

For Delmonico steaks and heritage pork, Dill turned to Dave Raylinski at Highland Hollow. Fit for sharing is also a whole branzino and spice-rubbed rotisserie chicken.
Photo by Montgomery Sheridan
Pastry chef Emily Dill is creating fun riffs on classic desserts, like flan
On the sweeter side of things, Dill's wife Emily, a pastry chef, is rolling out a line of lighthearted riffs on classic desserts, such as kettle corn and a baked alaska with a horchata semifreddo. "We're just trying to do fun takes on things," Dill says. "I don't think everything has to be set in stone with food. That's why I love working with this style of food in general. The dining experience should bring people closer together, and sharing a meal is the best way to do that."
Tabla
6033 Main Street, Tannersville, NY
Monday, Thursday, and Sunday: 4-9pm
Friday and Saturday: 4-10pm
(518) 589-4008