Conservas served with pickled onions, giardiniera, and housemade foccacia and a grapefruit margarita
Sometimes an idea leads the way, sometimes it's an opportunity. In the case of Tabla, a new farm-to-table Mediterranean restaurant in Tannersville, it was the latter. But don't let that fool you. This is no dilettante's lark; the eatery is in deft hands of seasoned industry professionals—restaurateurs David Schneider and Patty Wu and chef-de-cuisine Zack Shornick.
"My parents have owned restaurants since before I was born," says GM Molly Schneider, a career server who moved back from Burlington last year at her parents' request to help open Tabla. "My parents are super go-getters, they're always doing something. When the Hunter Foundation offered them this space, they thought it was a great opportunity to get invested and involved in the community."
The Hunter Foundation has been working to revitalize its namesake town since 1997, buying up vacant real estate and then renting homes and retail spaces at below-market prices to attract and incentivize residents and business owners. The Tabla space, at 6033 Main Street, was previously home to barbecue joint American Glory. With exposed wooden posts, tin ceilings, and a copper bar that was already there, the building had good bones. "It was in good shape," Schneider says. "It didn't look how we wanted it to look, but all we had to do was paint the walls white and do some tiling. Now it feels very warm and inviting. We're not stuffy—we're not changing silverware between each course. We want it to feel like a put-together experience you can enjoy but not at all fancy." Upstairs there's a gas fireplace that offers a cozy ambience for winter dining and apres-ski tapas and cocktails. And next summer the large creekside patio will open for dining.
Mediterranean Meets Catskills
The food concept for Tabla, developed in concert with Shornick, who most recently was the head chef at Piaule resort in Catskill, pulls from the Italian and Spanish end of the Mediterranean culinary vernacular. "We got the space and almost instantly we were able to find a chef, which was great," Schneider says. "The concept for Tabla came after. We asked ourselves, 'What do we want to do with the space? What is something that could be interesting and exciting for this area?'"
Pizza, olives, and cheese, oh my!
With the quick-clip menu development and fast launch, pizzas were an easy, on-concept choice that have instantly become a fan favorite since Tabla's launch in mid-November. "It's our take on a pan pizza," Schneider says, "But the dough is light and airy, like focaccia, and there is a cheese crust." There are three red pizzas and three white pizzas that run between $16 and $30 depending on size and style. For a creamy, seasonal indulgence, try the kabocha white pizza with caramelized onions, whipped goat cheese, calabrian chili, and maple. The salsiccia e rapini leans Italian, with red sauce, housemade sausage, broccoli rabe, and roasted fennel, while the champiñones y jamon white pie offers a taste of the Iberian peninsula with serrano ham, fig jam, mushroom, fresh arugula, and manchego.
Don't snooze on the rest of the sustainably sourced menu, though. For starters, the champiñones al ajillo offers a garlicky flavor burst of earthy mushrooms and tangy creme fraiche served with housemade focaccia ($12). The littleneck clams and nduja sausage app, another crowd favorite, is prepared in a West Kill Brewing beer broth and served with focaccia ($17). Or take your pick of cockles, mussels, octopus, or sardines when you order the conservas, which comes with bread, pickled onions, and giardiniera. For mains, the menu is impressively concise, with three options: a whole branzino ($34), a vegetarian, red pepper chickpea stew ($21), and a rotisserie chicken ($28).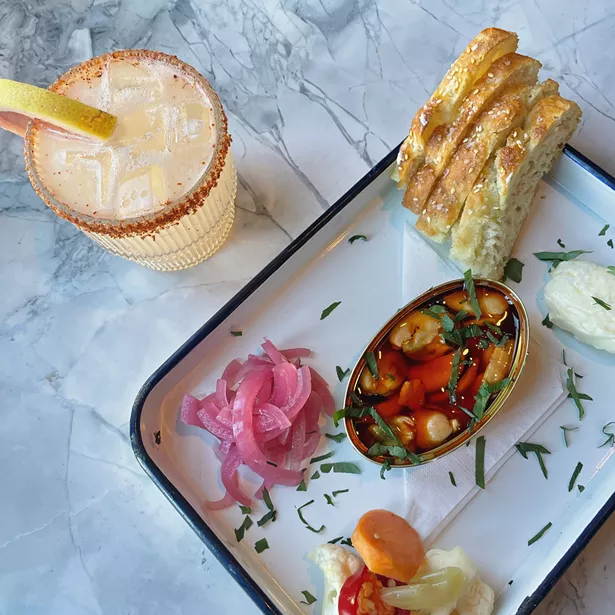 Conservas served with pickled onions, giardiniera, and housemade foccacia
"The menu is still very much our opening menu," Schneider says. "We're hoping to expand farther away from the pizzas and into some other things. We definitely want to incorporate more seafood." The price point, however, is unlikely to change much as accessibility has been a big priority for the Schneiders.
"To have something nice and new opening gives you a fresh take on where you're living—sometimes you want to go out and have a bit of a different experience," Schnedier says. "We're hearing from locals that they are happy that there is this new option that doesn't have such a high price point, like Deer Mountain Inn or Prospect."
The low-intervention wine list, too, offers a good range for all budgets, with options by the glass for anywhere from $9 to $16. "The way I was taught, wine as much as any produce should be considered a farming product," Schneider says. "If you are going to eat organic produce, you should have organic wine." The list includes several lesser-known doppelganger varieties that can sub in for common requests like a chardonnay or a cabernet. "We offer free tastes because we want people to accept the culture of wine and to get to know different grapes," she says.
Though sourcing issues have delayed the launch, Tabla is planning to have shrimp and grits on the brunch menu soon.
Very much a family affair, Tabla's beverage program is headed up by the owners' son, Max Schneider. A short craft cocktail list favors bitters like Campari, Aperol, and Forthave Amaro, which are also available as digestifs. The drink list includes a tequila milk punch made in house, a preserved lemon martini, a grapefruit margarita, and European favorites negroni and Aperol Spritz.
A Liveable Wage
The customer-facing focus on accessibility is matched on the backend with an emphasis on economic viability for employees. An 18 percent liveable wage line item is added to every bill, which is separate from the tip. "What I like about this whole opportunity is that my dad and I, and many of the people we're working with are trying to shift our restaurant model," Schneider says. "The whole system is completely broken. There is no support from the government for what is a huge industry in our country." Every employee at Tabla down to the line cooks and the dishwashers makes a minimum of $20 an hour.
And then there's the staff housing. The Schneiders tried as much as possible to hire locally and even secured three rental units to incentivize anyone coming from farther away. "It's really hard with the housing up here—there are no rentals, especially on the mountain," Schneider says. The net effect of this investment on employee wellbeing? Increased morale and a collaborative team attitude. "I feel like our staff is more active in their roles and having ideas," Schneider says. "It's not like owners and managers are calling shots. We have people that have strong experience in many different areas and we're all working together to make this a cooperative experience."
Tabla is open Monday and Thursday 5-9pm and Friday to Sunday, 5-10pm.


Tabla
6033 Main Street, Tannersville, NY
(518) 589-4008