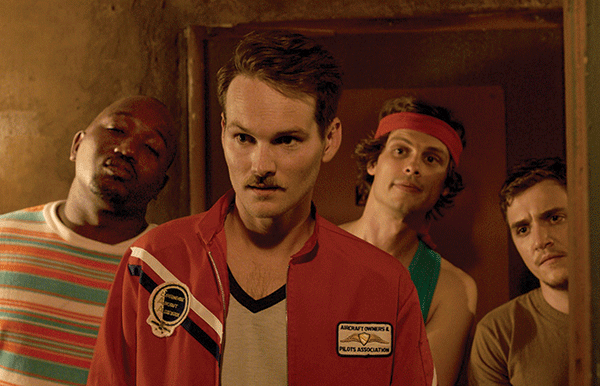 Hannibal Burress, Aaron Nee, and Kyle Gallner in 2015 Official Selection Band Of Robbers, directed by Adam and Aaron Nee.
Award-winning screenwriter/director Ron Nyswaner, best known for his screenplay for Philadelphia, has been involved with the Woodstock Film Festival since its birth in 2000. "I was the MC at the first awards ceremony," he recalls. "It was very small, and the way it's grown has been perfect; so much bigger, but it still feels very warm and personal, still got more movie lovers than people trying to do business. Yet it's become prestigious, sophisticated, and well recognized. It's grown just perfectly, in ways that haven't damaged its core."
"We were only in Woodstock the first year," says festival co-founder and executive director Meira Blaustein, "and we showed about 75 films. Audiences were much smaller. It was a 100 percent grassroots effort made out of love, sweat, and tears, and it was basically a miracle that it happened."
The festival, beginning this year on the last day of September, now screens 125 films and holds multiple events at venues across the five towns of Woodstock, Saugerties, Rhinebeck, Rosendale, and Kingston. Putting it together, says Blaustein, is "an extremely complex and enormous undertaking. There are so many different aspects, so many people involved—besides seasonal staff, we have well over 300 wonderful volunteers who come from all over. Our volunteer coordinator is from San Francisco, for example."
Jason Lee and Roni Akurati in Good Ol' Boy, directed by Frank Lotito.
Nyswaner now lives in Los Angeles, and loves it. But he'll be "thrilled" to be back in Ulster County presenting his documentary, She's the Best Thing In It. "There's something very exciting about sitting in a Woodstock screening room waiting for the film to start," says Nyswaner. "The panel sessions are so enlightening and friendly, without that pretentious crassness of people trying to figure out what's trending before they decide what they think. You walk down the street, run into friends who saw another movie, swap reactions. It's a wonderful celebration."
Sweet sixteen, still unspoiled despite being named to Indiewire's Top 50 Film Fests in 2013, this year's WFF will stay true to its people-centric, fiercely independent roots. Notable film folk from all over the world are struck by the topnotch hospitality, yet organizers never forget that on some level it's all about the audience.
Duncan Bridgeman speaks with an Islamic Musician in 1 Giant Leap II: What About Me?, directed by Duncan Bridgeman and Jamie Catto.
"It was never created to sell anyone anything, or for any selfish reason," says Blaustein. "People know they will discover authentic work and filmmakers who make films because they have to make them. The true heart of filmmaking has to do with its wide resonance with those who are not filmmakers but who appreciate passionate, interesting stories well told. This festival wears its heart on its sleeve. There's no BS."
Nyswaner's documentary is one of several films being presented this year with strong local ties. "I worked on She's the Best Thing In It for five years," he says. "It's my first documentary. It's about acting. The main character is my friend [Tony Award winner] Mary Louise Wilson from Stone Ridge. We met in Ulster County 25 years ago; we both belonged to the writers' group of Actors and Writers. It's being shown worldwide, but this will be our most celebratory showing of all."
Carlos Varela and Jackson Browne from The Poet Of Havana, directed by Ron Chapman.
Locally made films being presented include Good Ol' Boy, shot in Kingston by director Frank Lolito, the story of the 10-year-old son of an Indian family trying to become a good ol' boy for the sake of love; I Dream Too Much, filmed in Saugerties, about a young woman who finds herself Upstate caring for her reclusive aunt, and Paradise is There, a self-directed memoir by beloved homegirl Natalie Merchant. The festival's sister not-for-profit, the Hudson Valley Film Commission, is devoted to facilitating Hudson Valley production; their website lists 65 locally made feature films and notes that there are many more. "People travel to Woodstock for the festival, see the area, and want to film here," says Nyswaner. "It's become a vibrant, burgeoning culture."
Other highlights include East Coast premieres of The Adderall Diaries, directed by Pamela Romanowsky, in which a writer's estranged father resurfaces to claim he's lying about his dark childhood; The Automatic Hate, centered on cousins striving to uncover the secrets of their fractured family; Touched with Fire, about a romance born on the psych ward; and Band of Robbers, in which a modern-day Huck Finn and Tom Sawyer are reunited as adults after Huck has done time and Tom has become a corrupt cop. New this year is the World Cinema Competition, bringing entries from the Netherlands, Sweden, Israel, and a Russian/Irish collaboration.
Deborah Ann Woll and Joseph Cross in The Automatic Hate, directed by Justin Lerner.
To catch a festival film, Blaustein recommends getting tickets well in advance—but if you haven't, don't despair. Venues reserve space for spur-of-the-moment folks like you. "Even when the website says a film is sold out, if you arrive early and get on the standby line, you'll often get in," she says. "But if you don't want that uncertainty, buy early. We post trailers and photos, a lot of information about the films. We're very audience friendly; we want to make sure people get to see what they want to see."
The festival's also loved for its music tie-ins (a highlight this year will be a UPAC concert following a screening of Ron Chapman's The Poet of Havana at which the subject, Cuban star Carlos Varela, will perform with four bandmates and special guest Jackson Browne) and its freewheeling panel discussions. This year's will include Film as Memoir, BMI Music for Film, Enough Already! Changing the Status of Women in Film and TV, and Actors/Directors. "The panels are always lively, substantive, in-depth conversations," says actress and director Mary Stuart Masterson, who'll be part of the Actors/Directors panel moderated by Martha Frankel. "I find the audience in Woodstock always has lots of great questions, which isn't always the case at festivals."
Masterson's directorial debut, The Cake Eaters, premiered at WFF 2009. Director Romaowsky was a finalist in the youth shorts competition in 2011; now she's back with a little something starring James Franco and Christian Slater. With Nyswaner and a star-studded roster of fellow film folk, they've become regulars; during the WFF, you just never know who you might see, or what they might be up to next. One thing is sure: It'll be worth watching.
The Woodstock Film Festival takes place September 30 to October 4 at multiple locations in the region. Woodstockfilmfestival.com.
A still from 2015 Official Selection She's The Best Thing In It, directed by Ron Nyswaner.