Ah, the doldrums of winter, when you begrudgingly throw on a wool sweater, thick socks, and a beanie day after day while you try to remember what life in the sun was like. But before you know it, you'll be back in the arms of spring—and along with it, glorious warm-weather vacation season in the Hudson Valley. And nothing's better for reminding you of its sweet relief than dreaming up where to go for your next Upstate getaway.

To help whet your appetite, we've rounded up four vacation properties in the Hudson Valley and Catskills from the folks at New York Rental by Owner Vacation Rentals. A local alternative to national rental companies, New York Rental By Owner offers homeowners all over the state direct access to guests looking to book their next getaway.
They pride themselves on no-fee bookings for both owners and renters, which can dramatically increase the financial viability of both renting your home or taking a trip. Each owner also communicates directly with their renters and sets their own policies for their rental, adding to each listing's individual look and feel. Take a cruise through four of their properties below.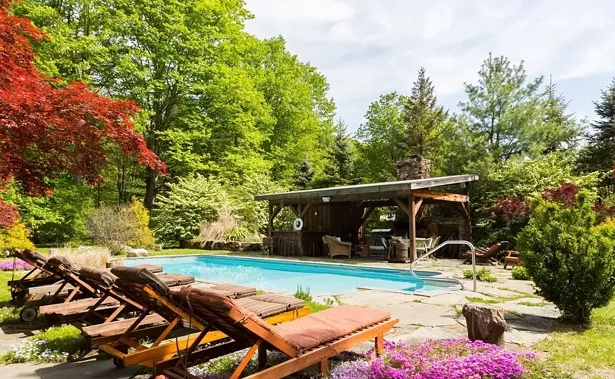 Located just an hour outside of Manhattan and two minutes from the Poughkeepsie Metro-North station, this quiet rental property in Garrison has it all. The historic c.1910 farmhouse accommodates a whopping 16 people. That means 15 of your lucky friends or family members get to enjoy the on-site studio, which includes a full gym, sauna, hot tub, and steam room. There's also a secluded in-ground pool, so you can while away the hours on an oversized pool float before you head over to the shaded patio area for a lunchtime grill-out.

Charming Yet Modern, Accord
Conveniently located between New Paltz and Kingston, this bucolic rental property comes with 20 lush acres and access to your own private swimming hole. The spacious three-bedroom house sleeps eight, making it the perfect size for a family trip, a friends getaway, or a laid-back bachelorette party. The large bluestone patio and rustic stone grill out back is a picturesque setting for quiet brunches and dinners al fresco.

Olive Oasis, Olive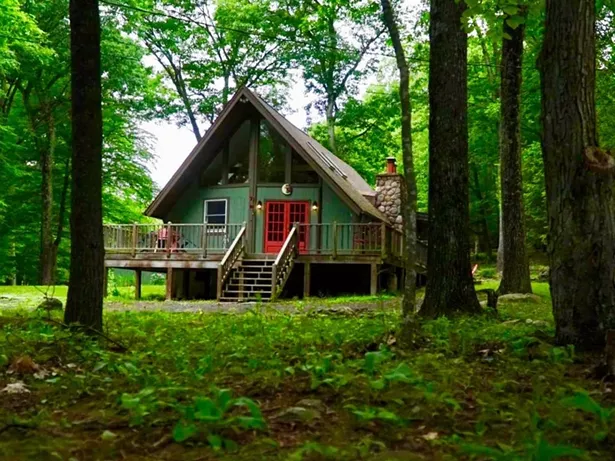 This picture-perfect A-frame getaway house is nestled in the woods between Woodstock and Phoenicia. You'll surely find your zen zone here, thanks to the property's focus on meditation and retreat. The house sleeps seven, and boasts a cozy yoga loft stocked with mats, and there's also an outdoor practice space on the rustic stone patio for centering yourself among nature.
Saltbox Lodge, Windham
This rustic vacation rental offers gorgeous mountain views and plenty of space inside to entertain. Windham might be known as a skier's paradise, but it's also a solid pick for the warmer months, too. It's tucked just inside of Catskill Park, which means an abundance of hiking trails are just a short drive away. The house sleeps eight, so you can bring your whole crew out to the woods and make this cabin home base for exploring the mountains that surround it.


Interested in browsing all of New York Rental By Owner's properties, or want to start renting out your own? Head over to New York Rental By Owner for more information.