Tired of tossing out plastic shampoo bottles? At
The O Zone
, a new zero-waste and sustainability center in Red Hook, there's a solution—and not just for the shampoo dilemma, but for all your other personal care product and household cleaning needs as well. Refill your glass, plastic, or metal container at their bulk filling station. Oh, and you can also design your own products, depending on whether your hair could use a lavender jojoba fix or your lips fancy a peppermint coconut oil blast.
The O Zone offers sustainable bulk options on detergent, soap, and a variety of cleansers, and the personal-care equivalent of a Make Your Own Sundae ice cream extravaganza. There are all-natural bases for shampoo, conditioner, lotion, and lip balm; customers then choose from essential oils, moisturizing oils, butters, salves, salts, and herbs to conjure the ultimate custom product—and then take a batch home at bulk prices. (Refillable containers are available for purchase, though the emphasis on zero waste encourages people to bring their own vessels.)
Amelia Legare opened her zero-waste sustainability center at
Greig Farm
in March 2020 and soon found herself offering "pre-filled refills" for those who wanted to partake of contactless bulk buying and a"Community Supported Package program, delivering waste-free household and personal care needs to those who prefer to avoid the store. There's also a compost CSA; enroll for a small fee and have your food scraps whisked away and returned as rich, processed compost just in time for spring planting. There's a carbon credit station, where you can assess your carbon footprint and find out how many trees you should be planting.
Legare knows most of us want to be part of the climate solution, her targeted offerings (including an online shop full of wellness and zero-waste items( aim to make doing that both handy and enormously enjoyable. As it becomes safe to do so, she looks forward to welcoming community folk of all descriptions to workshops and events.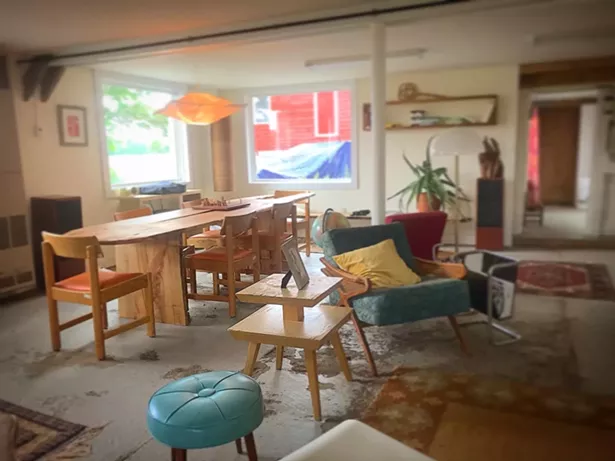 Having her own setup is a dream come true for the Tivoli native, whose own desire to be part of the solution has always been her guide. "I started out studying health care, but a lot of the practices aren't very sustainable, and I wanted to help people build real health, which includes a healthy planet," she says. "I wanted to be more preventative. Now I have a sustainable gardening practice, and I do garden education at Mill Road Elementary, which is how I found out that I absolutely love teaching kids about this stuff."
Grieg Farm, a pick-your-own and CSA organization with a market full of fine Hudson Valley farm fare(open with social distancing precautions at the moment) had long been one of Legare's favorite places. "The views, the koi ponds — I'm always happy there," she says. Last year, chatting with her friend Norman Grieg, she asked him what the plan was for an unused barn. "I said, 'What are you going to do with that?' and he said, 'What would you do?' and then he just built the whole thing out for me, just the way I wanted it," she says.
Now the farm is humming with socially-distanced berry pickers, and everyone is looking forward to the joyous time when events can return. (Grieg Farm has a cafe, art market and gallery.) And Legare's innovations are being embraced in Red Hook and beyond. "I'm excited and encouraged by the reception—it's going really well," she says. "I'm so happy that people are loving this, because it brings everything I love together under one roof."