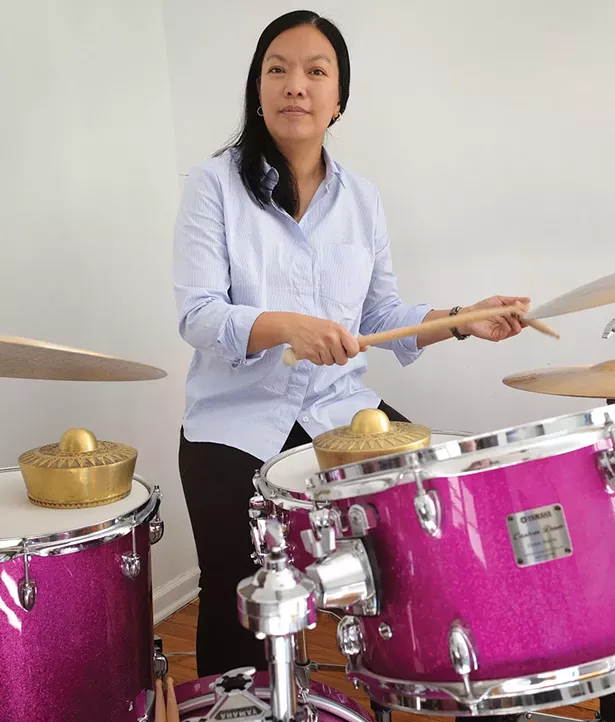 Composer and drummer Susie Ibarra talks about her beginnings as a jazz musician in New York and upcoming performance at the Julien J. Studley Theatre in New Paltz.
One of jazz's most romanticized scenes is that of the solitary saxophonist blowing his battered horn on a New York bridge in the early hours. Based on real events, it comes from the fabled period when the great Sonny Rollins, not wanting to disturb a pregnant neighbor in his Brooklyn tenement, would practice on the Williamsburg Bridge. And now perhaps now it's time to add another iconic image to jazz lore: That of the lone drummer beating her traps along the West Side Highway.
"I lived in the West Village then, so it was close by," recalls Susie Ibarra about her early days as a musician in New York. "I actually was fortunate enough to be able to practice in my apartment, but it was so beautiful by the Hudson River and it was nice to be able to play outside. So I'd take my drums over there and set up. If the weather was bad, I had a compact kit that I'd bring to the subway and play down there. Sometimes I was playing four or five shows a week on top of that, so I was really playing a lot."
Playing a lot is exactly what Ibarra, an adventurous contemporary composer and one of today's leading free jazz drummers, has seemingly been doing nonstop since she appeared on the New York scene at the dawn of the 1990s. With her storming style, she first seized the attention of many avant-garde aficionados as a member of the pivotal David S. Ware Quartet and Matthew Shipp Trio and has performed with John Zorn, Pauline Oliveros, Marc Ribot, Dave Douglas, Derek Bailey, Thurston Moore, Arto Lindsay, Yo La Tengo, and others in addition to leading her own bands. Named "Best Percussionist" in numerous Downbeat critics' and readers' polls and regularly featured on the covers of drum magazines, Ibarra, the recipient of a 2010 TED fellowship, continues to receive key commissions and has performed her works at Carnegie Hall, the Smithsonian Institution, the Kennedy Center, Lincoln Center, the Museum of Modern Art, and other internationally prestigious venues and events. "I was lucky to grow up in an environment where I got to experience a lot of music and didn't have to move around a lot," she says. "Music is definitely a gift."
The gift arrived at a very young age. Born in California to a pair of music-loving Filipino-American physicians, Ibarra, 47, started piano lessons when she was four, the same year her family moved to Houston, Texas. "My older siblings had records, so a lot of the first music I heard was through them," she recalls. "I remember being really drawn to Michael Jackson's [1979 album] Off the Wall when I was little, because of the rhythms." Although she played organ in the family church and sang in the choir there and in school, the regional styles grabbed her hard as well. "I heard a lot of blues music in Houston, which was really interesting, filtered through experiences of the Filipino-American community there," Ibarra says. "Then, around the time I was in my early teens, I saw a zydeco band at an outdoor concert and I was really focused on the drummer. I said, 'I wanna do that.' It was innate."
She got her first set of drums in high school and began playing in a punk band with classmates. "I had drums and I could keep a beat, so they asked me to be in the band," she says, adding, "I wasn't allowed to play shows on school nights, though." The big bomb, however, was her discovery of a local jazz radio station, where she fell in love with the classics. "I remember hearing [Thelonious Monk's] 'Monk's Dream' and just being, 'Wow, what is this?'" Ibarra recounts. "They played a lot of big band music, too, like Count Basie and Frank Sinatra. That's also where I first heard Sun Ra—his version of 'Pink Elephants on Parade,' from the Walt Disney Dumbo cartoon, which was a piece I really loved."
And it would be seeing Sun Ra live at New York club Sweet Basil in 1989, while she was studying language and visual art at Sarah Lawrence College, that would most inspire Ibarra to become a jazz musician herself. Amid switching to the New School's Mannes College of Music and then to Goddard College, from where she received her B.A. in music, Ibarra studied with Sun Ra saxophonist Earl "Buster" Smith and the influential drummers Milford Graves, Vernel Fournier, and Dennis Charles, eventually performing a weekly residency and recording an album with the latter. By the mid-'90s she was regularly making her way Downtown to startle the scene from behind the kit in bassist William Parker's Little Huey Creative Orchestra at venues like CBGB's Gallery. In 1996, when Whit Dickey vacated the drum stool of saxophonist David S. Ware's quartet, with whom Parker also performed, Ibarra's highly physical style made her the perfect percussive match for the leader's fiery attack.