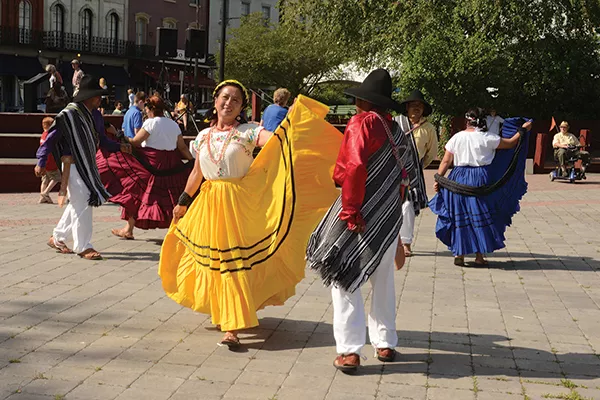 Andrea Barrist Stern
Grupo Folklorico Poughkeepsie performing a traditional Oaxacan dance at the Reher Center Block Party on at T. R. Gallo Waterfront Park on June 9.
After the bleak cold of winter and the teasing warmth of spring, it's finally here—summer. Make sure you don't let it go to waste. There's something for everyone this season in Kingston: concerts for the music lover, a film festival for the movie fanatic, parties, tastings, a traveling tent, and even our own blowout we've waited 20 years to throw. The fun is yours for the taking.
Independence Day Festival July 4-6
Wear your red, white, and blue all weekend for outdoor fun on the waterfront. Mister Kick commences the festivities on the fourth followed by The Cagneys and fireworks at nightfall. The Hudson Valley Philharmonic play a free concert the following evening conducted by Randall Craig Fleischer, featuring vocalists from the Trans-Siberian Orchestra, Broadway, and opera diva Maria Todaro. Saturday, Rich Hinds & The Hillbilly Drifters, and the Ray Brass Band play at locations including the Senate House and the Rondout.
Hudson Rising July 20
Come celebrate the Hudson Valley's rich past, evolving present, and budding future with a waterfront event for the whole family. A fleet of Hudson River heritage ships and visiting tall ships will offer boat rides, deck tours, exhibits, talks, and onboard food samplings. Adults can sip on one of Keegan Ales's crafted beers or other alcoholic specialties, while Cricket Azima of Creative Kitchen teaches children how to have safe fun while cooking. Vendors will sell goods like candles, hot sauces, and jams, and Hudson Valley Harvest will supply local chefs with New York State beef, pork, and chicken for outdoor grilling.
Kingston Film Festival August 2-10
From feature films to animations to this year's newest category—music documentaries—the festival brings filmmakers and audiences together to enjoy all kinds of flicks. Come watch movies at the BSP Lounge like Werewolves across America, a documentary about characters' rejection of the American Dream featuring artists including Deer Tick and Phosphorescent; or Brass Teapot, a slapstick comedy filmed in Kingston and throughout the Hudson Valley. Following the screenings, filmmakers will speak about their works and judges will pick winners for each category from over 200 submissions.
Chronogram Block Party August 17
We're shutting down Wall Street to celebrate our 20th anniversary—and everyone's invited. Food vendors including Aba's Falafel and Pippy's Hot Dog Truck will line the road, leading up to a stage where performers like world music band Passero, reggae group The Big Takeover, and the postpunk band Crystal Stilts will play throughout the day. There will be a dunking booth to raise money for Kingston's YMCA Farm Project and the magazine's astrologer, Eric Francis, will host a tarot fair. Grab a drink in the beer and wine garden and throw on your dancing shoes for a swing lesson with Got 2 Lindy. After the day's festivities, BSP Lounge hosts a masquerade dance party.
Kingston Parks Movies Under the Stars Through August 23
Let your kids stay up past their bedtimes and join them in watching some of your favorite flicks like you've never seen them before. The volunteers from the Friends of Kingston Parks and Recreation will bring films, old and new, for all age groups to their gigantic inflatable screen, including The Lion King, The Princess Bride, and Back to the Future for the whole family. "Grown-up nights" will offer timeless classics like Casablanca and West Side Story for a more adult audience. Bring your picnic blankets and lawn chairs and enjoy the cool breeze of a summer night as you feast on free popcorn and lemonade.
Kingston Festival of the Arts August 24
Kingstone Creative Connections is presenting a taste of their vision for next year's art festival in conjunction with the Taste of Kingston. Performances include The Opera Theater of Kingston's production of avant-garde operas at BSP Lounge and the Arts Society of Kingston as well as a "Voices for Water" concert on the Rondout waterfront. As you travel to these events, grab a bite from your favorite local eateries, which will be offering tasting samples.
The Free Music in the Parks Series Through August 28
Every Wednesday throughout the summer, Kingston's local talents will rock their way around the city's parks. Professor Louie & The Crowmatix, who once traveled around the world playing their unique fusion of blues, rock, gospel, and folk, will return to their roots for a performance in July. Also scheduled to play is singer/songwriter Kristen Capolini. Though she's only 21, Capolinin is a seasoned musician who's performed with legends like Annie Lenox and Mick Jagger. Other acts include The Ben Rounds Band, Carl Mateo, and Passero.
San Severia Spiegeltent Through August 30
The traveling historic Belgian tent, located on Broadway next to UPAC, is a sight unto itself. With walls of mirror, stained glass, and intricate carvings, the enormous tent is home to a number of exciting concerts every Thursday through Sunday this summer. Performers include Mr. Gone, The Sweet Clementines, Trio Loco, and other jazz, pop, and rock musicians. But don't just come for the music—food trucks like the Black Forest Flamenkuchen sell food every night and the Kingston Farmers Market sets up shop every Tuesday.
The Wall Street Jazz Festival August 30-31
This two-day musical celebration is a good reason to look forward to the end of summer. Nine years ago, founders John Bilotti and Peggy Stern were inspired to create their own jazz festival when they attended one where no females were in the line-up. Since then, they've been celebrating women in jazz, featuring female leaders every year in their outdoor concerts. Performances include Claire Daly on the baritone sax, flute, and vocals; Ingrid Jensen on the trumpet and flugelhorn; and Sue Terry on the soprano sax and clarinet.