Photo: Emma Rothenberg-Ware
Above: The Shakespeare and Co. production of "HIR" by Taylor Mack, with John Hadden and Adam Huff.
This summer stock institution was founded in 1954 on the campus of Williams College in Williamstown, Massachusetts, and focuses on world premieres and features big-name actors on its stages. This year boasts Uma Thruman in Ibsen's "Ghosts" (July 31-August 18), Ellen Barkin in "Before the Meeting" (August 7-18), and Jane Kazmarek in "Tell Me I'm Not Crazy" (July 24-August 3). The festival celebrates the 60th anniversary of "A Raisin in the Sun" (June 25-July 27) and premieres "Grand Horizons" (July 17-28), Jonathan Payne's "A Human Being, of a Sort" (June 26-July 7), and Sylvia Khoury's "Selling Kabul" (July 10-20).
Ministered by performance artist Chris Wells and based in Woodstock, the Secret City is a nationally touring "church of art" that lets loose its Summer Art Revival each July for a three-day, town-wide celebration highlighting Woodstock's rich artistic culture. Along with local-hosted house events, there will be a kickoff party with the Secret City Band (July 25), a concert by members of the legendary Penguin Cafe Orchestra (July 26), a picnic (July 27), live band karaoke (July 27), and, finally, a fabulous processional through town to culminate in an ecstatic tent revival (July 28). Performers this year include Amanda Palmer, Jerry Marrotta, Leah Coloff, Viv Corringham, Riley Johndonnell, and others. See website for venues and schedule.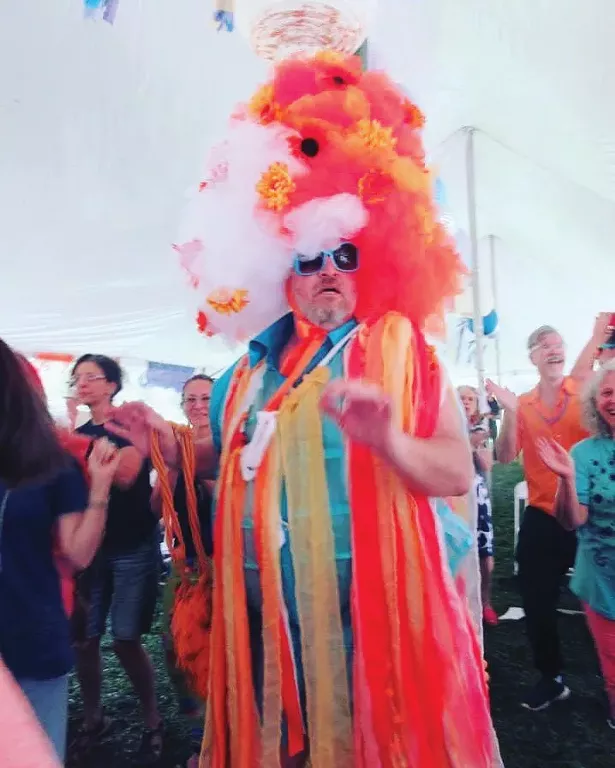 Photo: Tim Geaney
Founder and host of The Secret City Chris Wells in 2018.
Since 1985, Shadowland Stages (formerly Shadowland Theater) has been offering live productions of classic, contemporary, and new plays within the welcoming walls of a restored, 179-seat 1920s Art Deco vaudeville theater in Ellenville. "Our focus," say its founders, "remains on producing thought-provoking, socially relevant works with vision that will entertain, educate, and challenge our audience." Shadowland's current and upcoming calendar includes "Memoirs of a Forgotten Man" (through June 16), "The Roommate" (June 21-July 14), "Shear Madness" (July 19-August 18), "Over the River and Through the Woods" (August 23-September 8), and the East Coast premiere of the Jeff Daniels-penned "Flint" (September 13-29).
At this Berkshires mainstay much has long been ado about not only its namesake dramatist: The Lenox, Massachusetts, company is also about presenting newer and underserved original works to its dedicated and growing audience. Twenty-Nineteen promises "The Waverly Gallery" (through July 14), "The Children" (July 18-August 18), "Topdog/Underdog" (August 13-September 8), and, for the fall, "Time Stands Still" (September 13-October 13). And, of course, there are this season's Shakespearean classics: "Twelfth Night" (July 2-August 4), "The Taming of the Shrew" (July 9-August 17), "The Merry Wives of Windsor" (August 8-September 1), and "Coriolanus" (August 21-25).

Famous as the facility at which "Hamilton" was developed, Poughkeepsie's Powerhouse Theater, on the campus of Vassar University, is the place to catch that next big play or musical—without paying Broadway ticket prices. On the main stage are Harrison David Rivers's "The Bandaged Place" (June 27-July 7) and Beth Henley's "Lightning (or The Unbuttoning)" (July 18-28), while the schedule of musical workshops has "Annie Salem: An American Tale" (July 5-7), "The Elementary Spacetime Show" (July 12-14), and "Goddess" (July 26-28). Inside Look workshops include "...and the Horse You Rode In On" (June 20-22) and "The Best We Could (A Family Tragedy)" (July 25-27).
The Powerhouse Theater Training Program's2018 production of "Measure for Measure" byWilliam Shakespeare, adapted and directed by Andrew Willis-Woodward.