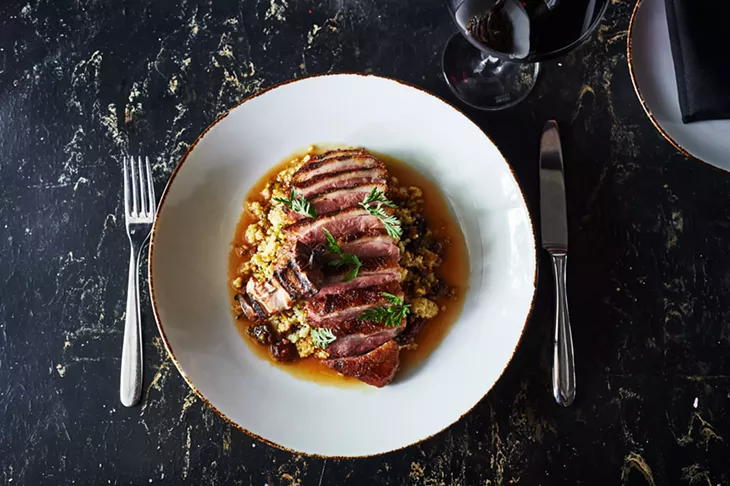 18 slides
Since debuting in April 2017, The Amsterdam in Rhinebeck has wowed guests the Hudson Valley over with its high-caliber farm-to-table fare, elegant social setting, and excellent hospitality. Under the deft direction and refined aesthetic of husband-and-wife team Howard and Chris Jacobs, this nascent eatery has rapidly become a mecca for the epicurious.
The chic, new-American restaurant celebrated the one-year mark in April by announcing a new executive chef—Alexander Burger. Hailing from iconic chef Daniel Boulud's restaurant group, Burger brings a thoroughbred pedigree to the farm-to-table Rhinebeck establishment. Before accepting the post at The Amsterdam, Burger led the kitchen at Bar Boulud on Manhattan's Upper West Side. His CV also includes Daniel, db Bistro Moderne, Feast & Fetes, and Azurmendi (Michelin-starred chef Eneko Atxa's nomadic restaurant), among others.
Last fall, Burger had his first taste of the new restaurant when he prepared charcuterie for The Amsterdam's Le Paulée Harvest Celebration, a traditional Burgundian wine festival and feast. "It was evident that Howard and Chris had created something very special, and that the region is bubbling with creativity, innovation, and evolution—I was drawn to that," Burger says. "The opportunity to put down roots in a place that is clearly a culinary hotbed, and to be so close to farmers and purveyors, is a chef's dream."
So, he joined the exodus of high-calibre chefs leaving the city to find their feet upstate, close to the source. Burger has maintained The Amsterdam's commitment to sourcing local, farm-fresh food, but to that mission he brings his foundation of French cuisine as well as global influences gained cooking in the UK, France, Spain, and Southeast Asia. He has also expanded the in-house cured meat program, creating melt-in-your-mouth charcuterie options like the duck and pork pate and the house-smoked ham (both $8). "Alex has a dynamic culinary repertoire, shaped by his time alongside talented mentors in far-reaching locales, and that experience really shows through," says owner Howard Jacobs. "He is really a rockstar chef, without the ego and pretension, he's just passionately focused on delighting our guests."
Summer Fun
The full summer dinner menu debuts on July 2, and includes highlights like the melon salad, with duck prosciutto and mint ($14); mussels served with green curry, coconut, and cilantro ($18); and, for pasta lovers, a potato gnocchi with corn, chanterelles, and bacon ($21). Of course, you can expect a superb offering of house-made charcuterie (Chef Alex has won innumerable awards for his craft in NYC) along with gorgeous local cheese selections.
The summer cocktail list will leave you cool, calm, and collected with its refreshing, citrus-strong profile. Newly crafted drinks include the Fresca Platina, a blend of tequila, cucumber, and salt; the Tie Mai Tai with two rums, lime, and orgeat; and a classic Pimm's Cup (all $13) and you can always find a fine selection of the best locals brews from across the Hudson Valley.
Already bustling at brunch on the weekend, The Amsterdam just opened for lunch daily and has been booking private events throughout 2018 and into 2019, both in the outdoor (they've done weddings, birthday's, graduation and engagement parties in the garden), and in its beautiful private space upstairs known as The Dutchess Room, where they seat up to 36 people for dinner and upwards of 50 for drinks.
In honor of Independence Day, The Amsterdam will host a weeklong barbecue in their fantastic backyard beginning June 30 and running through July 8. The special grill menu includes ribs, chicken, dry-aged ribeye, corn-on-the-cob, and coleslaw. All-American goodness, done right. (Rest easy, if this isn't your thing, the full menu will still be available.)
Looking down the line, The Amsterdam has a tempting clambake scheduled on August 12 and is planning some bigger events in September and October as the harvest returns. Stay tuned for more details.
Changes Abound
"I'm admittedly pretty close to it, but The Amsterdam is a very different experience than it was even four months ago," Jacobs says. "Our food is more refined, more vegetable-forward and we've brought a whole new set of flavors to the table, while updating favorites like our duck, fried chicken and burger. Credit to Chef Alex, feedback has been amazing and we can't wait to unveil our summer offerings."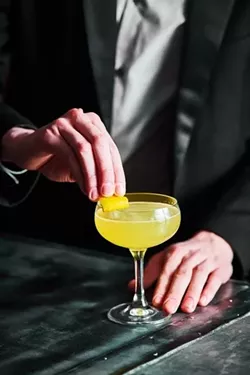 With summer upon us, The Amsterdam has set its passions and design aesthetic on the expanded outdoor dining area that can seat up to 100 guests between the lawn and the large covered patio area. A new outdoor bar just opened, serving up four local tap beers, a full, craft cocktail list, plus The Amsterdam's renowned wine list. The backyard also offers more casual antique Belgian picnic tables, a bocce court, and a fire pit, which has become a favorite pre-dinner and late-night gathering spot for Rhinebeck locals. "We've officially got a beer and wine garden option, in addition to tables to enjoy our full menu," Jacobs says. String lights twinkle from the central magnolia tree, creating a magical space for dining or some drinks.
Despite the upscale menu and the elegant ambience of the restaurant, the Jacobs don't take themselves too seriously. "It's all about Gezzeligheid (a uniquely Dutch word with no literal English translation, but that describes a state of conviviality, coziness, togetherness, and joyous celebration among friends and family) and you'll see it literally casting its warmth over the dining room at The Amsterdam," says Jacobs. "That's been our dream all along—for all of our guests to feel warmly embraced, restored and uplifted when they visit our restaurant. Make people happy! That's our job."

Known for its excellent service, gastronomic innovation, and expansive cocktail and wine program, The Amsterdam has all the pieces in place to become a Hudson Valley culinary legend.
The Amsterdam is located at 6380 Mill Street in Rhinebeck. The restaurant and backyard are open seven days a week. Call (845) 516-5033 or visit lovetheamsterdam.com. Instagram: @lovetheamsterdam