Subversive uses the time-intensive, old-world technique of floor malting, which requires the grain to be hand-turned two to three times a day.
As New York's craft beverage industry has flourished, the lay-drinker's beer literacy has increased significantly. So although much of the branding in this IPA-crazed moment focuses on beers' ultra-super-triple-citra-dry-hopped attributes, it probably doesn't come as a surprise that hops are primarily a flavor additive—like spices, while the meat and potatoes of the thing is the grain, which accounts for some 90 percent of the non-water ingredients.
What this writer (and avid beer drinker) didn't know is that in common brewing parlance, "grain" almost always refers to malted grain.
The Soul of Beer
"Malt is the soul of beer," says Max Ocean, co-founder and maltster of Catskill-based Subversive Malting & Brewing, which he started with his college buddy Zane Coffey in 2018. "At its heart, beer is a fermented grain beverage. Humans have been doing this for 10,000 years."
While the fermentation process for products like wine and cider relies on the sugars already available in the fruit, cereal grains must be coaxed to yield up their sugars—hence, malting. This process breaks down the cell walls in the grain to make the starch available to the brewer. Then, the mashing step of the brewing process allows the brewer to convert that starch into fermentable sugar.
Malting has three steps: steeping, germination, and kilning, which is when the Maillard reaction happens. "Depending on the times and temperatures, you get completely different products that give you a completely different beer," Ocean says. "We view malting as an extension of our brewing process and house flavor. By being a malt house and brewery, we get to control all the variables."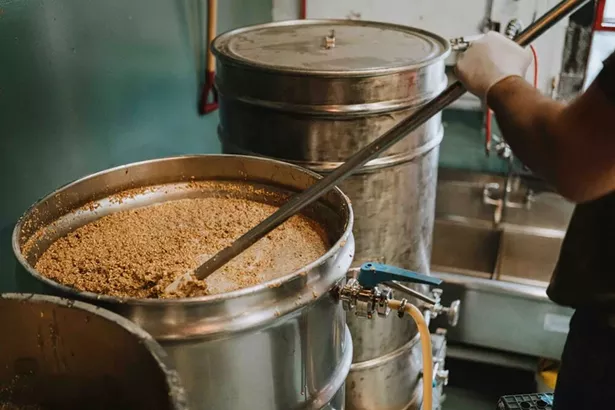 And not just the flavor variables, the supply chain ones too. For most of New York's farm breweries, grain sourcing is dictated by their location and the existing farm contracts of the state's few malting houses, i.e. you choose your malt house and they choose their grain source. "We wanted not just local beer but hyper-local beer," Ocean says. "Malting in-house made it so we were able to buy grain directly from farmers. For a good portion of last year every single beer we had on tap was relying on grain coming from less than a 25-mile radius."
This model is not new—in fact, it was the pervasive model before Prohibition accelerated the process of consolidation that was happening across sectors thanks to industrialization. "If you look at historical brewing culture, it was a small-scale decentralized industry. Barley was harvested locally and malted either in the brewery or at a local malt house," Ocean says. "As homebrewers we got really romanced by this historical idea of an integrated malthouse and brewing. We wanted to replicate that model in a modern context."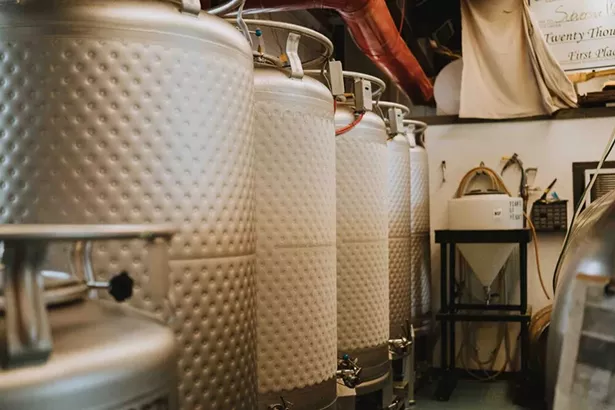 Some historic breweries in Czech Republic, Germany, and Belgium have held onto this dual malting/brewing practice through the past several hundred years. And in the US, it is employed by some industry titans, like Anheuser Busch, where economies of scale make it viable. But, by and large, for most of the little guys, the economics don't make sense. Of the scarcely more than 100 small-scale maltsters in the US, the overwhelming majority are less than a decade old. "Until a little more than 10 years ago, there were no small-scale malthouses because there were not enough small-scale brewers willing to pay a premium," says Ocean, who uses the historic technique of floor malting.
He equates the relationship between brewers and malters to that of bakers and millers. Noticing the resurgence of artisanal breadmaking and the return of small-scale grain milling that followed, Ocean and Coffey wagered that the same would happen with the craft beverage industry.
Still in college, the two hobby homebrewers and a friend—journalism, environmental science, and philosophy majors respectively—set out to design an integrated malthouse/brewery model for Ithaca College's annual Business Plan Competition. "We were the only team competing that didn't have at least one business major," Ocean says with a laugh. "We agreed that if we won, we'd take the $20,000 cash prize and actually try and do this."
In 2015, a month before graduation, they won. "If we had both worked at breweries before we came up with this model, we probably wouldn't have pursued it, because of the logistical challenges," Ocean says matter-of-factly. "We need to be thinking six to 12 months ahead in a way most small breweries don't."
Subversive co-founders Zane Coffey (brewer) and Max Ocean (maltster)
After collecting their prize money, Coffey and Ocean spent a few years upping their training and education levels, attending every Cornell small grains and malting conference they could and working in different capacities with area breweries like Sloop and Ithaca. "Home brewing went from being a hobby to targeted practice," says Ocean. "Once we made the decision to do this, we were learning something new every time we brewed."
They set up a nano malting and brewing facility in a barn in Germantown and, in December 2018, opened the doors to a small bar on Main Street in Catskill. "We were so obsessed with the process, but people were confused," Ocean says. "Turns out, if they can't see the tanks, they don't know you're a brewery. There was a lot getting lost in that story—a lot of lost opportunities to explain the whole farm-to-table thing."
So when Subversive's current space on West Bridge Street came up for rent in 2019, they pounced. "We jumped in with both feet," Ocean says. "By then we had proven to ourselves that it was possible—that it was a model we could scale." (The original oversized check for $20,000 is still on the wall of the brewery.)
Luckily, their new space also had room to expand outdoors, which became essential when the pandemic hit four months later. Ocean and Coffey took advantage of the lockdown phase to transform their outdoor space into a biergarten, which allowed them to resume serving guests as soon as the state reopened—a crucial lifeline for a business model whose tight margins rely on 95 to 98 percent onsite sales. "Frankly, if it wasn't for the outdoor space, we wouldn't have made it," Ocean says honestly. "But we've grown consistently throughout the pandemic. It's been really terrifying but really validating at the same time."
Limited Palette, Infinite Variety
As you drive by on West Bridge Street, Subversive's charming biergarten calls with amber-colored twinkle lights overhead, picnic tables, fire pits, and smoke from Be Golden Farms' wood-fired pizza oven. The malting and brewing facility is a squat block of a building, painted black with big garage doors that open to reveal a bar. Last winter, Ocean doubled the amount of malt he was producing in anticipation of scaling up production volume and variation. There are 10 to 12 different housemade beers on tap at any given time, up from six or seven last summer, an impressive selection for such a small operation.
"We make four kinds of malt, and we use six or seven different New York-grown hop varieties," Ocean says. "If you think of it from a painting perspective, that's an incredibly small palette of raw materials. We feel proud of how that limited palette can produce such an incredible variety of beers through the alchemy of the brewing and malting processes. That is our creative beat—how do we build this out so that it's 100-percent local but still appeals to the broadest variety of beer drinkers."
On a Thursday in late October the beer list included two types of IPAs a pale ale, a copper lager, a couple of farmhouse ales, a Brett saison, and half a dozen others. They're served in 13-ounce pours, which are $7 or $8 a glass. A small canning line, purchased in April of this year, allows Subversive to sell 16-ounce four-packs for off-site consumption. They also have a limited range of large-format bottles (750-milliliter).
Per Ocean, the brewery has been at capacity since this past June, turning out beer as fast as the four-barrel system can muster. Whereas at the last location, malt production was the limiting variable, at the new West Bridge Street location, the malting capacity outpaced the eight-tank brewing set-up. At the end of October, Coffey and Ocean made the snap decision to hop on a plane and fly to Missouri to purchase a second-hand 15-barrel brewing system. They spent a day and a half dismantling the brewhouse before driving it back to New York in a 26-foot Penske moving truck. The system, which will be in use within a couple of weeks, will quadruple their brewing capacity and, perhaps even more importantly, shorten the length of a brew day from 12 hours to somewhere between eight and nine.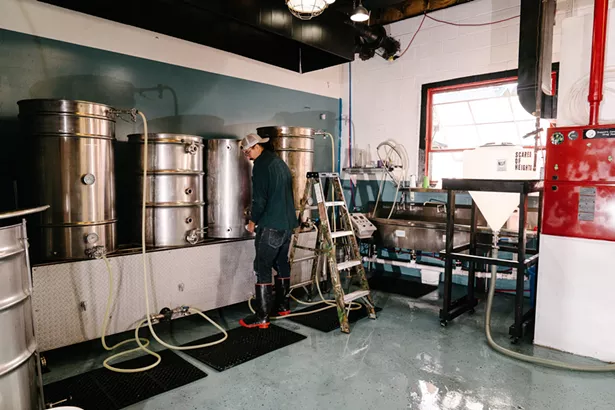 Coffey brewing on the old, smaller set-up.
Like the brewing itself, floor malting is a time-intensive process, with the grain requiring two to three turns a day by hand. "In the US, beer consumers don't know how labor intensive it is," Ocean says. "Brewers appreciate it, farmers appreciate it. When you do break through with a consumer, when you can make that connection and help a beer drinker understand what they are drinking in a farm-to-table context—then they value it."
At the end of the day, the integrated malting/brewing model isn't a professional novelty or a marketable niche for Ocean and Coffey—it's a subversive ideological orientation that facilitates a circular economy. "As we build our malting infrastructure, we're starting to use enough barley that we can forecast our needs. Over the next few years, we'll be solidifying long-term grower relationships so that we know we have them to count on," Ocean says. "What we're doing is supporting the local economy and the growers."
With one of their current suppliers, Schaghticoke-based WestWind Ag, Subversive is trading malt for barley, as the farm gets its own brewing operation off the ground. For Ocean, who self-identifies as "hardcore anti-capitalist," it's the type of barter exchange that dreams are made of. "It's an old-school, direct, small-scale business relationship," he says. "That's the kind of relationship I have a lot of confidence in for the long term."
The Subversive taproom is open Fridays 4-9pm; Saturdays 12-9pm; and Sundays 12-6pm. Be Golden's pizza truck will be operating through November 28, Fridays and Saturdays until 8pm and Sundays until 5pm.
Subversive Malting & Brewing
96 W Bridge Street, Catskill 12414
www.drinksubversive.com
(518) 303-1270