When the pandemic sent everyone into lockdown, hobby baker Jeremy Rhodes turned to breadmaking, like much of the country. But unlike most of us, he didn't stop there. From bread he moved on to bagels. And from bagels, well…
"We were in Vermont for New Year's with my family last year. Jeremy was making pizza for dinner and was planning to make bagels for our New Year's Day brunch the next morning," recalls Ali Chetkof, Rhodes's fiancée and business partner. "We had so much extra sauce from the pizza, we didn't know what to do with it."
Suddenly Rhodes had an idea: could he possibly put a pizza inside a bagel? ("You're talking to a big Bagel Bites fan," he says, deadpan.) So they tried—one in breadstick form, one in bagel form.
"It didn't really work, but there was promise—they tasted really good," Chetkof says. "He became obsessed with the project and started doing a lot of research and development." Mostly Rhodes kept working on the pizza bagel idea, but he also played around with other fillings, like artichoke dip and buffalo chicken, all the while continuing to work as an accountant for Union Square Hospitality Group.
But Rhodes's hobby was suddenly generating a proliferation of stuffed bagels, which were given away to friends and family. As interest grew, they decided to come up with a name, eventually settling on Moonrise Bagels. "When people think of bagels, they think of something you eat in the morning," says Chetkof, who works full-time in marketing and communications for a Manhattan-based PR firm. "We really wanted to evoke something you can eat all day long—you go out, you have a beer in one hand and a pizza bagel in the other."
Bacon, egg, and cheese bagel
Free handouts to friends and family gave way to small wholesale orders with businesses in Woodstock, where Chetkof grew up and where the couple weathered lockdown. This past summer, Moonrise Bagels started popping up at Overlook Bakery, Woodstock Meats, Tinker Street Tavern, and Circle W Market with flavors like bacon, egg, and cheese; reuben with pastrami from Lunch Nightly; and hot honey sopressata, in addition to the flagship pizza bagels.
"Our first time selling at Overlook, we baked out of my mom's kitchen," Chetkof says. "When we showed up with the first batch, it wasn't even 11am and there was a line out the door. We sold out in three minutes." They started baking out of the Overlook Bakery kitchen during off hours, taking retail orders through their Instagram account. Then the owners of Olsen & Co. reached out to see if Chetkof and Rhodes would be interested in taking over the lease of their Woodstock space, and a hobby turned into a brick-and-mortar business.
Setting Up Shop
Though Olsen & Co had churned out its fair share of sandwiches from the small kitchen at 68 Tinker Street, they had no oven—a must for Moonrise. "We almost didn't take the space because the oven we wanted was too big to fit through the door," Chetkof says. In a stroke of creative determination, they removed the glass in one of the windows and were able to get the large industrial oven in the building that way.
Inside, they moved around the ordering counter to be able to greet people as they enter. A bar-height counter in the front window offers a place for customers to stand and eat, but in general, the idea is not for people to linger.
"We were definitely inspired by New York City bagel shops," Chetkof says. "When you get a bagel, you are not really sitting down—it's something really quick that you can grab and go." In the summer, however, they plan to have seating in the little courtyard out front.
The Stuff of Dreams
Moonrise Bagels are boiled then baked in the classic Brooklyn style. When the brick-and-mortar officially opens to the public on December 10, the stuffed bagel line-up will include pizza; buffalo chicken; barbecue tempeh; bacon, egg, and cheese; egg and cheese; and reuben ($7-$9). Other specials that rotate in and out include eggplant parm, barbecue chicken, and Philly cheesesteak (a collab with Woodstock Meats). Aside from the breakfast sammy options, the menu is meant to reinforce the idea that these bagels are to be eaten all. day. long.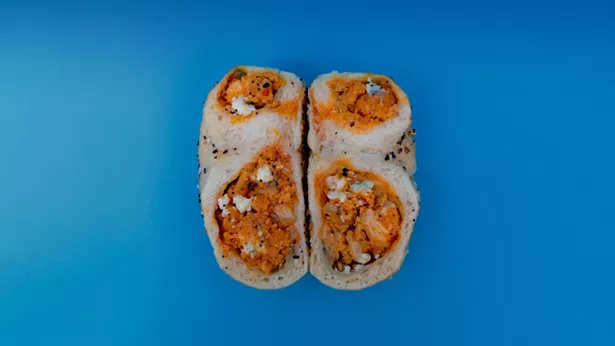 For the purists, Moonrise will also sell traditional unstuffed bagels at $1.50 a pop. And you'll be able to purchase the stuffed specialties frozen for home enjoyment. In addition to the warm bagels served in the shop, Moonrise will also be pouring coffee from Heavy Feather Roasting Co., which roasts out of The Pines in Mount Tremper. A well-stocked drink fridge offers a foolproof selection of favorites: Martinelli's, Boylan's sodas, Topo Chico, and Ronnybrook chocolate milk.
For Rhodes, who spent the last decade in accounting for restaurateur Danny Meyer's hospitality group, Moonrise Bagels is a dream come true. "When I first started, I had a great opportunity to work in the basement office of some great restaurants in the city," Rhodes says. "I was sitting there doing my accountant stuff on a computer with two screens with the whirlwind of a restaurant going around me. I caught the bug from that and was always looking for a way to move into operations." He considered options from coffee roasting to cheese mongering, but in the end, stuffed bagels were his in-road.
"It's in my blood—around this age, my mom was working on opening her own catering company and bakery in Hoboken," Rhodes says, adding, "I love a good bagel."
Starting December 10, Moonrise Bagels will be open Friday to Sunday, 9am-3pm.
Moonrise Bagels
68 Tinker Street, Woodstock, NY 12498
(845) 684-7447
https://moonrisebagels.com/
[email protected]